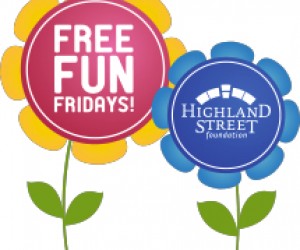 Highland Street Foundation's Free Fun Fridays: Top 5 Picks for Boston Families
The Highland Street Foundation's 2015 Free Fun Fridays schedule is out, which means it's time to start planning your family's summer adventures!
The organization offers families the opportunity to visit Massachusetts attractions for free every Friday from the end of June through August. There are 70 museums and cultural venues on the schedule, and with so many wonderful choices, it can be difficult to decide which ones to pick. We're highlighting five, taking into consideration whether free admission or library museum passes are available at other times, how much money is saved on entry, proximity to Boston and, most importantly, kid-friendliness and cool factor.
Antique cars, a carousel, and a secret garden (actually called Hidden Hollow) where kids can climb, balance, dig, build, make music, experiment with water, and create art: Heritage Museum and Gardens has it all. Kids and parents alike will enjoy finding all nine "Secret Shelters" of this year's outdoor art exhibit. Located in Sandwich, the museum is a bit of a hike, but you could stop on your way to or from the Cape's beaches. (Note: The new Adventure Park at Heritage Museums & Gardens requires a separate ticket purchase and is not part of the Free Fun Friday admission.)
Location: 67 Grove Street, Sandwich, MA 02563
 | Contact: 508-888-3300 or email
---
July 10: Edward M. Kennedy Institute for the U.S. Senate
The Institute, honoring longtime and legendary Senator Edward M. Kennedy, opened just this spring, and a Free Fun Friday is the perfect time to check it out. After visiting the adjacent John F. Kennedy Library and Museum for a class field trip last year, we have high expectations for the new EMK Institute. Digital, interactive exhibits immerse families in the history and workings of the U.S. Senate. The Junior Senator Program, for ages 5-8, enriches kids' experiences with a backpack chock full of activities (plus a reward at the end) and preloaded tablets to help even the youngest visitors connect to digital content. Sign us up!
Location: University of Massachusetts Boston, 100 Morrissey Boulevard, Boston, MA 02125 | Contact: 617-740-7000 or email
---
July 17: Larz Anderson Auto Museum
The Larz Anderson Auto Museum grew out of a Sunday tradition by wealthy socialites Larz and Isabel Anderson: They would open the doors to their spectacular Carriage House on Sunday afternoons and share the marvel of their collection of antique American and European vehicles. The tradition continues today, although you can drool over the collection every day of the week except Monday. (Thankfully, corsets and top hats are optional nowadays).
The natural features outside the museum are quite a draw, too: The grounds of the Larz Anderson Park include an incredible skyline view of Boston, a lovely pond, and walking paths around the park. It's the perfect place for a picnic after your visit to the museum.
Location: 15 Newton St, Brookline, MA 02130 | Contact: 617-522-6547
---
August 7: Boston Harbor Islands National and State Park
I'll admit that the cost of the ferry (and general ignorance about what lay on the other side of the ride) prevented us from venturing out to the Harbor Islands for a long time. When we finally decided to explore Georges and Spectacle Islands, we realized how much we had been missing. The islands are truly oases, and they offer so much: history, science education, natural beauty, water play, and hiking. Despite the spectacular views of Boston, when we are on the islands we feel like we're away on vacation. Free Fun Fridays gives you the opportunity to experience the Harbor Islands without emptying your pockets (until your kids spot the snack bar). Plus, there will be plenty of special activities for the day, hopefully making it worth getting up early and waiting in line for ferry tickets!
Good to know: The kiosk opens at 8am, and the tickets are usually all distributed by 10:30 am. Groups are limited to four people. Ferries run from from 9am - 6pm, departing every half-hour from Long Wharf in Boston.
Location: 66 Long Wharf, Boston, MA 02110 (at Christopher Columbus Park) | Contact: 617-223-8672 or email
---
August 28: Ecotarium
We love the Ecotarium because it's like visiting the zoo, the science and children's museums, and going for a hike in the woods all at once – but on a smaller, more child-friendly scale. If you have a little one, you'll want to visit the Preschool Discovery Area for sure, and DinoTracks is a must-see for budding paleontologists (or any little kid, really). The new Nature Explore® Outdoor Exhibit gives kids plenty of opportunities to play and interact with the natural world. This summer's exhibit, Wild Music: Experience the Sounds and Songs of Life, sounds like a winner, too.
Location: 222 Harrington Way, Worcester, Massachusetts 01604 | Contact: 508-929-2700 or email
---
Originally published May 2013.