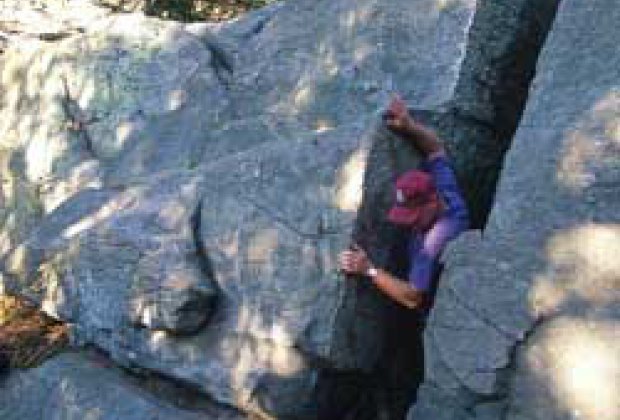 5 Favorite Outdoor Adventures around Boston for Kids – "Tween" Approved!
The Appalachian Mountain Club recently launched Kids Outdoors Boston, a free online community designed to help parents get their kids outside. The site is packed with over 100 thoroughly described, close-to-home trips, which include maps, driving and public transportation directions – making planning a breeze for moms and dads.
Kids Outdoors Boston is based on a guidebook recently published by AMC, Outdoors with Kids Boston. Today in partnership with the AMC, we highlight five picks from the book, chosen by the author's daughter.*
Sadie MacKinnon, 13, knows outdoor adventures. She spent many days last summer with her guidebook-author mother exploring around Boston (the Harbor Islands, the Emerald Necklace, the Blue Hills) and also strayed as far afield as Mount Watatic in north-central Massachusetts and the Cliff Walk in Newport, Rhode Island. You see, Sadie's mother, Kim Foley MacKinnon, was doing research for the new book, Outdoors with Kids Boston: 100 Fun Places to Explore In and Around the City. She was scoping out great experiences for families, and Sadie was along for the ride. They brought some of Sadie's friends, and soon an informal summer camp was born.
By the time school started, Sadie knew more about the New England outdoors than she had ever expected. (She visited 85 of the final 100 locations selected.) And she also had "a list of favorite places she can't wait to return to," her mother writes in the acknowledgments. Here are five locations that made the top of that list—the best places in the book, as judged by Sadie. These locations aren't limited to traditional hiking trails or bicycle paths; the new book series includes all sorts of places where families can be active outdoors and connect with the natural world.

1. Purgatory Chasm. This 900-acre state reservation in Sutton (south of Worcester, in central Massachusetts) features a quarter-mile chasm of boulders jumbled between granite walls, some reaching up to 70 feet tall. A half-mile trail lets kids clamber over rocks, explore small caves, and visit stone formations with names like the Devil's Pulpit and Lovers' Leap. It was Sadie's favorite hike from the whole summer, and her mother recommends it particularly for kids between 9 and 12, because younger children will require constant supervision. "I can't wait to go back," Sadie told her mother (who emailed me her comments). Her mother adds that Sadie talks about this location all the time: "She wants to have a cookout there or maybe her birthday party."

2. Dungeon Rock at Lynn Woods Reservation. This park includes a cold, damp, and spooky 174-foot tunnel that was blasted by a spiritualist seeking buried pirate treasure in the 19th century. "The best part was going way down the stairs into the dark tunnel at Dungeon Rock with my friends," Sadie said. "It was really scary but cool." Bring a flashlight if you plan to go into the tunnel, and hold the railing. (MacKinnon recommends this destination, like Purgatory Chasm, more for older kids than the little ones.) If you'd rather stay in the sunshine, the park offers 30 miles of hiking trails.

3. Spectacle Island. This island, recommended for kids of all ages, is part of the 34-island national park that families can visit by catching a ferry from downtown Boston. A former landfill that was rebuilt using fill from the Big Dig, the island now hosts a visitor center that offers Hula Hoops, self-guided treasure hunts for different ages (with prizes of stickers and stamps), as well as ranger-led programs and summer events such as jazz concerts and kite-flying workshops. Lifeguards staff the beach, which is rocky enough to require water shoes. "Collecting sea glass on the beach and then creating a temporary mosaic with a park ranger was a lot of fun," Sadie said. "You can't take any sea glass home, but you get to see what other people have found at the visitors center."

4. Moose Hill Farm. Sadie loved the self-guided tour at this Trustees of Reservations property in Sharon, a quest that takes the form of rhyming clues and a map that leads to hidden treasure. She may have learned something about agricultural history along the way, but her focus was fun. "Going on a quest was like being a detective of nature," Sadie said. "My friend and I ran around for more than an hour following the clues. It was a blast."

5. Nantasket Beach. This 26-acre beach has been popular for more than 100 years, and the historic Paragon Carousel still thrills young children. You may also enjoy swimming (with lifeguards on site from late June to early September), playing in the sand, walking along the 1.5-mile promenade, and even taking public dance lessons. "I like sunbathing on the rocks here," Sadie said, "and the beach is really pretty."
* The information in this post has been contributed by the Appalachian Mountain Club and adapted from a post on the Appalachian Mountain Club's Great Kids, Great Outdoors blog, written by Heather Stephenson.
---
Learn more
Check out Outdoors with Kids Boston at AMC's store.
Learn about AMC's Kids Outdoors online communities for Boston and New York City. Kids Outdoors offers additional tips and activities for families interested in getting outdoors.