8 Family-Friendly Places to Watch the Super Bowl Around Boston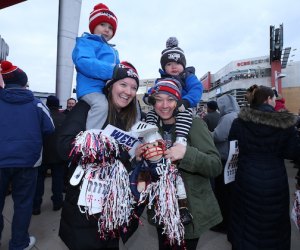 The Patriots are in the Super Bowl (again!) this Sunday, and if you have children, they're probably just as stoked as you to watch it. But while your toy-strewn living room might have sufficed for an early season matchup, it may not inspire the appropriate excitement now that the team is playing in the biggest game of the year, with a chance to make history. Then again, you don't want to take the kids to a crowded, testosterone- and beer-soaked bar, either. So, to kick off a fabulous February of fun events with kids, we've compiled a number of family-friendly venues around Boston where you can take the whole clan to cheer on the Pats with fellow fans.
A note for parents of little ones: The game starts at 6:30 p.m., which means even if your kids can't last through the whole game, you can reasonably expect to enjoy some dinner, drinks, and camaraderie at the following spots during the first half—then zip home during the halftime show, fast-track bedtime, and catch the second half. One caveat: Some of the bars and restaurants below were unsure what to expect in terms of crowd size on Sunday. Calling ahead to inquire about reservations, or arriving well before the game to grab some real estate, might not be bad ideas.
Beer Works (multiple locations)
While I'd be hesitant to drag a child into either of the busy downtown Beer Works on Super Bowl Sunday, the suburban outposts of this local microbrew pioneer are surprisingly kid-friendly. (We're partial to the Hingham location.) After all, the vibe here is about quality drinks and food—it's not a bunch of dudes slinging back Bud Lights until they're lights out. In keeping with their small batch brewing roots, the kids' menu even has craft sodas. The space is open and huge, wide-screen TVs abound, and it's loud enough to drown out any meltdowns.
The Fours (Quincy, Norwell)
Like Beer Works, the suburban locations of this classic sports bar are best for kids. These two family-heavy spots south of the city offer crayons for kids and plenty of TVs in the dining room.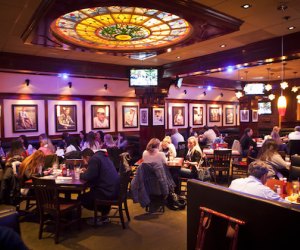 Photo courtesy of The Fours
Bella Luna & The Milky Way (Jamaica Plain)
This intentionally inclusive, absolutely delicious family-run restaurant in JP's Brewery Complex is serving up a Super Bowl pizza buffet for $10, and will of course have the Pats playing on the big screen. It's the sort of place that pleases kids and hipsters alike.
Mr. Dooley's Olde Irish Village Pub (Cohasset)
Any authentically Irish pub is generally accepting of the littlest Leprechauns, and our daughter has always felt at home in the cozy comforts of Mr. Dooley's south shore restaurant. They'll be serving up a free halftime buffet for the Super Bowl, and kids are welcome.
Not Your Average Joe's (multiple locations)
You wouldn't always expect it, given the inventive menu and industrial-chic vibe at some of the new locations, but NYA Joe's is generally super kid-friendly. The enormous Waltham branch, in particular, has open sight lines of plenty of TVs. A tempting dessert menu might help keep kids' stamina strong into the second half.
Tony C's (Assembly Row, Seaport, and Fenway)
These cavernous sports-themed restaurants have more HDTVs than wall space, and are very family-oriented. Bad news is, they can get crowded, and aren't taking reservations on Sunday. The good news: If you find tables are scarce, there are Plan Bs in every location: Papagayo in Assembly Row, Yard House in Fenway, and Salvatore's at the seaport all have TVs and solid food.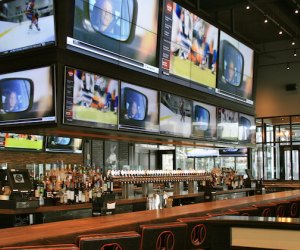 Photo courtesy of Tony Cs
Ninety-Nine (multiple locations)
It's not quite the Ground Round of my childhood, where kids could pay their weight and toss peanut shells on the ground, but it's pretty darn close. Expect the game on every TV and a kids' menu to please even the pickiest fans in tow.
A friend's house
Of course, maybe the best option is to watch the game with fellow parents. This way, you can let the kids entertain themselves for a few hours without the looming risk of crashing into a waiter carrying a tray full of beers. If no one you know is planning a party and the idea of hosting yourself or hitting the town on game night is unappealing, it's time to find the friend with the biggest TV or the best basement playroom (preferably both), and tell them they've been nominated to perform this essential public service. If they need more convincing, sweeten the deal by offering to bring an appetizer (find recipes from our favorite food blogs), and remind them that as hosts, they can drink like offensive linemen because they don't have to drive home afterward.
Go Pats!
Originally published January 31, 2017
Top photo courtesy of the New England Patriots/David Silverman