SPONSORED
Interactive CAMP Store Opens at Boston Area's Burlington Mall with Paw Patrol Experience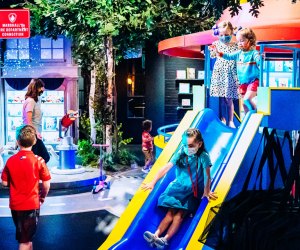 Known and loved for its totally unique shop/play hybrid model, CAMP is bringing a whole new level of family fun to Greater Boston with a combined toy store and play space in the Burlington Mall. The Grand Opening on Saturday, February 5, unveiled the immersive Paw Patrol Experience–an interactive and guided adventure for children that kicks off a series of themed events that will rotate through the location–alongside a seriously curated kid-friendly shopping experience.
I had the opportunity to bring my wife and son to take part in the opening day festivities and, after experiencing CAMP ourselves, I'm confident this new location will be fulfilling its mission to answer the oh-so-popular parenting question, "what are we going to do today?"
The Paw Patrol Experience kicks off a series of interactive events that will rotate through CAMP Burlington.
The Paw Patrol Experience: Only at CAMP
At first glance, Burlington's 9,000-square-foot CAMP is a lively and inviting toy store stocked with a huge collection of thoughtfully selected toys, games, gifts, and accessories for ages 0 to adult. We found everything from stuffies and toy trucks, to Bluey play sets and Magna-Tiles, to dinosaur taco holders and Polaroid cameras for the older crowd. But, behind a secret bookshelf, lies a truly one-of-a-kind adventure space filled with activities, games, crafts, and performances that bring the entire experience to life.
Walking through the secret bookshelf–a touch that even wowed the grownups in our group–it was clear we had entered a Paw Patrol paradise. Rather than the typical playspace free-for-all, CAMP Counselors led us through a replica Adventure Bay with highly interactive stations. The mission? To take back control of the Cloud Catcher, Mayor Humdinger's haywire weather machine. (I don't know about you, but I've had it up to here with Mayor Humdinger's shenanigans.)
Throughout our journey in Adventure Bay, the CAMP Counselors brought energy and an easygoing warmth that kept the little ones engaged but never overwhelmed. Our leaders showed patience, tenderness, and a genuine appreciation of what kids like, and helped the group build a sense of teamwork as they moved from the Lookout, to the ride-on cars, to the world's most toddler-friendly zipline.
CAMP Counselors lead groups through an action-packed activity-filled replica of Adventure Bay.
One of the favorite stops for the younger crowd was Marshall's Brave Rescue, where imaginary water cannons are used to put out virtual fireworks. Rocky and Rubble's Teamwork Rescue was another hit, providing budding engineers with plenty of foam construction material to build their own little cities.
Kids feel a real sense of teamwork as they move through the activities together, like this building mission.
I was struck by the balance of activities that provided engagement for a broad age range. The immersive fun is well suited for children as young as two, so, yeah, pretty much "no pup is too small." My 9-year-old has definitely aged out of the prime Paw Patrol years, but he had an absolute blast. The tumbling remote control cars helped.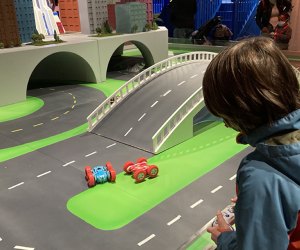 Engaging Paw Patrol-inspired stations, like remote control cars, keep kids ages 2 up and totally entertained.
At the end of the exciting excursion, kids are rewarded with a "key to the city," and parents get their own adventure challenge: trying to get their little ones past the wall of awesome Paw Patrol toys!
Safety and Accessibility at the CAMP Store
It's worth noting that the noise level at The Paw Patrol Experience was moderate. A few flashes from fireworks or slightly loud noises might jangle more sensitive kids, but even the littlest in our group seemed to be in a very happy place throughout the adventure. If your child has any special needs, you can connect with a Counselor on-site or reach out to hi@camp.com prior to your visit.
While clearly emphasizing safety, the environment encourages children to explore. Sanitizing stations are plentiful and visible, and the Counselors swept in to clean equipment between each group. It reminded me of a pit crew, though maybe this was because I watched them detail electric ride-on cars like greased lightning. Masks are encouraged for both vaccinated and unvaccinated children and adults. CAMP Counselors are required to be masked and fully vaccinated.
Stroller parking is available, and there's a family-friendly restroom inside of the CAMP Store.
CAMP Burlington Tickets and Location
CAMP Burlington is located on the newly renovated north side of the Burlington Mall–the Primark end to youngsters and the Sears end to us fossils. The recently opened area is pristine and packed with new restaurants. Clocking in at just under an hour, the Paw Patrol Experience is long enough to bring some joy into the day, but short enough to work around nap time, lunch, or some shopping. Note that parking is plentiful at the Burlington Mall, though the spaces are easier to find in off-peak hours.
The Paw Patrol Experience is open through March 31, and with such a dedicated Chase and friends fan base it's best to purchase tickets in advance. Arrive promptly for your designated time slot so you don't miss a minute of the fun. Families check in at the counter inside the store.
Visit CAMP's website to buy your tickets and keep an eye on the calendar to see what other fun adventures and activities will be popping up behind the magic bookshelf!
The CAMP Online Store
If you can't make it to a CAMP Store or would prefer to experience CAMP from home, Camp.com has a huge selection of toys. The unique KidShop tool also enables parents to set a budget for their kids and let them shop independently on the site for themselves or for gifts.
Unless noted, photos by the author