8 Races for Boston Kids Who Love to Swim, Bike or Run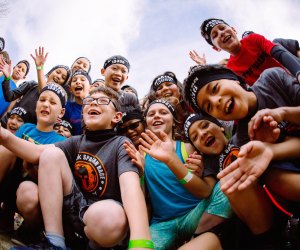 Many running races have a kid component, but it can feel like an afterthought, especially if your child really loves to run. And finding a triathlon for multi-sport kids can be even harder. The key is finding a race that's both light-hearted and serious so that your child can compete and feel great after crossing the finish line. Race season is upon us, and we've found eight upcoming Boston-area events that are perfect for kids who love to swim, bike or run:
Worcester Tri-Fest
Date: Sunday, June 5
Location: Shore Park, Worcester
Ages: 6 and up
About: The all-new Worcester Tri-Fest is super family-friendly, with two kids' divisions and a youth aquathlon option. Children ages 6-9 swim 50 yards, bike one mile and run a quarter of a mile, while children ages 10-14 do double the distance. Aquathlon racers only swim and run with no bike portion of the event. All participants must be able to complete the distances without floatation devices or training wheels and advance registration is required. Everyone gets a finisher's medal and the top kids in each age group receive an extra award.
The Color Run
Date: Saturday, June 11
Location: Gillette Stadium at Patriot Place, Foxborough
Ages: All
About: The Color Run, which celebrates healthiness, happiness and individuality, has exploded in popularity in recent years. And this year's Boston event, a 5K where participants get doused in brightly colored paint along the course, takes place at iconic Gillette Stadium. This 5K is way more of a fun run than a race—running and walking is both allowed and encouraged—so it's perfect for the whole family. The littlest runners, kids under 5, can even participate for free.
Girls on the Run 5K
Date: June 11
Location: Boston College, Chestnut Hill
Ages: All
About: Girls on the Run is national nonprofit that encourages elementary and middle school age girls to be more confident, joyful and healthy through a curriculum that combines lessons on those topics with a running program. At the end of each session, the girls complete a 5K and this spring, the Boston-area race is open to the public. In addition to the run, the day includes hair and face painting and a supportive atmosphere. If your daughter likes the race, check the Girls on the Run website to find out whether there's a program location near you.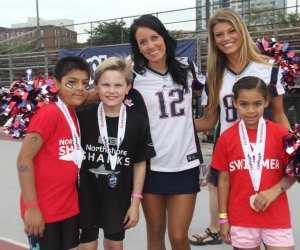 Racers with their finisher's medals at the New England Kids Triathlon. Photo by Sports In Motion.
New England Kids Triathlon
Date: July 17
Location: MIT, Cambridge
Ages: 6-15 years old
About: It's rare to find a completely kids-only race, but the New England Kids Triathlon is just that. Held on the MIT campus, the race is created to be both challenging and achievable for kids in each of the divisions. Children ages 6-10 swim 100 yards, bike 3 miles and run a half-mile, while kids ages 11-15 do double the distance. All participants receive a finisher's medal and there will be ice cream waiting at the finish line. The triathlon is in its fifth year and more than 1,000 kids are expected to participate in this growing race.
Spartan Boston Super Weekend
Date: August 13-14
Location: Carter & Stevens Farm, Barre
Ages: 4 and up
About: This isn't your typical road race. At the Spartan Boston Super Weekend, kids run anywhere from a half-mile to two miles, but they also tackle a variety of obstacles along the course. This muddy race encourages children to get healthy through physical activity and have a ton of fun doing it. There are a few divisions depending on your child's age and everyone receives a T-shirt and finisher's medal.
The Great Amazing Race
Date: August 28
Location: Great Brook Farm State Park, Carlisle
Ages: 5 and up
About: If you've ever watched The Amazing Race on TV and thought, "I could do that," now's your chance to show off your and your child's skills. At The Great Amazing Race, racers compete in two-person teams made up of adults and kids to walk, jog or run their way through the 1.5-mile cross country course that features eight challenges. This inclusive race encourages the whole family to participate and has three challenge levels and four divisions to ensure fair play.
Hale Endurafest
Date: September 10-11
Location: Hale Reservation, Westwood
Ages: 6 and up
About: This two-day off-road racing event has a lot going on, including a kids' triathlon. At the Hale Endurafest, children ages 6-9 swim 50 yards, bike 1 mile and run half of a mile, while those ages 10-14 complete a 75-yard swim, 2-mile bike ride and 1-mile run. This welcoming event also allows kids to participate in the one-mile trail race.
Spartan Race: Fenway Park
Date: November 12-13
Location: Fenway Park, Boston
Ages: 4 and up
About: If your child has ever wanted to take the field at Fenway just like his or her beloved Red Sox, now's the chance. The Spartan Race is coming back to Boston this fall for a Fenway Park edition. Children ages 4-8 complete a half-mile course, while those ages 9-13 tackle the one-mile version. Both are littered with obstacles that allow kids to get physical activity and have a ton of fun doing it.
---
Top image courtesy of ©Spartan Race, Inc.