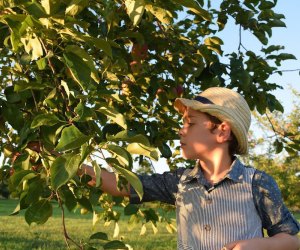 5 Apple Picking Day Trips for Boston Families
Carving pumpkins and trick-or-treating are classic fall activities, but our favorite by far is apple picking. It's especially festive since we live in New England, the site of the first apple orchard in America. There are several terrific places to pick apples close to Boston, but it can be even more fun to venture a little further afield. So we've rounded up five of the best places to pick apples in Massachusetts that have other fun attractions—and good food—nearby, so you can make a day trip out of your visit to the farm.
Cider Hill Farm, Amesbury
About the farm: Cider Hill is a family-run farm on the North Shore that grows everything from blueberries to plums, but apple season is when the orchard really shines. After you pick your fill, snack on a hot cider donut and visit the farm store to stock up on fresh food.
Things to do nearby: Newburyport is located just across the Merrimack River from Cider Hill, so it's a great stop on the way to or from the farm. While there you can learn maritime history, explore the great outdoors or shop the Tannery Marketplace.
Where to eat: Stop by Port City Sandwich Co. in Newburyport for tasty sandwiches, soups and salads that you can take to the nearby Waterfront Promenade Park for a picnic.
Drew Farm, Westford
About the farm: Drew Farm does apple-picking season right, with live folk music every weekend and an apple festival in October. With plenty of pumpkins growing on site, Drew Farm has everything you need for fall fun.
Things to do nearby: Fall is the perfect time to get outside as a family and nearby Great Brook Farm State Park has 20 miles of trails just waiting for you to explore. It's also a working dairy farm, so it's an especially fun place to take kids who love animals.
Where to eat: Lowell is the closest city to Drew Farm and there you'll find El Potro Mexican Grill, a casual, festive place to eat with the whole family.
Keith's Farm, Acushnet
About the farm: You'll find pick-your-own apples and pumpkins at Keith's Farm all throughout the fall season. The farm also has a well-stocked store, cider donuts, hay rides on weekends and a snack bar.
Things to do nearby: New Bedford is the closest city to Keith's Farm and it's a spectacular place to spend the day with kids. Visit the Whaling Museum, Buttonwood Park Zoo or Fort Taber Park.
Where to eat: Just down the road from Keith's Farm is Country Whip, an old-fashioned restaurant and ice cream shop popular with locals for its delicious classic dishes like lobster rolls and tuna melts.
Keown Orchards, Sutton
About the farm: Keown Orchards has been in business for more than 90 years, so you know they've got the apple-picking thing down. The farm has more than 50 varieties to choose from as well as hay rides, cider and fresh-baked apple pies.
Things to do nearby: Worcester is the biggest city near Keown Orchards and there you'll find the EcoTarium, an indoor-outdoor museum dedicated to science and nature. Ride the train, walk through the treetops and meet wildlife when you visit.
Where to eat: Take a trip back in time when you stop into George's Coney Island in Worcester for, you guessed it, hot dogs.
Park Hill Orchard, Easthampton
About the farm: When you go apple picking at Park Hill, you'll find more than just fruit in the fields. That's because the farm is home to Art in the Orchard, a walking sculpture trail that you can check out as you pick apples.
Things to do nearby: While you're out in Western Mass., don't miss the family-friendly Look Park. It's home to playgrounds, pedal boats, a steamer railroad, mini golf, a zoo, bumper boats, a spray park and more.
Where to eat: On the way to Look Park, stop by the Cup and Top Cafe, which not only has great food, but also boasts a play space for kids.
---
Top image courtesy of Park Hill Orchard in Easthampton.