Ice Skating Lessons for Preschoolers in the Boston Area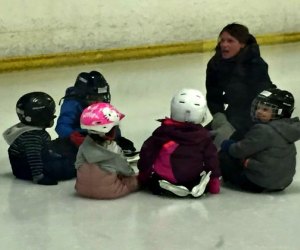 Does your preschooler dream of being a hockey star or Olympic figure skater? Or do you simply want to help your little one learn a new skill and take part in a fun winter activity? Either way, three- and four-year-olds are at a perfect age to learn to skate, and we're lucky to have access to lots of great public rinks in Boston. We've compiled a list of area ice skating schools that offer lessons especially for this age group.
Bay State Skating School -Various locations
With afternoon and weekend classes available at rinks in 11 different locations, including Brookline, Somerville, South Boston, and Quincy, Bay State Skating School is a convenient choice for young skaters and their families in the Boston area. The first class of the session includes an evaluation of students' skills, after which they're placed in groups according to their age and ability. Classes include 25 minutes of instruction, followed by 25 minutes of practice. Students must provide their own skates and helmets, which are required for skaters under nine. The number of classes in a session varies, from just a few lessons to up to 10, making it a convenient option that can accommodate families' varied schedules.
---
Boston Common Skating School - North End and Charlestown
The Tots class, designed for children between ages 3 and 5, teaches beginner skaters basic skating skills such as getting up, standing on skates, and marching. Activities such as games and singing help keep kids in this age group engaged. Students earn badges and certificates as they complete each level. Classes begin with a 40-minute lesson, followed by a 10-minute free skate. All classes are five weeks in length.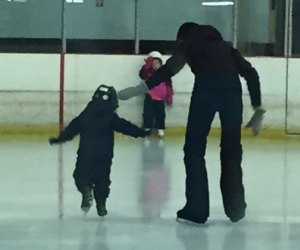 ---
FMC Ice Sports - Various Locations
FMC Ice Sports offers Learn to Skate lessons at rinks across the state, including a number of rinks convenient to the Boston area, such Burlington, Cambridge, East Boston, and West Roxbury. The program's seven-week Pre Tot class introduces 3- and 4-year-olds to the ice with an interactive format featuring singing and games. Once students master the skills taught in Pre Tot, they can advance to the Tot 1 class, where they will learn basic mobility on the ice while enjoying fun activities.
---
Sharper Edge Skating School - West Concord
Offered on weekday mornings, the Penguin Program is a Learn to Skate class designed especially for young skaters age 18 months through five years. Lessons are tailored to each age group's skills and abilities and feature plenty of opportunities to play and have fun. Each 45-minute class concludes with a supervised free skate session. Students must provide their own helmet and single-blade skates. The Penguin Program is available in 10- and 11-week sessions.
---
Skating Academy - Various Locations

Designed for kids age 4 through 6, the four-week Snowplow Sam class introduces young skaters to the fundamentals of skating using the curriculum of Learn to Skate USA. Before even hitting the ice, students learn essentials such as how to lace up skates and fall safely, and then advance to marching and gliding. Classes are available at the historic Skating Club of Boston in Brighton, as well as in Brookline, the North End, Somerville, and at the Frog Pond, among many other nearby locales.
---
Photos courtesy of author