Best Swimming Lessons for Kids in Boston: Baby & Me Swimming Classes and More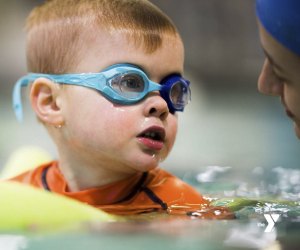 The best swimming lessons for kids in Boston are open for infants, toddlers, and kids of all ages. These Greater Boston swimming lesson locations cater to all skill levels as well. Swimming classes provide children with proper foundations for a life-saving skill. Swimming lessons are wonderful ways to provide a major confidence boost for a child; a child learning to swim sees success with every kick, stroke and splash! Besides being a great enrichment activity for exercise and physical development, swimming classes are downright fun at any age. And baby & me swimming classes let a parent and child take swimming lessons together, easing the child into the pool and creating precious memories. These classes can help adults learn to swim too. So read on for our guide to the best swimming lessons for kids in Boston.
You can find more swimming classes for kids, and even book a class online, in our directory of classes and listings. Check our Boston Classes for Kids Guide for more kids' activities and classes for kids of all ages and interests.