25 Fun Things To Do with Atlanta Toddlers and Preschoolers in Summer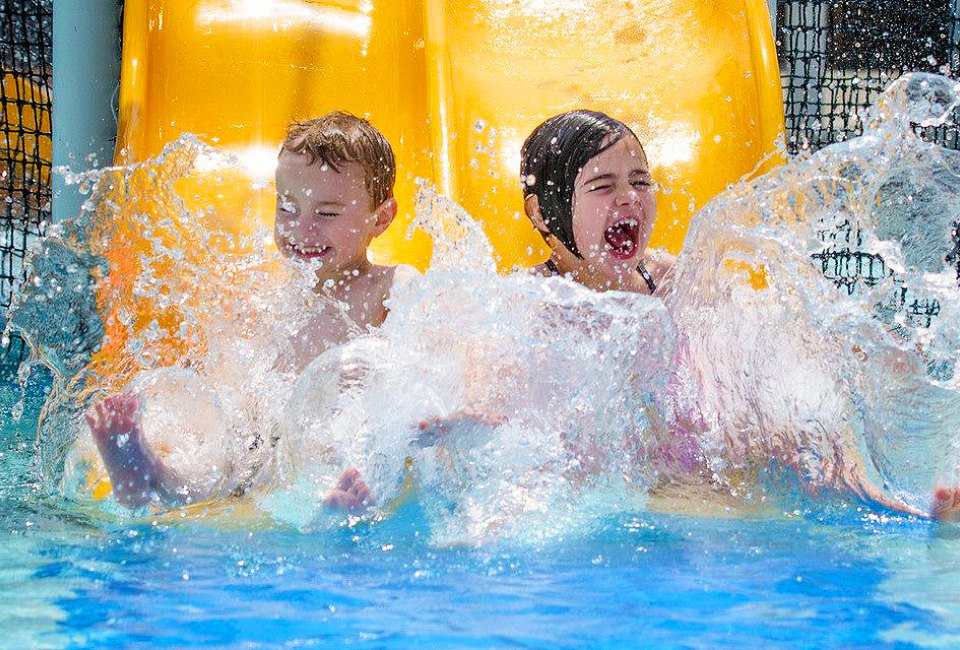 7/22/22
- By
Elsa Simcik
Atlanta toddlers and preschoolers are curious, energetic, and active; during the summer, that means keeping them cool while letting them explore and play. Our list of summer activities in Atlanta for the younger set (think ages 18months-4 years) involve indoor attractions, easy (albeit sometimes a little messy) crafts, interactive games, and water...lots and lots of water!
For even more summer fun in Atlanta, check out our list of Fun and Free Summer Activities and Events Near Atlanta for Kids and our always popular Summer Fun Guide for Atlanta Kids.
Little ones love to play at these water wonderlands, which are all over Atlanta. Best of all Atlanta splash pads and spraygrounds are affordable (sometimes FREE) and offer a great way to beat the heat.
This Atlanta gem caters to little ones, 10 months-8 years. Atlanta toddlers and preschoolers especially enjoy the interactive fishing pond at the Children's Museum.
With these games, toddlers and preschoolers stay busy while adults chill. Our favorite: "What's on Your Butt?"
We have lots of crafting ideas for those seashells kids take home from the beach. Check out the section with easy seashell crafts for toddlers and preschoolers, like the seashell jellyfish and the beach sensory bin.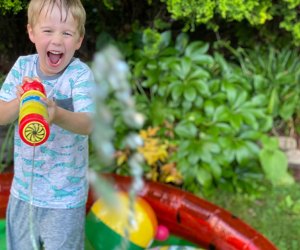 Get out the water guns for hours of fun in the backyard. Photo by Rose Gordon Sala
Outdoor water games, like Backyard Bath and Toy Wishy-Washy Station keep toddlers and preschoolers entertained and cool.
Our list of the best Atlanta playgrounds for toddlers includes those with bucket swings and soft surfaces. For summer, hit the ones with lots of shade like Morgan Falls Overlook Park, Logan Farm Park, or Roswell Area Park.
7. Attend Free Storytime
We love free, regular summer events for toddlers and preschoolers like Discovery Day Kids Club at Halcyon (every Wednesday at 10am) and Avenue Kids at Avenue East Cobb (last Tuesday of each month at 4pm).
There are plenty of things for Atlanta toddlers and preschoolers to do at Legoland Discovery Center at Phipps Plaza, including the age-appropriate Lego Duplo area. Summer bonus? Air conditioning.
We promise that our popsicle recipes are easy enough for toddlers and preschoolers to help, especially the fruit and yogurt swirl popicles, which only require two ingredients!
10. U-Pick Farms
Atlanta is full of fun u-pick farms and summer is the time for gathering blueberries and peaches.
11. Hop on Board
Toddlers and preschoolers go gaga over trains. They can ride historic trains at the Southeastern Railway Museum in Duluth—the second Thursday of each month, this Atlanta train museum hosts a preschool program, with games, stories, crafts, and featured vehicle.

Kids always enjoy the sweet pandas at Zoo Atlanta. Photo courtesy of the zoo
The great thing about Zoo Atlanta in the summer (besides the awesome animals like gorillas and pandas) is that it has a splash fountain and wonderful mist fans everywhere to cool down visitors.

Sort pom-poms, tiny toys, and other small objects by color of the rainbow. Photo courtesy of Liz Baill, @creativishmom
Atlanta toddlers will love creating these fun, easy rainbow crafts during summer. Little ones especially like the fine motor crafts, like putting colored pipe cleaners into colanders and sorting with Magna-Tiles.
You've likely heard of all of these backyard games but check out our list for a refresher. The Grass is Lava; Duck, Duck Goose; and Hot Potato, are just a few to play with your young child.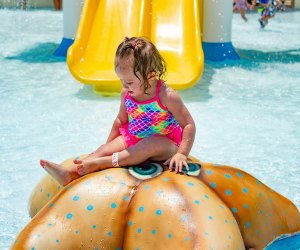 The Fun Zone at Margaritaville Lanier Islands is perfect for little swimmers. Photo courtesy of the venue
Pack up the sand toys, sunscreen, and hats and make the short summer trip from Atlanta to a quiet lake like Pike Lake in Dekalb County or Margaritaville Lake Lanier Islands, which has a Fun Zone for smaller children.
16. Attend a Puppet Show
Young audiences can giggle as loud as they want at the Center for Puppetry Arts, which has amazing productions plus interactive "create-a-puppet" workshops. The City of Roswell also offers weekly summer shows with its popular Roswell Summer Puppet Series.
17. Take Swim Lessons
Let your toddler or preschooler learn to love the water with swim lessons from one of Atlanta's swim schools.
18. Scream for Ice Cream
Indulge your toddler or preschooler on National Ice Cream Day (July 17) or any hot summer day. You can also have fun making your ice cream or putting out a sundae bar.
Atlanta has tons of public pools and aquatic centers that cost just a few bucks for a day visit. Most have splash areas, zero entries, and water playgrounds, perfect for toddlers and preschoolers.
20. Get STEM-y
Toddlers and preschoolers love experimenting and getting messy. We have 25 Preschool Science Experiments easy enough for the little ones.

Toddlers and preschoolers can visit the butterfly encounter at Chattahoochee Nature Center. Photo courtesy of the center
21. Meet Butterflies
All summer long the Chattahoochee Nature Center honors butterflies, first with the Butterfly Festival in June and continuing with the Butterfly Encounter. Toddlers and preschoolers can visit the butterfly exhibit and encourage the beautiful creatures to land on nectar-covered brushes.
22. Let Loose at an Indoor Play Area
Beat the heat at an Atlanta indoor play area. Most of the ones on our list are free and all are air conditioned.
23. See a Movie
Many Atlanta theaters have discount summer movies for kids, such as Regal's Summer Movie Express and Movie Tavern's Summer Kids Dream Family Movie Series. Families with toddlers and preschoolers can also enjoy Free Outdoor Summer Movie Nights.
24. Visit your Local Library
Many of Atlanta's library systems (Cobb, DeKalb, Fulton, Forsyth, Gwinnett, and Henry Counties) have summer reading programs, which include storytimes and arts and crafts.
25. Catch Fireflies
It doesn't get more classic summer than catching fireflies. Toddlers and preschoolers can run around, capturing fireflies in a jar and watch them shine before setting them free.
Click Here to Sign Up!