Best Blueberry Picking Farms and Festivals in Atlanta for Pick Your Own Berries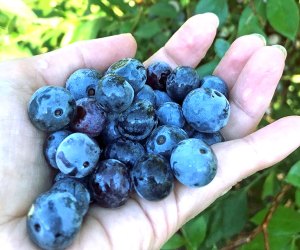 The season is here to visit blueberry-picking farms! Featuring varieties of the native rabbiteye blueberry, most Atlanta farms open for the season from early June and end near late July. Now's the time to gather your family (with hats, sunscreen, and closed-toe shoes) and head to one of these u-pick blueberry farms in the area. These pick-your-own berries are delicious in baked goods, topped on cereal, or on their own as a tasty treat.
Before you head out to blueberry picking farms, check each site's social media page or call as overpicking, weather conditions, and staff shortages may cause unforeseen closures. Also, confirm payment options as some pick-your-own berries farms might not take credit or debit cards. For more fruit-picking opportunities, read our Pick Your own Guide to Farms in Atlanta.

Adams Farm is a great spot to find some tasty blueberries.
Blueberry Picking Farms Near Atlanta
Although the Adams family has farmed on their property since the 1800s, they didn't add u-pick blueberries, strawberries, and blackberries until 1977. Hours are 9am-4pm, Monday through Saturday; however, before you come, call for the recorded daily update of hours and current picking conditions. Adams Farm provides lined containers for picking Brightwell, Premier, and Tifblue varieties of blueberries. Portable restrooms and a hand-washing station are available. The open-air market sells jams, jellies, and fresh produce grown on the farm such as tomatoes, squash, and green beans. Cash and check only.
Berry Patch Farms expects to open July 1 for the 2022 season after a freeze destroyed last year's crop. Check the farm's Facebook page closer to opening date for specific hours and pricing. In addition to blueberry picking, the farm opens in October with a pumpkin patch and hayrides, as well as in December to sell Christmas trees and hot cider. Check, credit cards, and cash accepted.
Operated on the honor system by the Jones family, Blue Moon Berries offers parking along the road and enter through the white gate from sunrise to sunset during blueberry season. Prices are $6 for a large (16-cup) bucket and $3 for a half (8-cup) bucket. Exact change only. Please leave the bucket and place your purchased blueberries in your own bag when you depart.
Since the five-acre blueberry farm sets opening hours based on blueberry availability, subscribe to the weekly email or check the website for updates. Blueberries are priced per gallon at market prices. After picking, be sure to quench your thirst with their refreshing blueberry lemonade. You can also purchase fresh eggs and blueberry plants. Although the blueberry picking farm accepts credit cards, they prefer cash.
Champions Blueberries, currently open, allows visitors to pick blueberries from over 6,000 blueberry bushes on the 19-acre farm! Hours are 8am-8pm every Thursday through Sunday and blueberries are priced at $4 per pound. Pay by cash, check, or Venmo.
Cool Springs Blueberry Farm just opened for the blueberry-picking season and is open Thursdays, Saturdays, and Sundays, from 8am-1pm (unless it is raining). Prices are $4 per pint, $7 per quart, and $19 per gallon.
Located near the Mall of Georgia, DJ's U-Pick Blueberry Farm opened for the season mid June. Hours are 8-11 am Monday through Saturday through July. Blueberries are $5 per pound and the farm provides containers with take-home bags. Payment is cash or check only.
Five Sons Farm is open for u-pick blueberries! Picking hours are 9am-4pm every day. Bring containers or purchase one for $2.50 and pick from over 2000 organic blueberry bushes in eight varieties. FYI, beginning in mid-July, the farm also sells homegrown heirloom tomatoes.

If you're not sure if blueberries are ripe enough to pick, just ask staff at farms, like Fleeman's.
Fleeman's U-Pick Farm boasts over 800 bushes encompassing eight varieties of blueberries.Visit the website as hours and opening days are constantly changing due to weather and overpicking. Blueberries are priced at $15 per gallon and they provide containers with removable liners. Portable restrooms and hand washing available. The farm sells pre-picked blueberries and blackberries. Cash, check, and credit card accepted.
With a playground, barnyard animals, gem mining, and picnic area, children love visiting this fifth-generation working farm. Hours are 9am-6pm Monday through Saturday and noon-6pm on Sunday. Pay $1 per person to enter the picking fields —then blueberries and blackberries cost $8.95 per quart; $14.95 per half-gallon; and $20.95 per gallon. Visitors can also pick lavender and peaches. Stop by the farm market to purchase refreshments, Mitcham farm-raised beef, local honey, and more.
Expected to open in late June, Prewitt Berry Farm's picking hours are 8am-6pm, every Wednesday through Saturday during the blueberry picking season. Check the farm's Facebook page for updated opening dates, operating hours, and more details.
RabbitEye Farm is conveniently located near I-85 between West Point and LaGrange. Staff members provide containers with removable liners so you can pick a 2.5-quart of organic blueberries for $15. Picking hours are Tuesdays, Thursdays, and Sundays from 8-11am and 6-9pm throughout June. The farm also offers u-pick thornless blackberries and sells fresh honey. Cash and PayPal only.

Southern Belle Farm is an all-day affair! Besides blueberry picking, families can mine for gems, visit the animal barn, and more.
If you're looking for a large farm destination, visit the 330-acre Southern Belle Farm. Blueberry picking hours are 9am-5pm Monday through Saturday and 1-5pm on Sundays. Pay $1 per person to enter the picking fields or purchase a season pass for $4.95 per person. Select a white bucket to pick blueberries at $20.95 per gallon or a yellow combo bucket to pick a medley of strawberries, blueberries, blackberries, and peaches (based upon availability) also for $20.95 per gallon. Check the gray banner at the top of their website to see what fruit is ready to be picked that day. You can even pick zinnias in the flower patch for $14.95.
After blueberry picking, walk your children over to Belle's Barn to see farm animals! On weekends, let the kids search for arrowheads and sharks teeth at the gem mine for an additional fee. Before leaving, stop by the Country Market and enjoy homemade ice cream, cobbler, and baked goods, or purchase local honey, fresh produce, fruit cider, preserves, and more. Major credit cards and cash accepted.
Located in northwest Georgia, The Blueberry Farm expects to open around July 1 for blueberry picking in their two fields. Hours will be 7am–8pm daily (except Wednesday). After picking, relax on the lawn chairs, have a picnic lunch, and enjoy the swing set. Visitors can purchase Blueberry Favorites Cookbook, featuring the farm's original recipes. Touch-free payment options, cash, and checks are accepted.
Now open, the Knight family welcomes visitors from 7am-2pm every Tuesday through Saturday through mid-to-late July. If you can't make these hours, call to schedule an after-hours visit. Containers are provided or you may bring you own to pick from over 700 bushes. Blueberries are sold by the pound at market prices. Cash only.
This family-owned farm offers u-pick blueberries for $8 per pound, now through the end of July. Other u-pick options include strawberries and blackberries (when available). Hours vary weekly so check the farm's website before a visit. While there peruse the homemade cobblers, muffins, jams, and salsas, then say hi to Curly and Curly Jr., the father-son resident Hereford bulls!
Blueberry Festivals In and Near Georgia
Participate in this 5K on July 9 and receive a bucket to fill with blueberries after the race. Children can race in the free tot trot, jump in the bouncy house, make crafts, and take a hayride. The cost is $30 and all proceeds benefit Liberty Eagle Academy in Carrollton.
If you're looking for a weekend trip, head up to Chattanooga for the Red, White, and Blueberries festival on July 3. Hosted by the Chattanooga Market, the event takes place from 11am-4pm. Listen to live music, watch the blueberry pie-eating contest, and purchase blueberries from local farmers.
Tips for Blueberry Picking with Kids
Wear sunscreen, hats, bug spray, and closed-toe shoes.
Stay well hydrated.
Leave dogs at home.
Supervise children at all times and instruct them to only pick the ripe berries (blue-gray color).
Bring a bag to transport berries in case the farm doesn't provide them or they run out.
Double check hours of operation and payment methods.
All photos by Rebecca Leffler.