Georgia Peach World Farm: The Sweetest Stop Along I95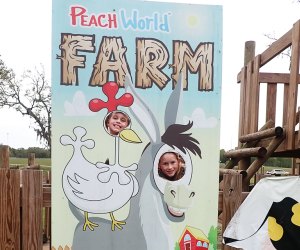 Georgia Peach World Farm is a must-see attraction for those traveling I95 in southeastern Georgia. After mile upon mile of boring rest stops and gas stations, Georgia Peach World beckons like a juicy oasis of family fun for weary road-trippers of all ages. Located directly off the highway at Exit 58 in Townsend, Georgia (between Savannah and Jacksonville, Florida), this travel respite offers bouncy houses, farm animals, an on-site cafe, and much more. The $12 wristband admission gets visitors all-day access!
With peach season starting this month, here's more on why this Georgia family farm should be scheduled on your next road trip! And enjoy more farms and fresh produce spots across our region with our helpful Pick Your Own Guide to Farms in Atlanta.

Get out of the car and onto the giant jumping pillow at Georgia Peach World.
Georgia Peach World Farm: Playtime, Petting Zoo, Pillows
My family takes a lot of road trips and if there's one thing I've learned on our travels, it's that long car rides can be hard on kids. Even with all our modern devices, children just need to get their wiggles out. Georgia Peach World is less than five minutes from Interstate 95, and it offers a ton of opportunities for kids to run, climb, swing, and jump.
This farm has several bouncy houses and a giant jumping pillow (an open-air inflatable trampoline.) There are two playgrounds: a large one for the big kids and a smaller one for the littles. My daughters spent a good 30 minutes swinging on the farm's tire swing and walking the wooden balance beam.
Then there are the animals —we visited with a variety of farm critters including goats, cows, sheep, llamas, and baby pigs. Be sure to walk through the quaint Big Red Barn, which houses other springtime babies, too. Most of the animals are friendly and gentle, and visitors can feed them with a bag of food purchased at the farm's general store or with the coin slot machines.

Georgia Peach World Farm: Fill Up on Good Food
Georgia Peach World's cafe sells great food, and we all know it can be difficult to find a good meal while traveling. I chowed down on chili and cornbread while my husband gobbled up a barbecue sandwich. Butternut squash soup and Brunswick stew are two more favorites on the menu. Kid picks like hot dogs and nachos are available, as well as a bagged lunch that includes a peanut butter and jelly sandwich, goldfish crackers, and juice box.
The general store, adjacent to the cafe, sells sweet treats like fudge, candy, and ice cream. If you're looking for a souvenir (or just something to occupy your kids in the car), the store sells toys and books, too.
And don't forget the peaches! We bought a bag of delicious Georgia peaches and were very tempted by all the peach-flavored baked goods. For adults, there are even peach wine slushies for sale (be mindful before getting back on the road). While the farm doesn't currently offer any pick-your-own experiences, they are working on making this a farm attraction in the near future. FYI: Farm employees tell me that July is peak peach season.

For $12, family members get an all-day admission wristband for all-day fun!
Georgia Peach World Farm: More Details
Georgia Peach World is open seven days a week, 10am-6pm. Parking is plentiful and free. The farm hosts birthday parties and holiday events (Easter egg hunt, cookies with Santa at Christmas, and a pumpkin patch at Halloween.) There are clean on-site restrooms and outdoor tables for easy picnicking. The family-owned company operates other country stores along I-95, selling peaches and more food items; but for the kid-friendly fun and cafe, seek out Georgia Peach World Farm.
Photos by the author