Best Swim Lessons in Atlanta for Babies and Kids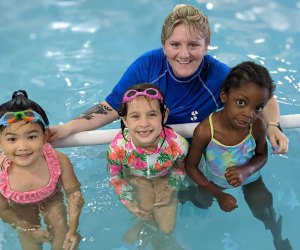 Learning how to swim teaches confidence, grit, and most importantly, life-saving skills. Swim lessons in Atlanta start as young as infanthood and go all the way to adult levels. Depending on schedule, budget, and accessibility, there are a variety of Atlanta swimming lessons parents can choose from: individual or group lessons; public locations or at-home pools; daily or monthly swim class schedules. For the younger set, many of these swimming classes can introduce your child to the water when he or she is less than a year old; but be advised, children who are not potty-trained will almost always be required to wear swim diapers.
We've rounded up a few of our favorite swim lessons in Atlanta, both intown and beyond the perimeter, that offer a well-rounded aquatic curriculum—fun and informative!