30 Things to Do With Atlanta Babies Before They Turn One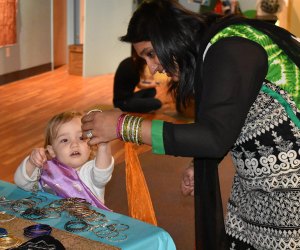 8/20/21
- By
Elsa Simcik
That first year of life is full of so many important moments—first bath, first smile, first teeth. (Put down those tissues...this is a fun list.) Grab the camera because we've come up with 30 fun, playful and even educational activities to do with Atlanta babies before they turn one—a baby bucket list, if you will. Luckily, Atlanta is a great place to grow up with tons of outdoor spaces, family-friendly attractions and plenty of free things to do.
Outdoor Ideas to do With Atlanta Babies Before Age One
Stroll through the gardens to explore nature. Go on a Wednesday and attend storybook time.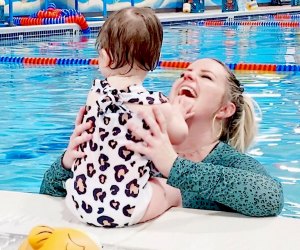 Take a class with your baby at Goldfish Swim School. Photo courtesy of the school
2. Swim Lessons
Introduce your baby to the water at one of Atlanta's swim schools.
3. Biking
More like the parent bikes and puts his or her baby in a seat or trailer and head down one of Atlanta's great bike paths, like the BeltLine or Big Creek Greenway.
4. Petting Zoos
Visit Atlanta animal farms and petting zoos to introduce your baby to familiar and exotic creatures and opening their eyes to the exciting world around them.
5. Feeding Ducks
Check out Lullwater or Piedmont Park for this activity. (Tip: Skip the bread and feed the ducks bird seed or uncooked oats.)
6. Swing
Push your baby in an infant swing at one of these awesome playgrounds. We especially like Morgan Falls Overlook Park in Sandy Springs for crawlers with its turf ground cover.
7. Trains
Climb aboard a train such as The Blue Ridge Scenic Railway or Stone Mountain Park.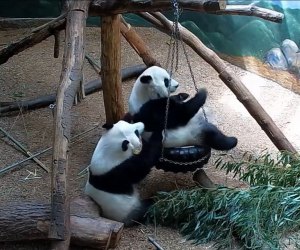 Watch the pandas at Zoo Atlanta. Photo courtesy of the zoo
8. Wildlife
See gorillas, elephants, pandas, and more at Zoo Atlanta. Twice a month they offer Adventure Cubs, a perfect program for babies.
9. Outdoor Shopping Centers
Get some shopping done and then let baby climb at the squirrel-themed soft playground at Avalon or play in the sandbox at Halcyon.
10. Nature Centers
Stroll around the Chattahoochee Nature Center or Dunwoody Nature Center to see what grows in and around Atlanta.
11. Picnic
Pack baby's favorite snacks and enjoy lunch outdoors in your backyard, local park, or one of these nearby state parks.
Indoor Activities to do With Atlanta Babies Before Age One
12. Merry-Go-Round
Take a carousel ride at North Point Mall but check safety precauctions before you show up.
13. Energy Burst
Practice climbing at an indoor playground like Hippo Hop and Buddy's.
14. Fun at Home
Try an easy DIY sensory activity, like making a rice bin or scent jars.
15. Children's Museum
Take a trip to the Children's Museum of Atlanta, which has a special play area reserved for babies two and under.
16. Local Libraries
Check your local library's calendar (Fulton County listed here for example) for free, interactive story times for ages 0-5.
17. Toy Stores
Visit an Atlanta toy store like the whimsical Treehouse Kid and Craft in Decatur or Kazoo Toys in Buckhead.
Watch your baby stare in awe at colorful fish and giant sharks.
19. Puppet Shows
See fairy tales come to life through puppets at the Center for Puppetry Arts in Midtown or at the Roswell Cultural Arts Center.
20. Books
Snuggle with your baby and read timeless books like The Very Hungry Catepillar and Harry the Dirty Dog.
21. Parent and Baby Classes
Bond with your baby through Mommy and Me classes like Music Together or Gymboree.
22. High Chair
Turn baby's high chair into an activity center.
23. Sensory Play
Do lots of tummy time at home and visit The Bunny Hive in Chamblee for their sensory class for babies 0-18 months.
Seasonal and Holiday Activities for Atlanta Babies
24. Snow
Play in the snow at Margaritaville at Lake Lanier Island's Snow Island.
25. Sand
Dip baby's toes in the sand at a lake beach near Atlanta.
26. Splash Pads
Splash at one of Atlanta's many spraygrounds. Bring cups to entertain your baby for hours.
27. Fireworks
Look up in the sky on the 4th of July for amazing fireworks. (Don't forget headphones!)
Dress up your baby in an adorable (but comfortable) costume and take pics at a local pumpkin patch.
29. Holiday Ride
Take your baby on a mini-roller coaster ride at the famous Macy's Pink Pig at Lenox Square Mall.
30. Celebrate
Say goodbye to your baby's first year with a party, a smash cake, and a photo shoot. Okay, now you might need to grab those tissues...