Father's Day Weekend Things To Do in Westchester: Plus, Honoring Juneteenth and More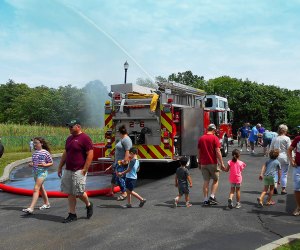 Looking for the best things to do this Father's Day weekend in Westchester and the Hudson Valley? Here are some family-friendly events and activities to add to your list.
Families can celebrate dad's special day at one of the many festivals happening this weekend, including a family-friendly Craft Beverage Festival at Twin Star Orchards, a Battle of the Bands in Peekskill, and a Summer Kickoff Festival in Yonkers, where families can take kayaks and paddleboards out on the Hudson.
Adventure-loving dads can enjoy a full weekend of hiking and outdoor seminars at the beautiful Harriman Park, and who says brunch is just for moms? Stew Leonard's of Yonkers is hosting a special Father's Day Brunch with a buffet of special treats for dad. We've also tapped a local dad for his top ways to celebrate Father's Day. Of course, it's also Juneteenth, and there are numerous events to celebrate, including the Songs of Our Fathers in New Rochelle and the Juneteenth Celebration at Caramoor Center for Music and the Arts.
We've got more picks for seasonal fun in our roundups of free outdoor movies, summer fairs and festivals, and the best things to do in Westchester and the Hudson Valley this June.
More Things To Do in Westchester and the Hudson Valley this Week with Kids: