Top Swim Lessons and Classes for Westchester Kids
Hoping to get your child more comfortable in the swimming pool? You're in luck: there are lots of swim class options for Westchester kids, from babies through teenagers. With classes focusing on everything from basic swimming skills and safety to mastering specific strokes, there's something for every level of swimmer. Choose from group lessons, private lessons, or even lessons in your home pool.
Ready to dive in? We've rounded up a list of swim schools to get you started.
For more ideas, check out our Classes Guide for a full rundown of classes available in the area. Or sign up for our newsletter to stay in the know!
Kids' Swim Lessons in Westchester
Empire Swim School – Tarrytown and Dobbs Ferry
This swim school offers lessons at two pools in the area: at The Hackley School in Tarrytown and at The Masters School in Dobbs Ferry. Toddlers who are at least 20 months old (through 6 years old) can start in the Introduction to Water Skills class, which covers basics like floating and kicking—and parents don't get into the water themselves. Other classes offered include a Fundamental Aquatic Skills class for 4- to 10-year-olds, and then kids can move on to Pre-Competitive Swimming. Most classes meet on Sundays and classes are three kids per one instructor.
JCC of Mid-Westchester – Scarsdale
Kids ages 1 to almost 3 can get in the water—with a parent—for the JCC of Mid-Westchester's Little Goldfish class. From there, a variety of classes are offered, depending on the child's age and level. Classes are offered in the fall, winter, and spring and run anywhere from seven to 14 weeks, depending on the day, session and level. Not close to Scarsdale? The Shames JCC on the Hudson in Tarrytown also offers swim lessons for kids starting at 6 months old.
SwimLabs Westchester – Elmsford
This Elmsford-based swim school offers a cool feature: "video feedback" from cameras set up in the pool to show kids exactly how they're doing. Little ones as young as 6 months old can start in the ParentTot class, before joining the Toddler Transition class once they hit 2 years old. Beginner lessons (post the toddler classes), progress through three levels before moving on to intermediate and advanced classes. There are usually just three or four kids per class, and sessions run in four-week blocks. The school also offers a Learn-to-Swim Special Needs program, as well as competitive and private lessons.
RELATED: 12 Mommy & Me Classes You Can Take on the Weekend in Westchester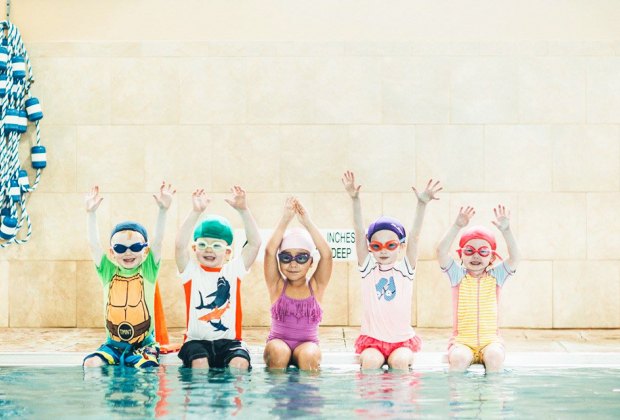 Your child can learn to swim in a small-group setting at Swim Tank.
Swim Tank – West Harrison and Mamaroneck
Babies as young as 4 months old can start swim lessons at Swim Tank. The youngest start in the Infant/Toddler class, where parents get in the water with their little ones. Kids 2.5 years old and up can join the Learn to Swim class. Also offered: Stroke Discovery, Stroke Development, and Stroke Clinics, as well as private lessons. Classes are small—as low as two students per instructor in the Learn to Swim class—and there are "achievement level" badges as kids attain new skills.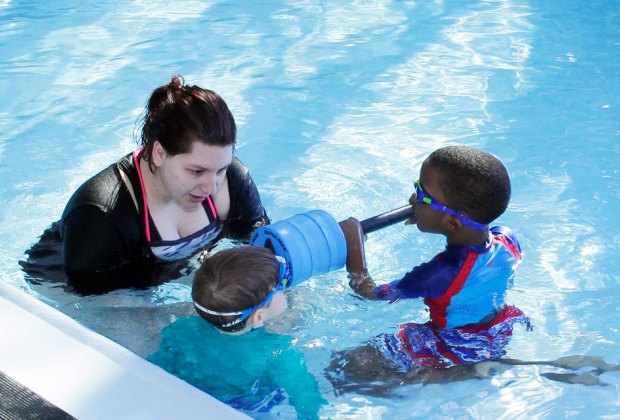 Take Me to the Water Swim School offers semi-private lessons for kids ages 3 and 4.
Take Me to the Water Swim School – Rye Brook and Nanuet
Lessons at this swim school are held at the pool at Doral Arrowwood in Rye Brook and across the river at the Hampton Inn Nanuet. The Baby and Me class welcomes babies starting at 6 months old. Toddlers who are 3 and 4 can take part in semi-private lessons, with just two kids per instructor, and kids 5 and up take part in group lessons. Want to see what's offered? There are short videos on their website for each type of class to give you a better idea about what to expect.
Kids' Swim Lessons in Westchester with Multiple Locations
Learn to Swim program – Yonkers, Mount Vernon, Rye, and White Plains
The Learn to Swim program, offered through the Westchester County Parks Department, is held at the county-run pools during the summer, including Saxon Woods, Tibbets Brook Park, Wilson's Woods and Playland . Held on weekdays—the day and time depend on which pool and the age of your child—lessons are for kids anywhere from 6 months to 17 years old. You'll need a Westchester County Parks pass to participate (except at Playland)—and lessons are cheap: just $80 per child for the whole session.
RELATED: Best Swimming Pools for Westchester and Hudson Valley Families

Take lessons in your own pool, or in another pool of your choice, with Sunsational Swim School.
Sunsational Swim – Various locations
Prefer to have lessons at your own pool? This swim school provides local instructors for babies starting at 6 months, with packages available for six, 12, or 18 lessons. Instructors must pass background checks and are certified in CPR and First Aid. Don't have your own pool? They can also visit a community pool, gym, or other location.
YMCA and YWCA – Various locations
There are swim lessons available at the YMCAs in Tarrytown, Rye, and New Rochelle, and at the YWCA in White Plains. While the times and days of the week vary, most of the lessons start for kids at about 6 months old with a parent-and-me style class, and then go up through teens. Many also offer private lessons and swim teams.
Photos courtesy of the swim schools
This post was originally published in 2018 and has since been updated.