Visiting Holiday Road in Virginia and Enchant Christmas in DC with Kids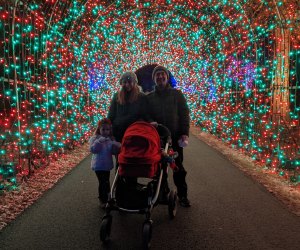 DC is sparkling in 2021 with more Christmas lights displays and immersive holiday experiences than ever before! My family loves to visit at least one holiday lights display each year—it's a highlight of the season for my kids. This year, we were thrilled to visit two fantastic holiday events near DC—Holiday Road, a newcomer to the area located in Leesburg, Virginia, and Enchant Christmas, which returned to Nationals Park for the third year after being closed in 2020 due to Covid. Both events were really fun and quite different from each other, so you can pick the experience that's right for your family. At either one, you're sure to find plenty to love.

Kids will love sitting in Santa's sleigh.
We attended Holiday Road in Morven Park on the Saturday after Thanksgiving, which was opening weekend. When we arrived, the staff were delayed letting people inside because there were technical difficulties and some of the lights were not working. Hopefully this was just an opening-weekend kink and everything is now running smoothly!
Be prepared to wait in line at the entrance (especially if you go on a weekend like we did), and dress warmly. There were carolers keeping people entertained and some heat lamps, but the line did feel long. Once we were inside there were no crowds, and we had plenty of space to social distance from other groups.
The centerpiece of Holiday Road is a half-mile, self-guided walking trail of lights and holiday displays. It takes about 35 to 45 minutes to walk the trail. My 3-year-old easily made the walk by herself. The trail is paved and very stroller-friendly—our baby slept the entire way in her bassinet.
The lights at Holiday Road are pretty, but what makes this show unique are the life-size displays of different wintry and holiday scenes, complete with themed music and sounds. Our favorite sections included a Nutcracker-themed display with giant ballerina statues, an Arctic wonderland with polar bears and penguins (including the sounds of polar bear roars, which startled my toddler a bit at first), a gingerbread village, and reindeer stables with life-size models of all of Santa's reindeer.
We did get very chilly as we walked, but there are strategically placed heat lamps where we stopped to warm up. About halfway along the trail, there's an indoor bar where visitors can warm up with a seasonal cocktail or hot cocoa.
Before or after you enter the trail, check out the marketplace area, where you can purchase Holiday Road merchandise and unique gifts from local artisans.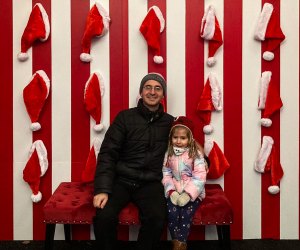 There is no shortage of family photo ops at Holiday Road.
As far as pictures go, there are so many Instagrammable photo ops! We discovered a Santa sleigh with reindeer that our daughter loved sitting in. Inside one tent, there was a Christmas backdrop with red and white stripes covered in Santa hats and a glittery silver New Year's Eve backdrop. For an extra $20, families can go inside a snow globe and take a 3-D video of themselves dancing to Christmas music in the snow.
If your family gets hungry, there are lots of food trucks with kid-friendly options like pizza, chicken tenders, and Tex-Mex. There's also an enormous tent with a DJ and two full bars with tables and chairs. Don't miss the donut truck for dessert!
Know before you go:
Holiday Road is open from 5-10pm on weekends, and on weeknights starting December 15. It is closed on Christmas Day. Tickets start at $29.99 on weeknights and $34.99 on weekends. Children age 2 and under are free. Visitors can arrive up to 30 minutes early, but won't be allowed to enter until the time indicated on their ticket. There is a security check for bags, and no outside food or drink is allowed.
Parking is plentiful, but you have to purchase a parking pass for $9.99. There is a bit of a walk to get from the parking area to the entrance.
There are bathrooms, but most of them are porta potties, so be prepared if you have a baby that may need changing or a newly potty-trained kiddo. There was no diaper-changing area that I saw.
There is also no opportunity to meet Santa at Holiday Road, so learn from my mistake and don't tell your toddler he'll be there!
Our Experience at Enchant Christmas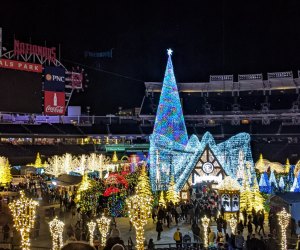 Enchant Christmas is truly a sight to behold.
I've been wanting to check out Enchant Christmas at Nationals Park since it opened, and it did not disappoint. We brought the whole family, from Grandma and Grandpa to my 6-month old, and everyone loved it. The 100-foot-tall, animated rainbow Christmas tree towering over a glistening maze of multi-colored lights catches your eye first. Enchant is not just a light show, though—it's a whole holiday experience with a light maze, ice skating, a holiday market, a kids' play area, and Santa and Mrs. Claus! We spent nearly three hours exploring everything Enchant had to offer.
There was no line to enter Enchant Christmas when we arrived at 4:45pm on a Saturday, but it did get very crowded inside. Weeknights will probably be less crowded. We started our adventure on the main concourse, exploring the Christmas market with unique gifts from local vendors. The Little Ones' Play Place is a must-visit for those with younger kids. There's also a Kid Zone with soft toys that my 3-year old loved playing in. Every hour Mrs. Claus has a special storytime there by the fire.
Next to the Kid Zone is a meet-and-greet photo op with Santa, the highlight of the evening for my daughter. And good thing, too, because we waited in line for an hour and a half! (Again, the line may be shorter on weeknights.) When it was our turn, the photographers scanned our QR code ticket, and we received photos of our family with Santa via email within 48 hours after the event. Photos cost $10 per picture, or for $29 you can purchase a photo pass with access to all of the photos taken by Enchant's professional photographers. You can also just use your phone and the helpful elves will take pictures for free.

Santa Claus is ready to meet families at Enchant Christmas.
After that long wait to see Santa, we had built up an appetite. There are many options for food and drinks. For the kids, don't miss the "Enchanted hot chocolate," complete with marshmallows and a tiny gingerbread house. For adults, there are full bars with seasonal cocktails, including Enchant's signature cocktail in a light bulb that actually lights up. Many of the popular food vendors in the stadium are open, including Ben's Chili Bowl. There's even a vendor selling glowing cotton candy!
The lighted maze and the ice skating rink are located down on the field. The theme for this year's maze is "The Mischievous Elf." Eddie the elf has hidden eight gifts around the lighted maze, and visitors receive sheets with clues to find the eight toys. My daughter loved trying to solve the clues, but it's also fun to just wander around and take in all the beautiful details and photo ops. There's a "hall of mirrors" with strands of lights hanging down all around you. We walked through giant presents and ornaments made out of lights that mesmerized my 6-month old. My toddler loved the airplane and train that she could climb right into. Another can't-miss area is the rainbow dance floor that changes colors as you walk. Each of these photo ops has a professional Enchant photographer stationed nearby who is available to take visitors' pictures.

Ice skate through a glowing forest of lighted trees. Photo courtesy of Enchant DC, Facebook
We skipped the ice skating because our kids are so young, but it looked beautiful. The rink follows a winding path through lighted trees that looks like a glowing forest. Skate rentals are $10, and visitors can reserve a time online in advance. I'd highly recommend making a reservation and avoiding the line—the rink looked crowded when we were there.
Know before you go:
Parking is limited and expensive. There are two garages in Nationals Park, and we paid $35 to park in one of them. I recommend buying a parking pass in advance, especially if you don't have the earliest entrance time to the event, because the lots do fill up. Public transit is also an option—the Navy Yard metro station is one block away.
Strollers are allowed on the main concourse, but not down on the field. There is a stroller valet near the maze entrance.
Enchant Christmas is open from 4:30-11:30pm. Prices start at $29 for adults and $25 for children on weeknights, and at $39 for adults and $29 for children on Saturdays and Sundays. Kids age 2 and under are free, and there are senior and military discounts. Many entrance times on weekends are selling out, so check the website for the latest information on pricing and availability.
All photos by the author unless otherwise indicated