Villas by Linda Smith: Luxury Jamaican Vacation Rentals Perfect for Families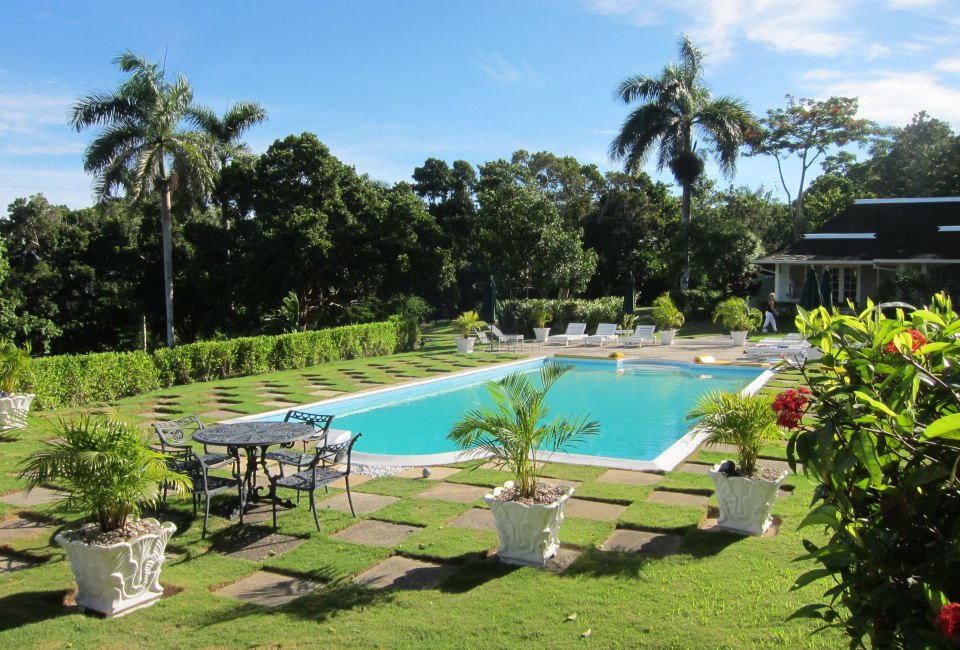 10/28/14
- By
Allison Tibaldi
We've reviewed plenty of hotels and resorts in the Caribbean, the go-to choice for most travelers to the region. But for some families, skipping the hotel and renting a private home might be preferable. A house provides many advantages for families, like more room and amenities that can make travel with children much easier. It's one reason we like home swapping so much.
The one drawback to renting a vacation house can be missing out on some of the services and amenities that you get at a hotel or resort. The family who wants the advantages of a house rental and the luxury service of a resort can find it with a company like Villas by Linda Smith in Jamaica.
Why consider renting a private home?
For multi-generational travelers, large families and family reunions, a vacation rental property can have many advantages. A private house offers plenty of space for everyone. While spending time with extended family can facilitate memorable moments, a bit of privacy and personal space is usually welcome. While certainly not cheap, even luxurious villa rentals can be a good value. Do the math and you may find it more cost effective than staying at a resort. Unlike cookie-cutter chain hotels, the vacation rental experience is very personalized.
A Jamaican Villa
I recently was invited to Jamaica to stay in a 6-bedroom private villa operated by Villas by Linda Smith. The company owns nearly 600 properties and has been in business since 1985. Jamaica is their sole focus, so they really know the island. Their properties are island-wide, but most are clustered near Montego Bay. This means that they are only minutes from the Montego Bay airport, so you can start your vacation soon after you land.
Luxury is Included
I've rented vacation homes using sites like VRBO and Craigslist in several countries without a hitch. If you are willing to do the legwork, these types of do-it-yourself rentals can work fine. But the wraparound attention that you get renting with Linda takes the level of service up several notches. They customize everything. Need formula for baby? Oxygen for granny? They'll take care of it before your plane lands.
Each property is stocked with high-end amenities. From toiletries to fresh linens to private swimming pools and tennis courts, you will want for nothing.
Linda or one of her staff inspects each property, even sleeping in them periodically to make sure they are up to the standard of discerning guests.The local Concierge drops by to welcome you early on in your stay. She was always accessible during our holiday and was a wealth of knowledge regarding local happenings.
A Pampering Staff
The staff of eight at our villa included a live-in house manager, cook, maid and night watchman. They cook, shop, wash and iron your laundry, watch your kids and generally specialize in pampering you. They couldn't have been kinder or more attentive. From the time we got up in the morning and found a steaming pot of coffee until the last dinner dish was washed, they catered to us.
A Variety of Sizes and Price Tags
The homes vary in size and price, but they are all luxurious. Most have private swimming pools and some have tennis courts. Expect to pay approximately $5,000 per week for a large, multi-bedroom villa in the low season and $8,000 in the high season. Low season is mid- April until mid-December. Christmas and New Year's weeks have special holiday prices, even higher than high season rates. If you're splitting the rental cost between several families, the price per person may be cheaper than staying at a fancy resort. There are less expensive homes in Linda's portfolio and there are astronomically priced homes suited for Donald Trump. You pay for the food that the staff prepares. Don't forget to budget for the cost of the suggested staff tip. Linda recommends calculating 10% of the total cost of your stay in high season and 15% of the total cost in low season.
Club Membership is Included
Most villa rentals include membership to nearby private clubs for your entire group. These posh private clubs offer golf, children's programs and spectacular beaches.
Book Early in the High Season
These rentals properties book up years in advance during the holidays. Many families book the same home and return annually, so book early in peak season.
Rent a Car and Driver to Explore Jamaica
Roads in Jamaica are notoriously rough, and few foreigners are comfortable driving here. To make matters worse, cars are left-hand drive, just like in Great Britain. Some families may never want to leave the rental property, but if you are curious to explore the island, hiring a car with driver is recommended. Linda Smith can organize a car or van for your group. They are happy to arrange airport pick-ups.
The Details
The villa vacation gives families lots of options. You can lay low cocooned in the property or use it as a base to explore the island. It can be formal or casual, just let the staff know what you're comfortable with. For extended families, it gives everyone the possibility of personal time and space. I met families who were habitual renters and others who had saved for years to celebrate milestone events.
For more information on renting a villa in Jamaica visit Villas by Linda Smith.
Editor's Note: Mommy Poppins accepts free or reduced price accommodations in order to review travel destinations. The opinions of the writer are solely her own and destinations do not have any say in the resulting editorial.