Ultimate Archery Review: Family-Friendly Archery Dodgeball in NJ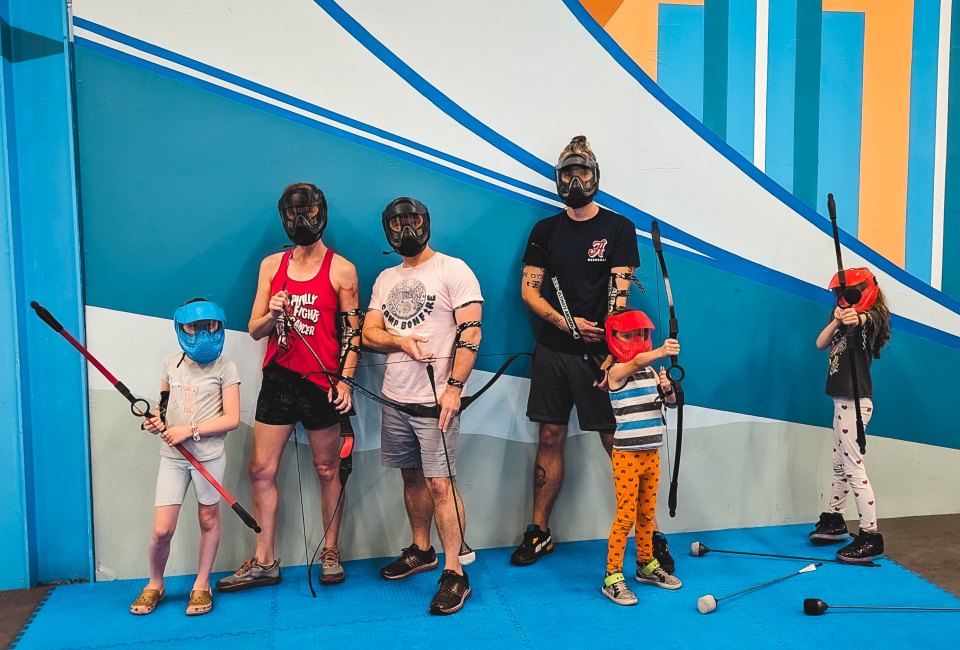 8/25/23
- By
Cait Sumner
If you've never heard of Ultimate Archery, you're in for a treat. Featuring soft, marshmallowy tipped arrows and inflatable hideouts, this intensely fun game is the perfect opportunity for some unique, full family bonding. The kids will blow off some energy, you'll get a great workout in, and everyone will sleep in the next day! Ultimate Archery is located in Maple Shade, NJ and is ideal for kids ages 7 and up, though my 6 year old was able to play too.
Looking for more extreme fun? Check out our list of Extreme Sports and Thrilling Activities for Philly Kids or visit our Play Gyms and Sports Center Guide.
A combination of archery and dodgeball, Ultimate Archery may sound a little intimidating at first, but your adrenaline starts pumping from the second you walk into the arena. Play starts with a plethora of soft arrows strewn across the middle of the floor in what's called "the safe zone." At the start of the game, everyone is divided into two groups and each group lines up with one hand on the mesh wall waiting for the countdown to begin and the whistle to blow to signal the start of play. From then on, it's chaos-- in the absolute best way!

The Ultimate Archery crew led a tutorial to teach us all how to load and shoot our bows.
How to Play
If you've never done anything like this before, dont' worry-- no experience is necessary and a thorough tutorial is given before beginning any game play. Members of the Ultimate Archery team will help outfit you with your gear and instruct you on how to load and shoot your bow. All players wear a face mask and a protective arm band. Between the armor and the soft tips on the arrow, there's no real risk of injury; we didn't even have any bruises the next day.
The Games
Walking in, I truly did not know what to expect. I imagined we'd all be gathering arrows from the center of the field and shooting them at the opposing team ad nauseum until our hour was up. But the team members at Ultimate Archery had more than that up their sleeves. Beyond the typical tag and you're out dodgeball game, we also played 6-10 other games all of which even my 6-year-old could pick up the instructions on. The intro game was called Zombie Apocalypse where, when shot, you had to hold your hands up in the air as you walked over to the other side of the field and joined the other team. One of our favorite games was Medic, where a player from each team volunteered as medic. That play received a shield instead of a bow and was in charge of healing anyone who got hit by holding a hand on their shoulder for 3-seconds. Once your medic got hit, nobody could be healed anymore and whichever team had members left on the field won!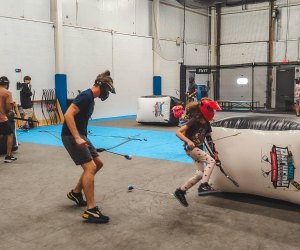 Things become more challenging as you play and the inflatable hideouts are removed from the game.
What We Loved
This game is so much fun to play with a large group of people. We had about 12 people total with a pretty even mix of kids and adults and we had a blast. I can imagine this would make for a very fun birthday party (for adults, kids, or families). I also loved that we were able to play this with our kids without really having to hold back. That said, I'm also excited to go back and play with a group of adults. It's a really versatile and unique experience!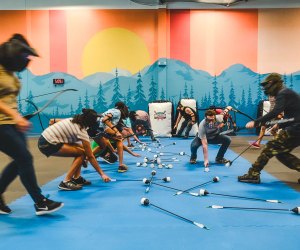 Everybody runs to the safe zone to grab some arrows. Photo courtesy of Ultimate Archery
What You Need to Know Before You Go
You will sweat a lot and definitely get your steps in, so wear your activity tracker, gym clothes, and sneakers. I highly recommend bringing a water bottle, though there is a water fountain available if you forget. You can also bring your own snacks or utilitize their open party room for pizza or sandwiches after the game. You're definitely going to be hungry when it's over! If you wear glasses, they will fit under the masks, but wear contacts if you're able for a more comfortable experience. Get ready to have some of the most fun you've ever had in your life!
All photos courtesy of the author except where noted
Places featured in this article:
Click Here to Sign Up!
i