Ninja Warrior Gyms, Obstacle Courses, and Parkour in Philly for Kids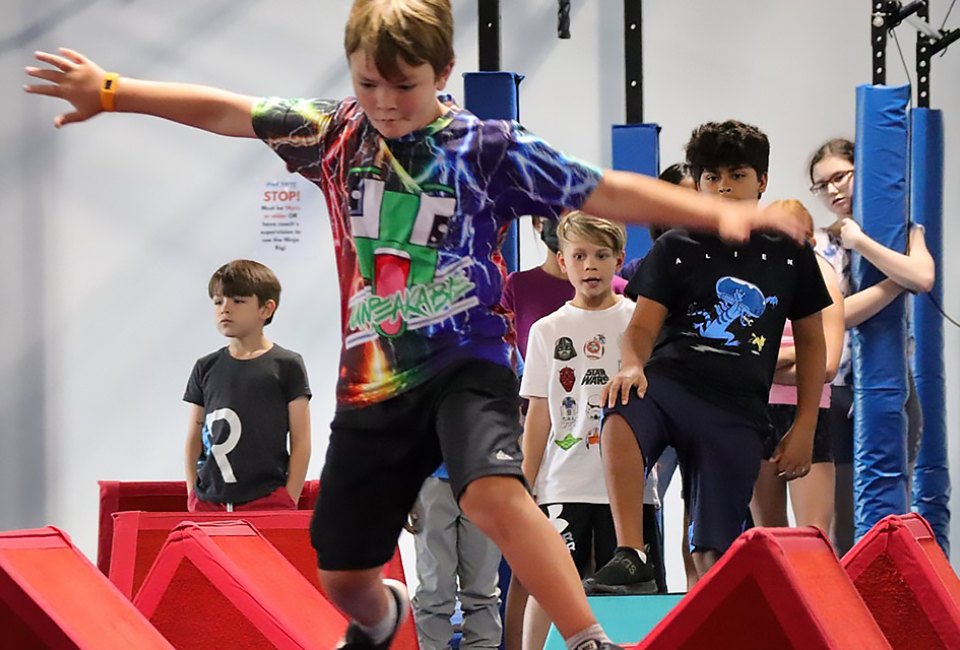 2/10/23
- By
Alyce Wilson
We've found the best Indoor gyms and parkour places in Philly where your kids can channel their inner ninjas.
High-energy teens and tweens often seem to be running obstacle courses as they bounce, bop, and weave through the day. Channel that energy, and build valuable physical fitness skills at these ninja warrior gyms, obstacle courses, and parkour facilities in the Philadelphia area.
Lots of these spots are great for for birthday parties too--visit our Birthday Party Guide for Philly Kids for more ideas. For more ways to get those kids off the couch to let off some steam, check out our list of trampoline parks and bounce house play zones, which can be found in our Guide to Indoor Play Spaces and Fun Zones.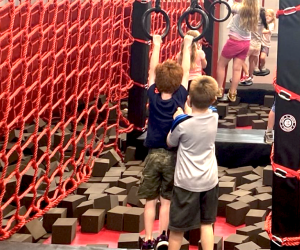 Challenge your inner ninja to the rings at Elite Sports Factory.
Ninja Warrior Gyms around Philadelphia
To live up to its goal of providing a safe, fun, and supportive sports environment for all ages, Elite Sports Factory gives kids and adults the chance to try out a warrior ninja obstacle course, two hardwood basketball courts, a turf training area with six batting cages, and a game loft filled with kid-friendly games like ping-pong, air hockey, and football.
Funzilla offers air bag jump lanes, a freestyle trampoline court, tumble lanes for more extreme acrobatics, a foam pit, ninja obstacles course, trampoline dodge ball and dunk lanes, and a battle beam. In addition, there's a three-level playground with slides, mazes, a ball pit, and more, as well as a dedicated toddler zone. Other activities include a virtual reality game, indoor electric go karts, and arcade video games.
At the Gravity Forge's Ninja Open Gyms, kids ages 6 and up can try out the sort of obstacles you might find on "America Ninja Warrior." Please note that sneakers are required; sandals, slides, Uggs, etc., are not considered proper footwear for would-be ninjas here.
iCORE Fitness means "Intensive Cardio through Obstacles to Gain Results and Endurance," and with that in mind, try out the full-scale ninja warrior course, or visit the parkour and tumbling section, which includes foam floors, trampolines, foam pits, high bars, and more. Or host a ninja-themed party with guided instruction along the course. There's also a rock-climbing wall.
At Philadelphia Gymnastics, children aged 3 to 12 can hone their skills with Ninja Zone classes, designed to develop core skills of gymnastics, martial arts, obstacle courses and freestyle movement.
For the serious ninja in training, consider taking Ninja classes at Reach Climbing and Fitness. Classes are geared to three different levels (ages 3 to 6, ages 7 to 10 ,and ages 11 to 15), with activities geared towards those levels. Ninjas will learn about maneuvering floor obstacles, climbing, racing, and improving balance and agility. Reach also offers ninja camps and ninja birthday parties.

Train like a real ninja warrior at SkyZone.
With its many locations across Pennsylvania and the US, Sky Zone is sure to have a place near you offering a ninja course, as well as open jump times, a foam pit, and specialized exercise programs for adults. At the location in Phoenixville, the Ninja Warrior Course presents participants with a number of challenges to put their abilities to the test.
Parkour classes for ages 5 through 13 at Upper Merion Dance and Gymnastics Center will train would-be ninja warriors to use strength, coordination and athleticism, as well as gymnastics, to conquer obstacle courses. Level 1 students develop jumps and body awareness and learn tumbling-related skills, while older students build on those skills.
Urban Air offers a variety of fun challenges, including a ropes course, climbing walls, the Warrior Course, Battle Beam, trampolines, and more. The Adventure Hub combines a Sky Rider, ropes course and tubes indoor playground. The Warrior Course combines the types of challenges that ninjas need to master, from hanging rings to tilted walls, all located in a ball pit to cushion falls.
Ninja Warrior Gyms in New Jersey
Ninja Warrior and parkour classes are available for ages 5 to 17, along with courses for kids and teens with special needs. Ninja Warrior parties include an obstacle course geared to the age level. Instructors will monitor and assist children and adults as they freely roam through the obstacles, parkour equipment, foam pit and trampoline.
Increase athleticism, creativity and discipline with parkour and ninja classes from Pinnacle Parkour. Kids ages 3 to 16 can improve their fitness through courses geared to their levels. Ninja-themed parties combine warped walls, rings, monkey bars and more for a fun challenge.
Photos courtesy of the facilities
Enter to Win!