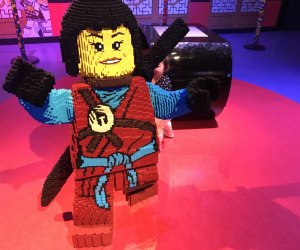 LEGO® NINJAGO Days come to LEGOLand Discovery Center
It's all martial arts, NINJAGO, and 4-D cinematic fun for two weekends in April as LEGOLAND Discovery Center celebrates the release of a new 15-minute NINJAGO movie. Read on for our review of the movie and highlights of these special event weekends.
On Saturday and Sunday, April 14-15 and 21-22, 2018, LEGOLAND Discovery Center will celebrate LEGO® NINJAGO® Days, and guests are invited to explore the elements of the fourth dimension, starting with a special 4-D viewing of the LEGO® NINJAGO® Movie™, a new 15-minute film based on the popular 2017 movie, where Lloyd, Cole, Jai, Kai, and the rest of the NINJAGO crew take the secret scrolls of Master Wu in an effort to master the fourth dimension.
The 4-D special effects include wind and water elements that the audience feels, in addition to the special 3-D effects. The short film was so good that my naysaying 5-year old—who wasn't in the least bit interested in NINJAGO and only wanted Star Wars LEGOs before the film—came out a super fan only 15 minutes later. As he said, "The part where they were jumping bubble to bubble was the coolest thing I've ever seen!" (You'll have to watch it yourself to see what he means).
In addition to the movie, LEGOLAND Discovery Center will have specially themed activities including a scavenger hunt to become the "Master of Creation," a chance to meet a life-sized Lloyd, the newest NINJAGO character, and tinker with a large LEGO NINJAGO playscape.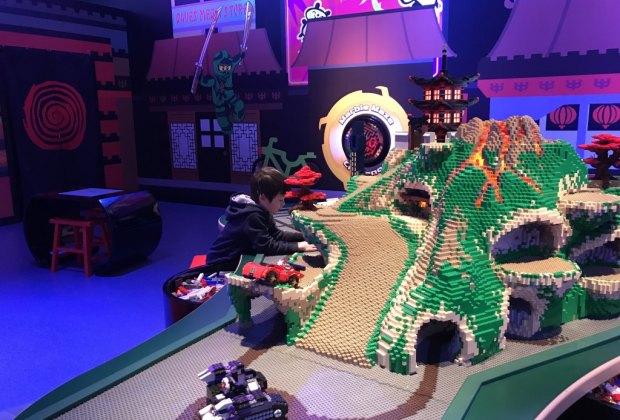 Getting creative with NINJAGO® blocks
To complete this immersive NINJAGO experience, LEGOLAND Discovery Center is also hosting some incredible demonstrations from students of DeStolfo's Premier Martial Arts. These kids are incredibly talented, and you won't want to miss their acrobatic performance. DeStolfo's Premier Martial Arts will provide demonstrations each day over these special event weekends from 11:00AM–2:00PM.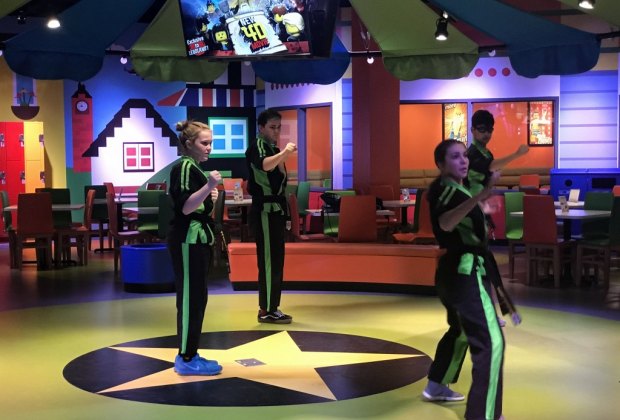 Demonstration from DeStolfo's students

More of the main exhibit space
NINJAGO has been one of LEGO's most popular line of blocks and characters since its launch in the early 2010s so chances are the little ninja in your own household is either already a fan or may just be a willing convert, as my son was. So definitely don't miss out on these LEGO NINJAGO Days April 14-15 and 21-22, 2018. That 15-minute film experience was definitely worth the trip.