An All New Holiday and Christmas Lights Experience for Philly Families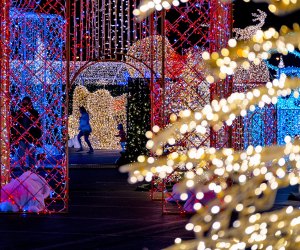 Philly families are getting a brand new option to celebrate the holidays this year, and it's going to be merry and very bright. The Tinseltown Holiday Spectacular is coming to The Fairgrounds at the Greater Philadelphia Expo Center in November, showcasing over a million sparkling bulbs amid a family-friendly Christmas lights experience. In addition to the holiday lights, the venue is hosting a variety of Christmas activities and winter fun to keep kids in the spirit of the season.
Read on for details about tickets to the all new Tinseltown Holiday Spectacular and just what to expect when you arrive. And don't miss our Philadelphia Holiday Guide for all the best Christmas and Hanukkah events throughout the region.
Subscribe to our newsletters to get stories like this delivered straight to your inbox.

Families can stroll among holiday-themed sculptures, as well as those modeled after famous Philadelphia landmarks and personalities.
What To see and Do at the Tinseltown Holiday Spectacular
The Fairgrounds at the Greater Philadelphia Expo Center will transform into a wintry family playground with a massive display of Christmas lights. More than 1.2 million light bulbs are set to illuminate towering sculptures, glowing greenery, a 60-foot light tunnel, and Santa's sleigh across a vast winter wonderland. Visitors can admire larger-than-life Christmas trees, snowflakes, and holiday packages, as well as illuminations that pay tribute to the City of Brotherly Love–like a giant walk-through Liberty Bell and structures representing our beloved sports teams.
In addition to the holiday lights, Rudolph's Rink will offer ice skating on an eco-friendly synthetic ice surface, available in ticketed 30-minute sessions. It's recommended that guests make skating reservations with their general admission ticket purchases. It wouldn't be a holiday spectacular without jolly old Saint Nick, so expect to see him at Tinseltown. Photos with Santa will be available on-site and require separate reservations. Mrs. Claus will be there too, giving live readings of her favorite holiday stories in her personal reading room. The event will occasionally feature live music and dance performances from local groups.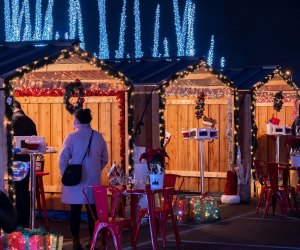 Seasonal fare, warm drinks, and hand-crafted holiday gifts will be available to browse and buy.
The Tinsel Lodge and Mistletoe Marketplace will be open to satisfy appetites and help whittle down holiday shopping lists. Seasonal treats such as hot chocolate and warm cider can wash down a bevy of food options for hungry patrons at the Tinsel Lodge, which is heated so that guests can warm up from the cold. At the Mistletoe Marketplace, pick up the perfect gift for friends or family from one of the many vendors, where local artisans will be selling handmade goods.

Gorgeous trees and larger-than-life packages adorn the parking lot.
Tickets for the Tinseltown Holiday Spectacular
The Tinseltown Holiday Spectacular runs from November 26, 2021 to January 2, 2022, and tickets for timed entry can be bought online. General admission starts at $13.99 for kids ages 5-12 and $19.99 for adults–but only on Mondays through Thursdays, and select weekend evening hours. Children under 5 are free. There are additional fees for ice skating and pictures with Santa. Parking is free, but VIP parking closer to the entrance can be purchased for $5.
Through December 16, 2021, Tinseltown opens at 5pm and closes at 10pm, with the last entry time at 9pm. Beginning December 17, 2021, the event will open at 4:30pm. Sensory-friendly entry times will be provided for guests with special needs. Keep an eye on the website's specialty ticket offers for events like dog-friendly nights, when four-legged family members can tag along for the festivities.
Photos courtesy of Comcast Spectator Events and Entertainment