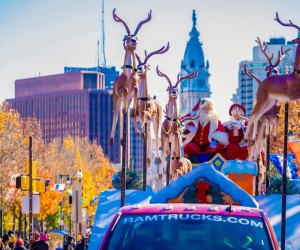 Get the Scoop on the Brand New Holiday Parade and Fireworks Coming to Philly!
Just when we thought the holiday season in Philly couldn't possibly get any more festive, a new parade announcement is adding to the excitement. The Visit Philadelphia Holiday Parade will send floats representing Christmas, Hanukkah, Kwanzaa, and the Chinese New Year marching down Market Street en route to City Hall, for a family-friendly multi-cultural celebration. The parade is the latest addition to a stellar lineup of Philadelphia Christmas activities and events, which also includes a new fireworks show.
In addition to the floats, live marching bands and cold air balloons representing beloved holiday characters will delight spectators on December 4, 2021 at 5pm. The parade route is currently being finalized, but will start at 2nd and Market Streets and end at City Hall. Families are encouraged to dress warmly and bring blankets.
Large crowds are expected, so please observe COVID-19 safety protocols. The parade will be broadcast the following day on 6abc.
OUR LATEST VIDEOS
Philly is obviously the place to be this holiday season, and to wrap it all up, a new fireworks display will illuminate the sky over Penn's Landing on New Year's Day. Also sponsored by Visit Philadelphia, the New Year's Day Fireworks Spectacular sets off an inaugural series of colorful bangs to ring in 2022. More details on the parade and fireworks will be released in the coming weeks.
RELATED: Your Guide To the Philadelphia Thanksgiving Day Parade 2021
A Christmas-themed performance at the 6abc 'Dunkin Thanksgiving Day Parade. Photo courtesy of J. Fusco for Visit Philadelphia.