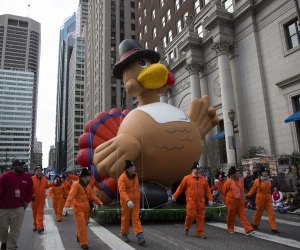 Philadelphia Thanksgiving Day Parade 2019: Start Time, Parade Route, and Info
When Does the Philly Thanksgiving Day Parade Start?
Known as the nation's oldest Thanksgiving Day parade, the 6abc Dunkin' Donuts Thanksgiving Day Parade celebrates its 100th anniversary at this year's event. The 1.4 mile parade takes place on Thursday, November 28, 2019 beginning at 8:30 AM. Starting at 20th Street and JFK Parkway, the parade heads east to 16th Street. Then, it proceeds to JFK Parkway, following the left side of Logan Circle as it makes its way to the Philadelphia Museum of Art.

Even Santa will be at the parade! Photo courtesy of Chris Ann May
Where to Watch the Philly Thanksgiving Day Parade?
Paradegoers can line the streets to watch the parade for free. Of course, the best seats are in the grandstands, but these tickets are extremely limited. Remember to bring lawn chairs or blankets for seating along the parade route. Guests anticipate seeing amazing floats, balloons featuring beloved characters, marching bands from local schools, dance teams, and choirs. Traditionally, the steps of the Philadelphia Museum of Art are covered in festive red, green, and white as performers entertained the crowds. However, new colors and designs on the steps are set to be revealed.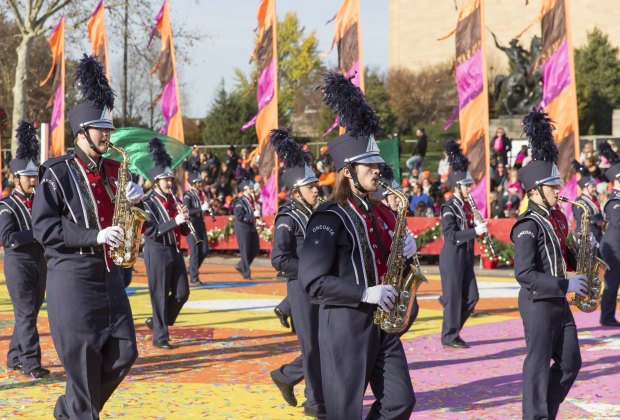 Marching bands are always a favorite at the Philly Thanksgiving Day Parade. Photo courtesy of WPVI-TV 6abc
When parking, metered spaces are free; but, it is important to be aware that no parking is in effect along the parade route starting on Wednesday. If looking for garage parking, be sure to reference the Philadelphia Parking Authority's Parking Locator for exact garage locations and hours. Another alternative is public transportation or staying over at a local hotel the night before.
So, Philadelphia, let's get ready to celebrate the official kickoff to the holiday season. Enjoy your Thanksgiving!