Team up with FCS Athletics
Middle & Upper School Campus

Online Robotics Camp
Young Gates - Kids Online Personalized Classes

Artificial Intelligence with Scratch Online Camp
Young Gates - Kids Online Personalized Classes
Sign up for our free newsletters.
Philadelphia Thanksgiving Day Parade 2022: Start Time, Parade Route, and Info
11/4/22
- By
Kristen Sullivan
Revelers can once again line the city's streets for this year's Philadelphia Thanksgiving Day Parade. Celebrating more than 100 years, the Philly parade is one of the oldest local holiday traditions. Giant floats of every variety, bands, dancers, and, of course, Santa and Mrs. Claus, will join the route to help the City of Brotherly Love kick off the holiday season. Venturing out on turkey day morning to watch the show march through the city is a family bucket list experience––but it definitely requires some planning and preparation.
When Does the Philadelphia Thanksgiving Day Parade Start?
Marchers will hit the pavement on Thursday, November 24, 2022 starting at 9:00 am, with pre-show festivities beginning at 8:30 am. If your family plans to see the celebration in person, make sure to get an early start to secure a good spot along the route. Crowds begin forming as early as the 5 o'clock hour, so chairs, blankets, and some snacks or activities to keep kids occupied are all good ideas.
The 1.4-mile parade route takes off from 20th Street and JFK Boulevard, turns left onto 16th Street, and then turns left onto the Ben Franklin Parkway as it heads up to the Art Museum. The entire parade route is open to the public, except for a small area of specially designated seating near the telecast.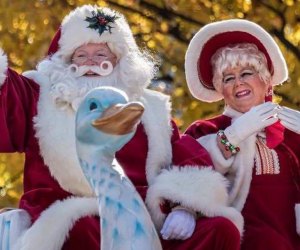 Even Santa will be at the parade!
Where to Watch the Philadelphia Thanksgiving Day Parade
There's no cost to parade-goers, but finding a great location to take in all the action requires some work. The best seats are in the grandstands, but availability is extremely limited and mostly reserved for sponsors and VIPs. Aside from staking out a good spot on the Parkway, some of the best places to set up shop are JFK Plaza and Love Park, Sister Cities Park, Logan Circle, the Franklin Institute, and the Art Museum. The whole procession can take 90 minutes to pass by, so positioning your camp near bathrooms or a porta-potty is a smart strategy.
In addition to the floats, balloons, and characters, the entertainment at the parade is top-notch. Just as in years past, the 2022 Philadelphia Thanksgiving Day Parade promises celebrity performances as well as performances by local groups, special guests, and plenty of surprises. Of course, families can also join hundreds of thousands of viewers to watch the telecast from home on WPVI-TV 6abc.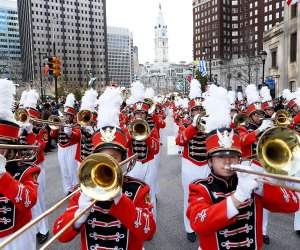 Marching bands are always a favorite.
Getting to the Philadelphia Thanksgiving Day Parade
When parking, metered spaces are free, but it's important to note that many streets in the area are closed to traffic entirely, with no parking in effect along the parade route starting Wednesday. If you're looking for garage parking, be sure to reference the Philadelphia Parking Authority's Parking Locator for exact garage locations and hours. The best alternative is public transportation: SEPTA Regional Rail, bus, subway, and trolley routes are all within walking distance of the parade route. Check SEPTA's website to map out the option that works best for you, or book a hotel for Wednesday night before to eliminate the headache.
This article has been updated for 2022.
Photos courtesy of 6abc 'Dunkin Thanksgiving Day Parade