Avid: What to Expect from the New Orlando Airport Hotel
2/25/20
- By
Kendra Pierson
Seeking out hotels near the Orlando airport? A brand-new avid hotel, an IHG property focused on express and budget travelers, has just opened around the corner from MCO and offers a FREE shuttle service to the busy Florida airport known for hourslong security lines.
Staying near the Orlando airport has its perks. Whether you're trying to beat the lines, save costs during a family trip to Orlando, or just need a quick stay en route to a cruise, an Orlando airport hotel might work well for you. Read on for what this newcomer to the Orlando hotels scene offers for families—and what it does not.
I was recently invited to spend the night at the
avid hotel Orlando International Airport
(it opened in the last couple of months) on my way to a Bahamas cruise and am happy to share my review with you. Avid's pitch as the hotel "where essentials are done right" appealed to me. It has smaller rooms and a no-frills vibe but is still filled with the amenities needed for a solid night's sleep, such as comfy beds, blackout shades, and a FREE grab-and-go breakfast.
Why an Orlando Airport Hotel
If you've never traveled through the Orlando airport, it might seem weird to stay at the airport and miss out on all the benefits of a resort. However, after my family got caught in a 3-hour security line, we now check out of our resort hotel a night early to spend the final night in one of the hotels near the Orlando airport to reduce the travel time for early flights. Also, if I'm in Orlando for a short stay, I certainly don't want to shell out for the more luxurious resort rooms (and resort fees) that I might book when planning a vacation around Disney, Universal, and the other major theme parks.

The spare, modern rooms lack closets but offer hooks and other "open storage" options. Photo by author
Rooms at the Avid Hotel Orlando International Airport
Standard rooms at avid offer two queen size beds, and guests can choose from among soft or firm pillows. Avid touts its pillow-top mattresses, duvets, and other linens as part of its "essentials" done well offering, and I did find the beds quite comfortable. Also, the sleek modern room lacks the standard hotel closet and chest of drawers, but you'll find plenty of hangers and hooks. The flooring is a hard surface, not a rug. It's all part of the hotel's "functional" and "efficient' ethos, and hey, it's great for those of us with dust allergies!
After my early morning flight, I was more than ready for an afternoon nap. I greatly appreciated the effective room-darkening shades that helped me forget that I was in a hotel near the Orlando airport. The 55-inch TV offered a streaming option to cast entertainment straight from my phone to the big screen. I actually used it to play my Calm app so I could get that nap with surround sound mediation playing.
The one thing that parents may not love is that most rooms only offer a shower, not a bathtub. The showers are generously sized, and if you just have a short stay perhaps this isn't a concern.
RELATED: Florida Family Travel Guide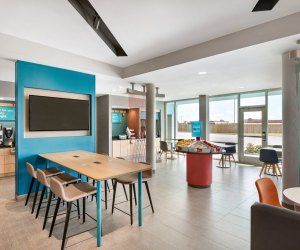 Water, coffee, and tea is available 24-7, and the gratis breakfast offered plenty of kid favorites.
Grab & Go Breakfast With 24/7 Coffee
The Grab & Go breakfast is included in your stay and offers options for parents and kids, as well as places to sit, or yes, just take it to go. I found kid-friendly cereals, such as Lucky Charms and Cinnamon Toast Crunch, and there were several options for dairy and non-dairy milk alternatives. Fruit, breads, oatmeal, energy bars, yogurts, and other standard breakfast fare was also available.
Hotel coffee can be hit or miss, but avid won me over with their brew. The Orlando airport hotel offers a 24/7 refreshment station with a machine that grinds fresh beans for regular, half-decaf, and decaf, as well as hot water/teas, and still or sparkling waters. It was nice to be able to fill my water bottle with sparkling water like I'd drink at home without having to pay extra for it.
RELATED: 9 Best Florida Beach Vacations for Families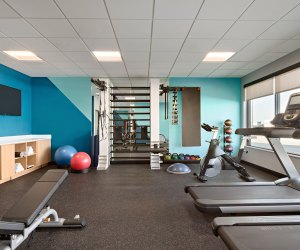 The gym had everything necessary for a quick workout.
Great Onsite Amenities
Avid offers a free shuttle or Lyft ride to its hotel, depending upon arrival time. Simply call the front desk to request a pick-up or drop-off. Families will love having the flexibility of being able to use the shuttle or Lyft on their time. I counted it as time saved from the dreaded shuttle line.
An onsite gym was well outfitted, too, with yoga mats, medicine balls, a weight machine, elliptical, and treadmills. The gym is also open 24 hours a day.
Where Is the avid Orlando Airport Hotel?
Avid's Orlando airport hotel is located just one mile from the airport at 7976 Conway Road. Rates start at $106 per night for two queens. It includes free Wi-Fi, airport transfer, parking, and breakfast. IHG members can use points beginning at 20,000 a night. (Just a note: The avid hotel brand is popping up all over the country. Find the other avids here.)
Overall, I believe avid offered a great value given the price and amenities of the hotel. I would happily return.
All photos courtesy of the hotel except where noted