Weekend Fun for NYC Kids: Free Winter Jam in Central Park, Inventgenuity Festival, Cool New Museum Exhibits & Shows January 24-25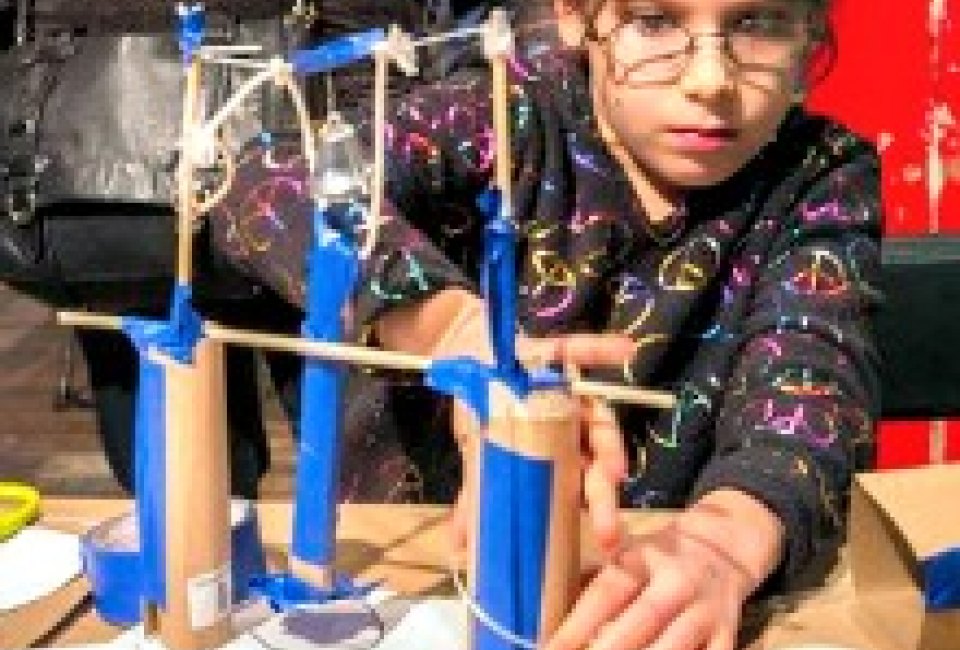 1/21/15
- By
Stephanie Ogozalek
All Weekend
Beam Center's Inventgenuity Festival – Cobble Hill
One of our January GoList picks: My nine-year-old son has been going to this super-creative fest for years! Collaborate on a 20-foot tall spinning machine, or try making your own marionettes, drawing robots, air-powered boats, coin-flipping Rube Goldberg machines and video art. All activities are overseen by Beam Center's professional educators and artists. You must register for the festival and then sign up for specific workshops in advance! Drop-ins most likely cannot be accommodated. Free admission but there is an $8.25 materials fee for each project

Lionboy – Midtown West
Another January GoList pick: Catch this dystopian fantasy about climate change and the corporatization of our society at the New Victory Theater. Based on Zizou Corder's bestselling young adult trilogy, the show chronicles the cross-continental adventure of a boy who can talk to cats. $15-$38

Best of the New York International Children's Film Festival – Astoria
The 2015 NYICFF doesn't take place until late FH, however, for the next three weekends you can see some of the most beloved movies from last year's family film fest at the Museum of the Moving Image. This weekend, catch screenings of award-winning shorts aimed at children ages 3 to 8. Free with admission: $12 for adults, $9 for students, $6 for children ages 3-12

20at20 – Manhattan
If you've been meaning to take the kids to see The Berenstain Bears LIVE!, Gazillion Bubble Show, Stomp or another Off-Broadway family show, now's the time to go. Thanks to the 20at20 initiative, many Off-Broadway productions are selling $20 tickets 20 minutes before each performance through February 8. $20

Saturday, January 24
Winter Jam – Upper East Side
Our final GoList pick of the weekend: Enjoy a major snow day at the Central Park Bandshell, whether or not Mother Nature cooperates. The Parks Department blows its own snow so families can try cross-country skiing, snowshoeing and snowboarding, or just frolic in the fluffy white stuff. All equipment is provided. FREE

Family Day at the Museum of Arts and Design – Midtown West
Go on a kid-friendly tour of the museum's New Territories: Laboratories for Design, Craft and Art in Latin America exhibit, and then enjoy related activities like basket weaving, art workshops, live performances and screenings. $30 per family

Pixelated: Sum of its Pieces Opening Weekend – Hudson Square
Check out the Children's Museum of the Arts' new eye-popping exhibit featuring works comprised of tiny pixels, and then enjoy related hands-on activities. The museum is also hosting its annual Irish Arts Festival so expect plenty of Gaelic fun. Free with admission: $11

Boo! The Winter Spooktacular Ball for Families – Corona
Pull your Halloween outfits out of the closet for the Queens Museum's annual fundraiser, a spooky, circus-themed costume party featuring performances by Circus Amok, a scary scavenger hunt, ghoulish goodies and more creepy fun. Individual tickets are $20 but if you're bringing the kids, you're better off making a $75 contribution, which comes with entry for six people, six raffle tickets and an annual family membership.

Frosty – Prospect Heights
Head to the central branch of the Brooklyn Public Library for a live-action retelling of the beloved Frosty the Snowman cartoon. FREE

Kid MD – Midtown West
Aspiring doctors should love Discovery Times Square's new interactive tour of its Body Worlds: Pulse installation. Kids don lab coats and get an in-depth anatomy lesson with Dr. Sloka Iyengar. All participants snag diplomas and stethoscopes. Advance tickets required. $27 for adults, $20 for children

Spherus Juggling Performance & Workshop – Flushing
Marvel at the gravity-defying feats of this circus trio: a pair of aerial acrobats and award-wining juggler Greg Kennedy. Afterward, see how many balls you can juggle in a workshop with Kennedy himself. Show: $13 for adults, $8 for children; juggling workshop: $7 for adults, $4 for children

Insects & Archanids – Midtown East
Cancelled due to weather Learn about the differences between bugs and spiders, and get up close and personal with some of these creepy crawlies at the Children's Center on 42nd Street. FREE

See all Saturday events.
Sunday, January 25
Danny Weinkauf & the Red Pants Band – Upper East Side
Rock out to the Grammy-winning bassist (of They Might Be Giants fame) and his new band at at the Jewish Museum as they play kid-centric songs from their latest album No School Today. $18 for adults, $13 for children

Japan's New Year's Day Celebration: Oshogatsu – Midtown East
Ring in the New Year at the Japan Society with calligraphy, rice pounding and a funny face game. There will also be a lion dance, and live Taiko drumming performances and workshops. $18, free for children under 2

See all Sunday events.

Don't forget: We have additional activity options in our Event Calendar.
Click Here to Sign Up!
i