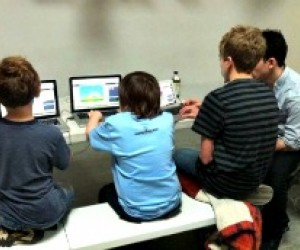 Enriching After-school Classes for NYC Kids
NYC kids have it good when it comes to enriching after-school programs. The choices for hands-on learning fun are seemingly endless. Our Classes Guide is packed with posts about sports like basketball and tennis, performing arts such as musical theater and dance, language immersion for Spanish and Chinese, and even offbeat offerings like trapeze and archery. And every year we hear about fresh specialty programs.

Last year our new classes post featured many places that had just opened. This year is a little different as tried-and-true favorites like the 92nd Street Y, the Art Farm in the City and Long Island City Kids add new and notable offerings to their schedules. We've leafed through the catalogs and picked out the most exciting new kids' classes debuting this fall. Be sure to browse our Classes Guide for even more options.
Gymnastics Studio in the Sky – Upper East Side
92nd Street Y, 1395 Lexington Avenue at 92nd Street
Ages 3-17
While the 92nd Street Y has been offering gymnastics for nearly 20 years, it is launching a new roster of classes to go with its state-of-the-art, rooftop gymnastics studio, which is opening this fall. New programs include classes for kids with special needs, noncompetitive teams, family circus and more. You can even drop in for open workouts to try the cool new equipment including a tumbling track, a rock climbing wall, a trapeze and a zip-line.

Pixel Academy – Cobble Hill
163 Pacific Street between Clinton and Court Streets
One of our favorite makerspaces moved into a high-tech new home this past spring so this is the first time it is hosting after-school classes. Unlike most programs, with Pixel Academy you don't register for a semester of classes. Instead, you purchase a membership and then you can drop-in (day passes are also available). Kids can try all kinds of cutting-edge fun like video game making, 3-D printing, Minecraft mods and more. The fall schedule is online and members get two workshops per day from 3 to 7pm.

Asphalt Green Battery Park City – Battery Park City
212 North End Avenue at Murray Street
After years of frustrating delays, Asphalt Green was finally able to open its swanky new downtown outpost this past June. This fall marks the spot's inaugural after-school programs and you'll find everything the Upper East Side original offers, like swimming, a wide variety of sports and fitness, plus things you won't find uptown like cooking and arts programs.

The JCC in Manhattan – Upper West Side
344 Amsterdam Avenue at 76th Street
The Upper West Side center has a number of new kids' offerings:
PopFit Kids – This fun fitness program gets children ages 5 to 7 up and moving with energizing circuits, game play and yoga sessions.
Fencing – En garde! Children ages 6 to 8 are introduced to the sport by veteran instructors from Sheridan Fencing Academy.
Krav Maga – While the JCC does offer tae kwon do, we think this lesser-known Israeli martial art sounds more intriguing. Children ages 7 to 9 work on their strength, flexibility and balancing skills, and also learn how to defend themselves.
Red Carpet Kids Improv University – Upper East Side
Red Carpet Kids, 231 East 62nd Street between Second and Third Avenues
Ages 5-11
This recently opened luxe party place is launching an "Improv University" for kids. Participants are organized by age (5 to 7 and 8 to 11) and learn how roll with the punch lines, which helps hone their listening and observation skills.

Apple Seeds: Classhoppers – Chelsea
10 West 25th Street between Broadway and Sixth Avenues
Ages 2½-3½ years
The tot spot is giving toddlers a new way to try many of its popular classes in this clever sampler program that allows participants to rotate through COOKing Monsters, My Chelsea Art Opening, OOOHHH...AAAHHH...IIICCCKKK Science and Build it! Break it! Fix it! in four-week stints.

The Art Farm in the City: Italian on the Farm & Animal Tales – Upper East Side
419 East 91st Street between York and First Avenues
Ages 3-6
NYC's only indoor petting zoo and play space has a pair of brand-new offerings. In Italian on the Farm children will get up and close with the animali while learning basic Italian vocabulary. In Animal Tales, kids hang out with farm's residents, listen to animal stories and craft toys for their new furry friends.

I'm Bilingual: Spanish Combo Immersion Class – Upper East Side
1296 Lexington Ave at 88th Street
Ages 2½-4
The language school is launching a Spanish immersion class for preschoolers. Little linguists learn the language through singing, dancing, puppet play and simple conversation, all in español. Parents can join in or drop off.

Long Island City Kids: Kids On Broadway & Hip Hop Stomp – Long Island City
5-02 50th Avenue at 5th Street
Ages 4-6
The venerable Long Island City play space and enrichment center is debuting a pair of new programs. In Kids on Broadway, youngsters learn scenes and songs from musicals like Into The Woods The Little Mermaid and Beauty and the Beast and put on a show for family as the big finale. Hip, Hop, Stomp lets tots pop and lock and boogie down in old-school street dance style.

Created by Kids – Boreum Hill
592 Pacific Street between Flatbush and Fourth Avenues
Ages 5-15
This cool visual arts studio debuted in 2010 but only recently opened a new permanent space. Young artists work in a wide variety of mediums in weekly two-hour sessions.

Kids at Work: Cooking with Julie – Chelsea
242 West 27th Street Seventh and Eighth Avenues
Ages 2-4
This drop-in early childhood education center is whipping up a sensory-based cooking class for tots. Junior chefs can explore ingredients, learn simple kitchen mechanics like stirring and mixing, and nibble on what they make.

TLB Music – Upper East Side
266 East 78th Street between Second and Third Avenues
This popular music program is adding three new classes to its roster:
Henry and the Hot Air Balloon – Children ages 5 and under can virtually travel the world with Henry, learning about new music and culture at each stop.
I Heart Broadway – Children ages 4 to 6 can explore movement, music and storytelling as they perform mini-musicals.
Hip Hop 101 – Family rapper and deejay, Princess Superstar, teaches children ages 3 to 6 how to rap, sing, freestyle and even tap out beats with percussion instruments.

Find out about other enriching programs for kids in our Classes Guide.