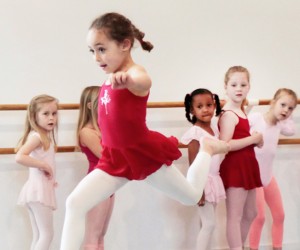 Brooklyn Dance Classes for Kids: Ballet, Tap & More Lessons
My daughter is constantly putting on tap routines after dinner and showing off her latest moves for anyone who makes eye contact on the subway. So dance classes are something my family knows a lot about. When we moved to Brooklyn last fall, the thought of trekking into Manhattan for dance lessons seemed daunting. But after a little research, I found that we wouldn't need to leave the borough to find quality dance schools.

While we ended up going with a studio near our Bay Ridge home, there are plenty of fantastic options to choose from in Brooklyn. Bonus: The schools tend to be fairly reasonable in terms of price (especially when compared to Manhattan) but many also set aside money for financial aid, so it's worth inquiring about scholarships and sliding-scale tuition. Here are 11 great Brooklyn dance schools that offer classes for kids and teens who are serious about ballet, tap, modern and other dance styles.
Find more NYC classes in our Classes Guide and Directory Listings.
Brighton Ballet Theater/School of Russian American Ballet – Brighton Beach
Kingsborough Community College, 2001 Oriental Boulevard near Pembroke Street
BBT offers high-quality dance instruction for girls and boys ages 2 to 19 by application. In addition to Russian ballet classes, folk, modern, ballroom and Latin dance are taught. BBT also runs a Boys Dance and Fitness Program that introduces boys ages 8 to 18 to different dance styles for free. Meanwhile BBT students get the opportunity to perform alongside ballet pros in full-scale ballets, including the annual holiday run of The Nutcracker and the World of Dance Festival in June. Scholarships are available to those who qualify.

The Brooklyn Dance Centers
6720 20th Avenue near 68th Street in Bensonhurst
9110 Fifth Avenue near 91st Street in Bay Ridge
Brooklyn Dance Centers two locations offer ballet, contemporary, break-dancing and a variety of other dance classes for all ages and abilities. They're a borough favorite and their dance team is nationally competitive.

The School at the Mark Morris Dance Center – Fort Greene
3 Lafayette Avenue at Rockwell Place
Run by the renowned Mark Morris Dance Group, this dance school is located inside the company's state-of-the-art center, and offers classes for kids and teens and Parent & Me sessions for children ages 4 and under. Styles include modern, tap, jazz/hip-hop, ballet and African dance. Advanced students ages 10 to 17 can audition for the Student Company. Despite the above average training, the price is quite reasonable. Facilities include locker rooms with showers, a wellness center and a theater where you can catch dance and performance troupes from around the world.
Streb the School – Williamsburg
51 North 1st Street between Kent and Wythe Avenues
Founded by choreographer Elizabeth Streb, who's known as the "Evel Knievel of dance," Streb hosts kids' classes in movement, acrobatics and aerial arts that go way beyond the usual dance offerings. In the Kid Action program, students are encouraged to test their limits by exploring impact, velocity and the defiance of gravity by trying cool stunts and dabbling in acrobatics. In Kid Fly, participants learn how to swing on the flying trapeze. There are also more specialized offerings aimed at specific ages like Baby Action.

LAVA Studio – Prospect Heights
524 Bergen Street between Carlton and Sixth Avenues
Like Streb, this award-winning dance troupe pushes the boundaries of the genre by incorporating acrobatics and even trapeze into its work. The kids' movement classes include training in turning, tumbling, trampoline and trapeze.

Spoke the Hub – Park Slope
748 Union Street near Sixth Avenue
This funky studio offers lots of dance and performing classes, including ballet, tap and hip-hop. There are some cool, one-of-a-kind options here, like the boys-only Action Heroes class that shows them dance isn't just for girls, and Sing, Dance & Make Believe for toddlers, as well as more serious dance classes for tweens and teens.

Brooklyn Arts Exchange – Park Slope
421 Fifth Avenue and 8th Street
In addition to theater and tumbling classes, BAX has excellent dance programs including creative movement, modern, ballet fundamentals and a year-long audition-only Dance Performance Workshop for children ages 9 to 17. Financial assistance is available for those who qualify.

Nika Ballet Studio – Sheepshead Bay
1708 Sheepshead Bay Road near Voorhies Avenue
This 3,000-square-foot school is divided into two nice dance studios. Ballet is the main focus here but modern dance, rhythmics and hip hop are also on offer.

Cynthia King Dance Studio – Windsor Terrace
21 Snyder Avenue at Flatbush Avenue
Cynthia King hosts a variety of kids' classes, including ballet, modern, hip-hop and tap. There are Parent & Me lessons for toddlers, and sessions for preschoolers, too. School-age kids who are serious about their studies may be chosen for the CKDS Company Program to learn ballet and contemporary styles at an accelerated pace with professional performance opportunities.

Dancewave – Fort Greene
45 Fourth Avenue near Dean Street
In addition to the usual dance styles like ballet, hip-hop, jazz, creative movement and modern, Dancewave offers choreography classes and two different audition-only performance troupes: the Young Performers Ballet Ensemble for children ages 10 to 13 and the Dancewave Company for teens 13 and up. While many classes are held in the company's studio, Dancewave also runs classes in other locations.

Preparatory Center for the Performing Arts – Flatbush
Brooklyn College, 2900 Bedford Avenue
Dance students are assessed and placed according to age and level of experience. Programs are available in ballet, modern, hip-hop and tap, and students have the opportunity to perform at the end-of-year recital. Bonus: Music and theater classes are also offered.
Find out about other cool programs for kids in our Classes Guide.
Photo courtesy of Mark Morris Dance Group.
This post originally published in March 2013.