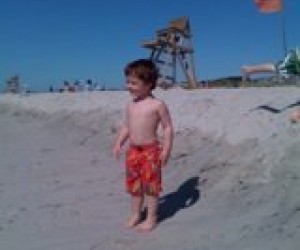 Things to Do on a Family Beach Vacation in The Hamptons
Jill has spent alot of time in the Hamptons with her kids over Summer vacations. Here are her ideas for the best kid-friendly places to check out- Thanks, Jill!
Yes, the Hamptons get a lot of hype for being the playground of the rich and famous, but you don't have to be rich or famous or fashionable to enjoy these beautiful beaches. The Hamptons are a great family vacation destination, close to New York City, with some of the best, sandy beaches anywhere. Plus, there's lots of fun activities, and places to eat, off the beach that make the Hamptons the perfect place for a family vacation getaway.
We've scoped out the best ideas on where to play, learn, and eat your way through The Hamptons this Summer with your kids:
PLAY:
Each town has great beaches and depending on where you stay you can generally find one close to home. One of my favorites is Sagg Main Beach in Sagaponack. There are wide open spaces so your little ones won't be throwing sand on the next person's blanket when they are trying to dig a hole to China – giving you a little time to sit back with that book (dream come true). Yet, keep in keep in mind, parking at most of the beaches is difficult to say the least and you need to get parking passes, if they don't have a big lot. Be sure to check that out before you head out – nothing like driving in circles with the kids in the back screaming for some fun in the sun.
In case of rain, there are also great movie theaters in Southampton and the very popular theater in East Hampton, the
UA East Hampton 6
(30 Main Street, East Hampton). Both are right in their respective villages so you can walk the village after the movie to work off that tub of popcorn. Of course on that walk, you may stop into
Dylan's Candy Bar
– where you can find all the flavor and fun of the NYC location just in a smaller boutique (52 Main Street, East Hampton, NY 11937, 631-324-6181).
If you are venturing out of the city to get a "country feel," I can't think of a better way than to stop and check out some horses. The upscale version of the horses is going to the
Hampton Classic Horse Show in Bridgehampton
held at the end of August. It is one of the largest show jumping events in the world. And, despite what you see in the celebrity weekly magazines, this is actually a great family event, and not just for the rich and famous. There is tons to do here with your family: pony rides (get them used the horses first, before you send them jumping), a petting zoo, kid entertainment, and even an entire day dedicated to just the kids.
There is also a mini pony camp at Stony Hill Stables in Amagansett, offering lessons for all levels of riders – ages 3 and up. If you can't imagine your 3 year old taking horseback lessons yet, try this spot for a great intorduction to the horses themselves and let them try out riding. (631-267-3203, 268 Town Lane, Amagansett)
LEARN:
On the subject of camps, there are also tons great camps to check out; many vary from 1 week sessions to 8 week sessions, giving everyone some options. One that catches my attention is the
Art Farm
in Bridgehampton. Their program focuses on nature, animals and art, all interacting in a wonderful country setting. Camps are available for ages 6 months on up (obviously the youngest ages are mommy and me groups). The camps are also eco friendly and even give back to charity. I love that you can find everything here including soccer and surf camps. So if your family is like mine and everyone has different interests you are bound to please all in one place. (739 Butter Lane Bridgehampton, NY 11932, 631-537-1634)
If a camp is more than you need and you are just looking for a few classes to keep the kids busy the East Hampton Town Parks and Recreation Department offers summer Sailing, Soccer and swimming instruction at different town locations beginning in late June and running through August. These classes are geared towards each age group and level of ability and the best thing is that since it is offered through the town the classes are either free or at a very reasonable price. (631-324-2417).
Culture is not lost way out on Long Island's south shore.
The Children's Museum of the East End
in Bridgehampton is the best, rain or shine; and if your kids are like mine you will end up dragging them out of there after a full day kicking and screaming because they don't want to leave. Check their website for special events.
EAT:
The Hamptons are known for their fabulous high end restaurants with famous chefs, but naturally most of us don't take our kids to these spots (at least not till they stop throwing food) There are plenty of options otutside of that high end celebrity element: Bridgehampton has World Pie for great Italian food and pizza (2402 Montauk Hwy, Bridgehampton, NY 11932, (631) 537-7999); and the Candy Kitchen, a Hamptons staple, with great luncheonette food, Greek specialties, homemade ice cream, soups and good old fashioned grilled cheese sandwiches – still my favorite. (631-537-9885). Many of the towns have a Golden Pear, the Hampton's version of fast food just not as cheap. Everyone passes through the doors of this cafe sooner or later, with a great take-out menu of cold salads and hearty soups as well as vegetarian specialties. They also have great selections of muffins, teas and coffee, but don't pass up their homemade fruit ice tea with a slice of orange, it is other worldly! (East Hampton: 631-329-1600). Further east is the Lobster Roll (on Napeaugue strip) or LUNCH as its sign indicates, is a great Amagansett tradition. It is situated right on a beach dune, and used to be an outdoor cafe - now it's mostly indoors with some outdoor seating, yet it still boasts of good fast food, fish dishes, hamburgers and other delicious child-fare. (631 267-3740).
This is just a sampling of the great activities and spots to visit and enjoy in The Hamptons; the opportunities are really endless, but remember, this is Summer vacation, and relaxing should be at the top of your list. Enjoy!