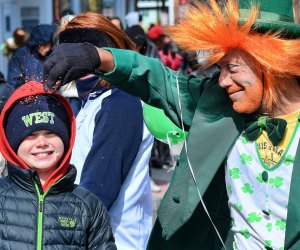 St. Patrick's Day Events in Connecticut
It's March and you know what that means...St. Patrick's Day! While St. Patrick's Day celebrations are often thought of as mostly adult-oriented (usually associated with pints of Guinness), there are many kid-friendly ways to celebrate the holiday with wee little ones in Connecticut.

Stamford St. Patrick's Day Parade - Stamford
Saturday, March 2
Celebrate Irish culture and heritage in Stamford at its 24th annual parade. The parade kicks off at noon on Summer Street and ends at Latham Park.
O'Shenanigans 5k & Wee Mile - Southington
Saturday, March 9
Southington hosts this fun 5K. Starting and finishing at Kinsmen Brewing Company, the route takes you through rural Southington and Cheshire. Costumes encouraged.
St. Patrick's Day Songs and Storytelling - East Granby
Folksinger and storyteller Tim Van Egmond will transport audience members of all ages to old Ireland with his wisdom, humor, and inspiration.
Hartford's 48th Annual St. Patrick's Day Parade - Hartford
Saturday, March 9
Join hundreds of others who will be celebrating St. Patrick's Day in Hartford. The parade begins at Capitol Avenue and ends by the Memorial Arch. Arrive early to get a good seat on the route. Hosted by the Central Connecticut Celtic Cultural Committee. and held rain or shine.
St. Patrick's Day Dance - Farmington
Thursday, March 10
Green vests, paints, or hats are all suitable attire for this St. Patrick's Day dance to be held at the Farmington Library. The dance will run from 2:00 p.m. to 3 p.m. Registration requested.
St. Patrick's Day Parade - New Haven
Sunday, March 10
Head to the New Haven green for pre-parade fun and festivities, then enjoy the parade that will follow a route down Chapel Avenue. Expect food trucks, entertainment, balloon animals, and other party games free of charge.
Greater Bridgeport St. Patrick's Day Parade - Bridgeport
Friday, March 16
This is an absolute classic in Fairfield County. Line the streets to celebrate Irish heritage and have a grand old time.
O'Niantic 5k- Niantic
Saturday, March 17
Come run the 5k. The route is a loop. Costumes are encouraged! Children's run too.
Greenwich St. Patrick's Day Parade - Greenwich
Sunday, March 18
In Greenwich, the Hibernian association puts on an annual parade that goes from town hall all the way down Greenwich Avenue.
St. Patricks's Day Parade - Meriden
Saturday, March 18
The whole family will love a performance by SRL School of Irish Dance!
O'Hartford 5k - Hartford
Sunday, March 19
Put on your green sneakers and run the O'Hartford 5k. Run through downtown Hartford and end at Bushnell Park where you will be met by Irish music and entertainment to keep the festive mood happening. There is also a children's run.
Jonny's Jog for Charity - West Hartford
Sunday, March 19
Come run the 5k that was created to honor John Moran, a nine year old who passed away from a central nervous system disease. The race benefits three local non-profit charities.
Mystic's St. Patrick's Day Parade - Mystic
Sunday, March 25
Thousands of people are expected to attend this annual parade that begins at Mystic Seaport at 1:00 pm. This is the 14th annual parade. Come and hear local High School marching bands and Fife and Drum Corps.
Originally published 3/1/14
Photo Credit: Flickr