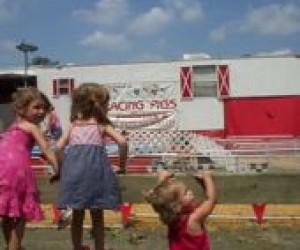 New Jersey Weekend Events for Kids July 24-26: Hot Air Balloons, Racing Pigs, Baby Lambs, Scavenger Hunts and More
This weekend you can watch 125 hot air balloons take to the skies, watch racing pigs at the county fair, wash and comb baby lambs, go on a nature scavenger hunt, or enjoy the evening munching on authentic Italian zeppoles.
The New Jersey Festival of Ballooning (Readington, NJ) One hot air balloon is exciting enough, but at this festival you can see 125 hot air balloons all take to the skies at the same time. The balloon ascension is twice daily at 6:30am and 6:30pm. Bring lawn chairs and a picnic as it takes a while for all of them to get up in the air. Aside from the hot air balloons, the festival includes rides, food, puppet shows and kiddy concerts, crafts, jugglers and more. Adult tickets are $25 at the door and $17 in advance, kids 4-12 are $10 at the door and $7 in advance. Or go all the way out and get tickets for a ride in one of the hot air balloons! Any way you put it, it will make for an unforgetable day!
The Morris County 4-H Fair (Chester, NJ) There is a bit of everything at the Morris County 4-H Fair! There are animals, pony rides, horse and talent shows, children pet shows, dress-a-pet omntest, a dog show, a petting barn, kiddie rides and lots more. If you are lucky, you may even see the racing, swimming pigs which is sure to entrance the kids! Admission is free and parking is just $5 per car.
Fosterfields Living Historical Farm (Morristown, NJ) This weekend kids can help wash and comb a lamb! And that is just the beginning. Kids can also churn butter, help gather eggs from the chicken coop, feed the chickens, wash and hang laundry, and get hands-on with tons of everyday tasks that were done at the farm at the turn of the 20th Century.
Tenafly Nature Center (Tenafly, NJ) Sunday is a great day to explore the nature preserve. From 2pm to 4pm you can participate in a seasonal scavenger hunt with nature clues and everyone wins a prize in the end. There is much more than just the park to explore - there is an aviary with injured birds of prey and the nature center has turtles, frogs and snakes that kids can observe.
St. Ann's Italian Festival (Hoboken, NJ) For some authentic Italian food and fun, head to Hoboken for the annual St. Ann's Italian Festival. There is sand art, kids rides and inflatable slides, games, and nightly entertainment starting at 8:15pm. Don't forget to taste the famous zeppole!