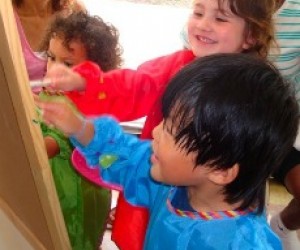 Best Kids' Classes in Harlem: Places to Play and Learn Indoors
While Harlem has a ton of lovely outdoor parks and playgrounds, there are no drop-in indoor play spaces like many other Manhattan neighborhoods (unless you count Chuck E. Cheese's).

Happily, Harlem does have lots of wonderful places that offer cool kids' classes. Whether your children are looking to swim, dance, make art or just run around like maniacs, here are the top spots for children's classes in Harlem.
Harlem School of the Arts
645 Saint Nicholas Avenue at 141st Street
One of the best performing arts programs for kids in the neighborhood, HSA offers training in dance, music, theater and visual arts. Originally founded in 1947, the organization recently underwent some tough financial times, but thanks to new management, seems to be on its way back. For the first time in its history, HSA has added early childhood arts classes to its schedule. While rates are reasonable, prospective students can apply for financial aid. HSA also runs the popular ARTScape Summer Camp for children ages 4 to 11. Tuition is approximately $350 a week and potentially less, depending on how many weeks you sign up for.

My Gym in Harlem
258 St. Nicholas Avenue at 123rd Street
Formerly a Little Gym location, the competing chain My Gym took over in 2012. The spot is sleek and spacious, with lots of classes for kids. While most of the offerings are for preschoolers, there are gymnastics, dance and cardio programs for grade schoolers.

Kidberry
Sadly, Kidberry closed in August 2013
We reviewed this cozy spot when it debuted last year. Opened by two Harlem moms, Kidberry, like The Little Gym, is best for preschoolers, with Music Together sessions, dance and creative movement classes, foreign language instruction and art. The spot has a real community feel, with monthly family concerts.

Harlem YMCA
180 West 135th Street between Lenox and Adam Clayton Powell Jr. Boulevard
Like all of the Y's locations, the Harlem outpost offers lots of activities for kids, like basketball, karate, tennis, soccer and yoga, and swimming lessons for preschoolers, kids and even teens looking to get lifeguard training. Families need to buy memberships, but the benefits are great, including childcare while you work out.

LeRoy Neiman Art Center
2785 Frederick Douglass Boulevard near 148th Street
My daughter loves the drop-in multi-media classes at this bright, airy art gallery and class space, which is run by Arts Horizons, a nonprofit arts-in-education organization. We're not talking finger painting; the classes here are very serious, as is evidenced from the art work on the walls created by students. There's also a lot of flexibility: You can register for a semester of classes or drop in if there's room (in my experience, there usually is).

National Dance Institute Center for Learning & the Arts
217 West 147 Street between Adam Clayton Powerll Jr. and Frederick Douglass Boulevards
Founded by famed ballet dancer Jacques d'Amboise back in the '70s, NDI hosts all kinds of performance classes, from its signature Arts Encounter music and dance program for young kids, to more traditional dance training and even stage combat sessions for school-age children. The families I know who send their kids here just rave about the place.

City Recreation Centers
The Department of Parks & Recreation runs three centers in Harlem: the Jackie Robinson Recreation Center in the park of the same name, the Pelham Fritz Recreation Center in Marcus Garvey Park and the freestanding Hansborough Recreation Center, where my daughter currently takes free swimming lessons courtesy of the Parks Department. I'm not going to lie: The facilities at these rec centers aren't state-of-the-art. However, all three offer lots of great community programs, everything from sports to computers to even hat making! Best of all, children under 18 can join for free, while adults pay $100-$150 annually.

Riverbank State Park
137th to 145th Streets along the Hudson River
We've already raved about the park's facilities, which include an Olympic-size indoor pool and a smaller outdoor pool, a covered skating rink for roller skating in summer and ice-skating in winter, an athletic complex with a fitness room, four tennis courts, four basketball courts, a softball field, four handball courts, and a 400-meter running track with a soccer field. Given these incredible amenities, it's no surprise that Riverbank offers a jam-packed schedule of classes for kids and adults. While there are certainly lots of athletic programs, Riverbank also offers arts classes like ballet, violin, guitar, painting and drawing, and chess. Best of all is the price: Classes range from $5-$165 per semester. Tip: Register in person. No one ever answers the phone.

Dance Theatre of Harlem
Everett Center for Performing Arts, 466 West 152nd Street between Amsterdam and Convent Avenues
The renown dance company and professional training program offers a handful of open classes for kids of all abilities. Dance With Me! is for toddlers and their caregivers while FamilyFit! is a workout for all the members of your family. Most of the classes, however, are aimed at ballet dancers hoping to go pro.

Read all of our posts about things to do and places to go in Harlem.