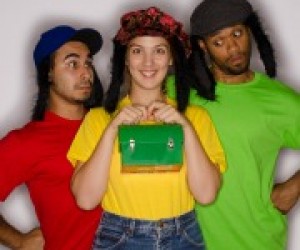 Go, Dog, Go! at the Mile Square Theater
When you can capture the imaginations of a theater full of children with only a few actors, a few props and very few words, it seems that your play may be a hit. This is the case with MP fave Mile Square Theater's "Go, Dog, Go!" Gentle and unhurried, with bold colors, striking images, catchy music and tons of physical humor, "Go, Dog, Go!" is a breath of fresh air for our (not yours, of course, but somebody's) screen-obsessed kids.

There are only a handful of words in the whole of P. D. Eastman's children's book classic "Go, Dog, Go!", which doesn't make one immediately think "Let's adapt this to a play!" But the script by Steven Dietz and Allison Gregory does not seek to "improve" upon the book, instead doing a lovely job of transferring the text and simple ideas to a live-action cartoon of highly-evolved dogs playing, working, traveling and partying. (The use of the colloquial "Par-tay" is one of the mercifully few pop culture references in Mile Square's production).
Having seen the show with a large group of K thru 3 students, I can tell you that simple concepts and broad physical humor still work with kids. I was intrigued to see how engaged they were in the first five completely silent minutes of the play; and then how much they loved the following vignettes, in particular the syncopated building section (a sort of junior "Stomp!") and the very funny bed scene of naughty dogs playing with flashlights under the covers when they're supposed to be sleeping.
"Go, Dog, Go!" is a charmer and definitely worthy of your (and your kids') time. It's always so refreshing to see a theater company that doesn't pander to children, but instead has faith in their intellect and their ability to have plain, old-fashioned (in the best sense of the word) fun.
Go, Dog, Go!
Mile Square Theater
Monroe Theaterspace
720 Monroe Street, 2nd floor
201-683-7014
September 29-October 14
Saturdays @2pm and 5pm
Sundays @11am and 3pm
Tickets $22
Children/Seniors $12