Great Long Island Beaches For Families Post-Sandy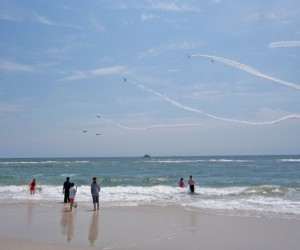 Flip flops? Check. Sunscreen? Check. Beach towels? Check. Hmmm, this list sounds like a lot of the things one brings to the beach. We hate to brag, but Long Island is home to many of the nation's most beautiful and serene beaches. Despite Superstorm Sandy, most Long Island beaches are open and are in full swing. Read on to find out which beaches to check out with the family this summer. Enjoy!
Main Beach
101 Ocean Avenue
East Hampton
We're proud to say that Main Beach in East Hampton is rated America's Best Beach by Dr. Beach. Dr. Stephen Leatherman is a professor and director of the Laboratory for Coastal Research at Florida International University and is considered America's foremost beach expert. While the beach suffered significant damage from Superstorm Sandy, it bounced back. The pavilion remains intact, as it is set back a few hundred feet from the water's edge. Remember to arrive very early to avoid walking a great distance, as parking is limited. A beach permit is required to use the parking lot.

Jones Beach
2400 Ocean Parkway
Wantagh
516-785-1600
Fee for admission and parking
Free with an Empire Passport
Empire Passports give visitors free admission to all NY State parks including parks in Nassau and Suffolk.
Live music, a seasonal air show, boardwalks, playgrounds, basketball courts, swimming pools, mini golf, volleyball, sand, surfing, and The Theodore Roosevelt Nature Center are all a part of the wonder that is Jones Beach. With more than 10 miles of beach, it is one of Long Island's most popular beach destinations. The fact that Jones Beach offers a host of activities and attractions adds to its popularity. Jones Beach State Park is known as one of the most beautiful parks in the world. The beach is a popular spot for surfers. Be sure to check the website for times and days surfing is allowed. Umbrella rentals are available at the beach, as well as beach chairs at the beach shop. Be prepared for a long walk to the ocean. Jones Beach is a huge beach.
Ocean Beach
Entrances between Nevada Ave. and Maple Blvd.
Long Beach
516-431-1021
Fee for admission (daily passes are cash only). Season passes are available for purchase
Superstorm Sandy destroyed the boardwalk, which is being repaired. Covering more than five miles of sand and ocean, Ocean Beach Park is known as Nassau County's Surfer Paradise because of the glorious and lush waves the ocean provides. Enjoy free summer concerts at the beach. Volleyball and swimming leagues use the beach area for summer games. Finding a bite to eat is not hard to do, as many restaurants and food stands are along the beach. Food trucks line the beach at Riverside Avenue seven days a week.
Orient Beach
Route 25
Orient
631-323-2440
Fee for admission and parking
Free with an Empire Passport
Head out further east, and the beach scene calms down a bit with gentler waves surrounded by woods and marshes. Orient Beach is a great representation of this with more than 45,000 feet of frontage on Gardiner's Bay. The beach spans over two miles, and its tranquil waters are home to some water fowl. Visitors swim in the bay, and there are designated areas where fishing is permitted. The sand on this beach is much softer because of the marshy area surrounding it. This beach is the perfect spot for picnics, seashell collecting, and sand castle building. Pavilions and catering are available for parties. If packing for a picnic is not your thing, the beach offers concession stands with delicious eats. Playgrounds are available for children, as well as bike rentals on the beach.
Cupsogue Beach
Dune Road
Westhampton
631-852-8111
Fee for admission and parking
When heading out to Cupsogue Beach, prepare for a bit of a drive, but this beautiful beach with white sand and blue clear water makes one forget the drive immediately. This kid-friendly beach boasts scuba diving on the bayside, and some of the best saltwater bass fishing on the island. Although Cupsogue Beach is located in the Hamptons, it has more of a private feel. Live entertainment is part of what makes this beach a family haven. Picnic baskets are welcome. The Beach Hut Raw Bar and Grill is located on the beach.
Coopers Beach
286 Meadow Lane
Southampton
631-283-6000
Fee for admission and parking
Coopers Beach, once voted one of the nation's top beaches by Dr. Beach (a.k.a. Stephen Leaterman). Live music, surfing, and good food bring visitors from all over Long Island to Coopers Beach. Though a bit pricey, with more than seven miles of beach, this kid-friendly beach boasts picturesque scenery, and there are great local food spots located nearby. Love traveling to the beach but hate the hassle of toting beach gear? No need to worry, Coopers Beach offers beach chairs and umbrella rentals.
Hither Hills State Park
164 Old Montauk Highway
Montauk
631-668-2554
Vehicle usage fee
Free with an Empire Passport
Ranked as one of the top 10 New York State Parks for its biodiversity, Hither Hills State Park is a wonderful family destination. Offering a clean, sandy ocean beach with picnic areas, softball fields, volleyball courts, a playground, and a 168-site campground on the ocean. A general store is on premises for snacks, toys, and other beach essentials. Sand castle contests challenge kids to create a sand castle using sand, water, and any of the beach's other natural resources. Call to inquire about nature programs at the beach.
Cedar Beach
Harbor Beach Road
Mount Sinai
631-451-8696
Vehicle usage fee
Cedar Beach in Mount Sinai is a beautiful stretch of beach on the Long Island Sound. Parking is close to the beach so lugging chairs, umbrellas, and big bags of toys is not a worry. There's a playground on the beach, a paved nature walk (great for strollers), and a Nature Center with a touch tank. At Singleton's Seafood Shack grab a hot dog or a slushie (or an iced coffee for mom) at the window, or indulge in some table service in the shade with a beautiful view of the water. Pack some water shoes for the kids because the water is pretty rocky. Stop at McNulty's Ice Cream Parlor on the way out of town for some delicious homemade ice cream.
Robert Moses State Park
Ocean Parkway
Babylon
631-669-0470
Fee for parking
Free with an Empire Passport
Robert Moses suffered impact from Superstorm Sandy. Robert Moses offers six miles of beautiful pristine ocean beaches and an ocean dune walk teeming with wildlife, making it a nature lover's delight. The Fire Island Lighthouse at Robert Moses received a facelift. There are improvements to the keeper's quarters and gift shop. To visit the Light House and Lens Building, park at Field 5 and walk east.
Nickerson Beach Park
880 Lido Boulevard
Lido Beach
516-571-7700
Fee for entrance. Discounted fee for Leisure Pass card holders
Leisure Passes are available to all Nassau County residents and are valid for 3 years
Nickerson Beach boasts 155 acres of recreation, including .5 miles of beachfront on the Atlantic, a fun zone which includes a playground, basketball courts, a food concession, and a campground with 74 recreational vehicle sites and 13 sites available for tents. Group camping is also available. Reservations are required. Check the website for more information on campsite and cabana rental policies.

Photo Credit: Bethpage Air Show at Jones Beach
Updated 7/8/13 by Jill Wolfson