The Very Hungry Caterpillar Show
DR2 Theatre

NYC Easter Brunch Cruise 2023
Event Cruises NYC

Easter Fun Cruise with Egg Hunt 2023
Event Cruises NYC
Sign up for our free newsletters.
Love That Dog: A Poignant Comedy About Finding Your Voice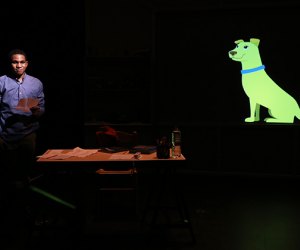 2/22/17
- By
Fiona Taylor
New York City Children's Theater's latest production for school-age kids, Love That Dog, is a one-actor play that manages to be both entertaining and poignant. Jack is a 10-year-old boy whose class is learning about poetry in school. He's not thrilled, to say the least, but as he listens to and writes poems he becomes caught up in the magic of words, eventually sharing his story with the audience.
It's one of our top picks for children's theater this winter in NYC. Find out why.
Without spoiling the ending, it involves a dog (as you may have guessed) and is somewhat tragic. It might be too much for sensitive children or children younger than 8, the recommended lower age limit. That said, hints are dropped and my 9-year-old daughter and I anticipated the ending, which doesn't mean it's predictable. (I got teary-eyed, but my child didn't, and she's an animal lover.)
The show, playing at the Mezzanine Theatre at the new A.R.T./New York Theatres in Midtown, stars the charismatic and talented Derek Christopher Murphy, who carries the show single-handedly. While he does talk to other characters offstage, including his teacher and an author, Murphy is front and center the entire time. Although Murphy is clearly a young man, he manages to convincingly portray a 10-year-old boy experiencing a range of emotions. He has also mastered the physical comedy that makes parts of the story lighthearted and relatable. Some of his exasperated expressions had my daughter howling with laughter.
RELATED: NYC Winter Fun List: 50 Things to Do Indoors Around the City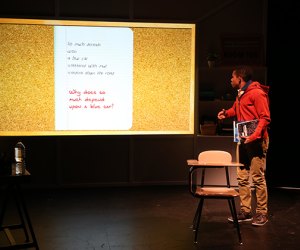 The most clever thing is the subtle way young viewers are introduced to poetry along with Jack. At first, he claims boys don't write poetry, but as he—and the viewers—hear works by renowned poets, Jack slowly becomes captivated by the rhythms and the stories. He reads aloud from William Carlos Williams, Robert Frost, William Blake, and his favorite, Walter Dean Myers. He realizes he, too, has a story he must tell. Poetry becomes his medium, as he drums a beat on his desk and recites words.
The play is based on the book of the same name by Sharon Creech; neither my daughter nor I had read it before seeing the play. Fortuitously, the next day we stumbled upon a copy in a used bookstore, and snapped it up. The script very much mirrors the structure of the book, which is broken down in a short diary format. A large multimedia screen shows Jack writing poems in real time, and also serves as a backdrop to differentiate between Jack's bedroom and classroom.
To be honest, I was dubious about a poetry-centered plot's ability to sustain children's attention spans. But as I watched, I realized the show worked because it spoke to some universal concerns. Jack wrestles with his self-confidence, slowly building up the nerve to put his name on the poems his teacher has posted on a bulletin board. Poetry also gives him a role model—Myers—who (spoiler alert) comes through in the end, after much suspense about whether he's received Jack's letters, and visits his school. Of course, poetry also allows Jack to find his voice, so he can write a story too painful to share any other way. This play is a great discussion starter for a child struggling with grief of some kind, assuming it's not too raw or recent.
The entire way home, my daughter and I talked about poetry, pets, and the play. It is a perfect segue to the book, where children can read some of the poetry themselves even if they never become as enthusiastic as Jack. The mix of old-school poets such as Blake, interspersed with contemporary poets like Myers means there's probably at least one poem to appeal to most kids, especially given Jack's increasingly enthusiastic readings.
Love That Dog is best suited for kids ages 8 to 12, although some older kids will enjoy it. It runs for about an hour, so it's manageable for those with shorter attention spans. It plays through March 5 at the Mezzanine Theater at A.R.T./New York, located at 502 West 53rd Street. It was stadium seating in chairs, so not traditional theater seats, but kids can see over the adults' heads. An interactive 20-minute Q&A occurs after the 4pm Saturday showings.
Photos by Carol Rosegg.