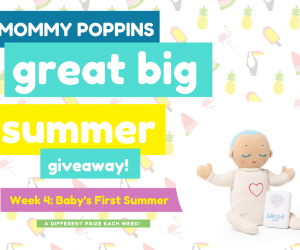 Enter to Win Baby's First Summer Bundle
For our Week 4 prize for the Mommy Poppins Great Big Summer Giveaway we didn't want to forget about the littlest ones and their moms. Our Baby's First Summer Prize bundle includes loads of great items to make this summer easier from awesome skin care to fashionable cover-ups, toys, and, something to help with that most important of things, sleep! One winner will receive all of the below. One runner up will receive one Lulla Doll and one set of Edushape Water Toys.
The Baby's First Summer Giveaway Bundle Includes:
Water toys from Edushape are perfect for the bath or kiddie pool. Educhape products nurture imagination and spark creativity in the very young. This prize includes:
Tub Buddies, a fun way to reinforce hand-eye coordination.
The Water Spinner. Babies will love to scoop and fill as they watch the water set the spinner into motion
Tub Sub. Learn cause and effect: As a boat, it will float, turn it into a sub and watch it sink below.
Edushape Ladybug Sorter Learn shapes while playing in the tub or playroom.
Better Sleep with Lulla Doll and SwaddleDesigns
Nothing is more important than helping little ones get the best sleep. This prize also includes one Lulla Doll and a $100 gift certificate to SwaddleDesigns.
Inspired by an Icelandic mother's scientific research on closeness, sleep, and well-being, the Lulla doll is a sleep companion for preemies, babies, and toddlers. For those nights when you've tried everything, the Lulla doll helps soothe baby to sleep with the sounds of real-life breathing and heartbeat.
SwaddleDesigns helps baby transition from womb to world. Swaddling allows babies to sleep better and longer, decreasing awakenings due to the startle reflex. Parents can master the art of swaddling and look forward to less sleepless nights.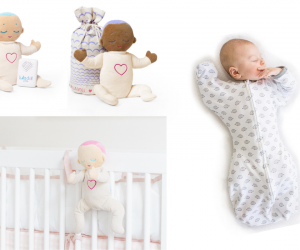 Made Of Organic Baby Products Gift Card
Made with nothing to hide, MadeOf ($100 gift card) offers the safest and most transparent organic baby skincare, body care, diapering, and cleaning products.
Modern Baby on the Go!
Explorer Diaper Backpack. No more ugly and chunky diaper bags! Thoughtfully designed and crafted to ensure that you look stylish while having what you need right at your fingertips.
Breastfeeding Nursing Cover. This all in one nursing and carseat cover is non-see through providing the best privacy for you and baby.
Baby Bandana Drool Bibs made of 100% organic cotton these durable bibs came with adjustable snaps that adjust to your baby's neckline.
Digital Thermometer It can be very exhausting monitoring your sick baby's temperature! With a silent mode, you can be as stealthy as a ninja when checking your sleeping child's temperature.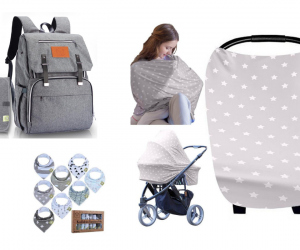 Enter below to win. All entrants will be signed up for your selected free Mommy Poppins local family activities newsletter or national family travel weekly. Current subscribers won't receive duplicates. After you enter share with your friends for even more chances to win!
See all our weekly giveaways on our Great Big Summer Giveaway page.
OUR LATEST VIDEOS