SPONSORED
Great Classes in Manhattan To Try in Winter 2018 for Tots To Teens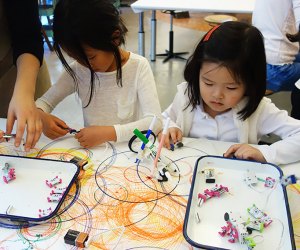 When the weather gets chilly, classes can be a total lifesaver. Luckily, New York City delivers an unbelievable array of options for babies through teenagers.
Try something literally off the wall, like drop-in parkour classes, or let kids' creativity take shape in a claymation class over school break. Develop new skills in gymnastics, tennis, and even Chinese. The options are virtually limitless.
You can search through dozens of classes by type or location in our Classes Guide and Directory Listings, but we've also rounded up some great options to inspire your family to find something new this season, especially now that the weather has us all stuck inside. 'Tis the season to sign up for winter and spring 2018, so take a look!