SPONSORED
CozyKin Makes Finding Childcare Stress Free— Get Our Promo Code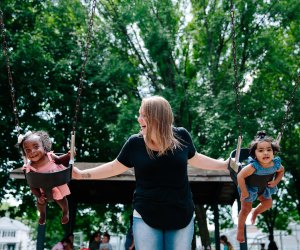 Finding childcare for your infant or toddler can be totally overwhelming. Deciding between enrolling your kiddo in daycare and hiring a nanny is enough to make your head spin, but there's another popular option that could save you some stress: a nanny share.
Not familiar? While a nanny share can mean a couple of different things, I'm talking about one nanny caring for two children at the same time. This smart set-up combines the socialization and curriculum you expect from a daycare environment with the personalized care and flexibility that comes with a nanny—plus, it's convenient and cost-efficient. Now, a service called CozyKin makes finding a nanny share, getting set-up, and managing the share super easy (the service even handles contracts, training, taxes, and sick and vacation time). Read on to learn more about CozyKin nanny shares and, if it's the right childcare option for your family, how you can save. Hint: they're giving Mommy Poppins readers up to $700 off their deposit!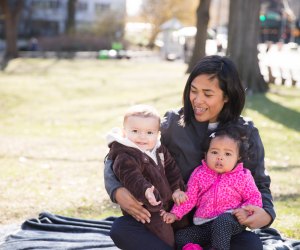 How do CozyKin nanny shares work?
1. No daycare waitlists, no endless interviews.
No need to sign your newborn up for daycare in utero or interview countless nannies hoping to find your Mary Poppins. CozyKin's no waitlist guarantee is a dream come true for parents, offering care in as little as four weeks. You can reserve your care months in advance—even before baby's arrived—by simply completing a quick survey about your schedule, hosting preferences, care needs, and parenting style; writing a little bio about your family; and putting down a deposit. If you aren't sure about your schedule, you can even start with part-time care and transition to full-time. Say hello to enjoying your leave instead of worrying about whether or not you'll have care set up in time to head back to work!
2. Finding a partner family is easy-peasy.
Of course, a nanny share means finding a nanny and a family—intimidating. But CozyKin takes care of that too, which means spending a lot less time trolling your local parent listserv. The service factors in location, commutes, schedules, personalities, and parenting styles to make sure you're paired with a like-minded family. Meet up with your match, and if you aren't psyched about them (although 85% of people are), CozyKin will work with you to find a better fit. Of course, if you already have a family in mind, you can self-match, too.
3. Training and background checks? Check.
Once you're teamed up with another family, you'll be matched with a nanny that fits everyone's needs. And you can rest easy knowing all CozyKin nannies go through extensive background checks, as well as rigorous interviews and reference checks, and they're all CPR certified (safety first, right?). These top-quality caregivers are educated and trained on CozyKin's Montessori-inspired approach, which focuses on play-based, child-led learning. All the nannies are also full-time, W2 employees with access to health benefits, workers compensation, paid time off, and sick time. Once you've reviewed your nanny's profile, you can set up a time to meet and see if you all hit it off.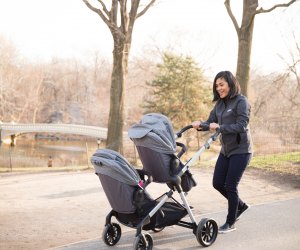 4. Don't go it alone. You shouldn't have to!
From finding a nanny share to managing the day-to-day, CozyKin has your back. They've got a handbook that guides the host family through baby proofing their home (in fact, they have a really helpful downloadable toolkit for anyone looking to create their own nanny share), a chat platform where both families and the nanny can communicate and share daily updates, and a whole team of experts available to help you navigate any questions that come up along the way. Meanwhile, your kiddo gets to kick off a really special friendship with their new BFF, and you can relax knowing they're in the care of a skilled nanny who's been thoughtfully picked just for your families.
5. Use our CozyKin promo code to save.
If you're feeling like a nanny share might be the cure to your childcare-induced headache, schedule a call with the CozyKin team by completing this quick form and selecting a time to chat. They'll be able to answer any questions, and provide you with a personalized quote based on your needs. Oh, and don't forget, Mommy Poppins readers get up to $700 off their deposit by registering for an introductory call by May 31, 2019, and mentioning the code "Mommy Poppins." You can also visit the CozyKin website for more details.