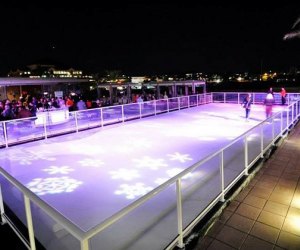 New Pop-Up Ice Skating Rink Opens in Hoboken
Hoboken will celebrate the opening of a new, pop-up ice skating rink today at 3:30 p.m. The rink, known as Harlow Winter Village, is located under the 14th Street Viaduct, between Grand Street and Adams Street. Admission is free.
"I am thrilled to announce that Hoboken will host a pop-up skating rink as a new option for residents and visitors of all ages to get out and have fun this winter," said Mayor Dawn Zimmer. "Along with our newly built mini soccer pitches, this facility will further activate our viaduct recreation area and support our growing, vibrant neighborhood in northwest Hoboken."
The 3,100-square-foot rink is made of synthetic ice, which is designed for use with standard, metal-blade skates.
Harlow Winter Village will be open from December 22 – February 28, and tentative hours of operation are Monday–Friday from 2:30–10 p.m., and weekends from 9 a.m. – 10 p.m. Skaters can bring their own skates or rent them for $10 a pair. Local vendors will sell food and drinks on site.
Photo courtesy of City of Hoboken
Harlow Winter Village
14th Street Between Grand Street and Adams Street
Hoboken , NJ 07030