SPONSORED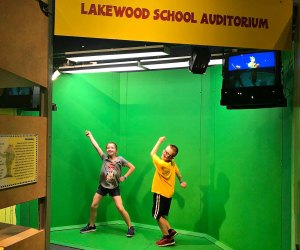 Arthur's World: Have a "Wonderful Kind of Day" at the New Liberty Science Center Exhibit
It had probably been more than 20 years since I'd visited Liberty Science Center (oof, Mommy's getting old...), but when I found out that my favorite former field trip destination was getting a visit from some of my most fondly-remembered PBS pals this summer, I knew I had to bring my baby boy over. I packed up my husband — an LSC-lover in his own right — and our one-year-old, and we journeyed to Jersey City to check out the new Arthur's™ World exhibit at Liberty Science Center. We had a beyond "wonderful kind of day."
As we approached the fourth-floor exhibit, with the "Believe in Yourself" theme song streaming from surrounding speakers, I was transported back to the third grade classroom where I watched my first-ever episode of Arthur. I thought I had forgotten the lyrics to the catchy tune decades ago, but the words returned as if no time had passed at all. The three of us posed with a cutout of Read family — Arthur, DW, Kate, Jane, and David — before we headed into Elwood City, where my little guy, seeing me start to feel the beat, began moving and grooving in his own little a-a-r-d-v-a-r-k dance.
The exhibit is comprised of five unique vignettes made-up of life-size cartoon cutouts and backdrops, real-life gadgets and items, and plenty of interactive activities. Fans of the television show and books will go wild for the familiar scenery, but even if your kids aren't well versed in Arthur's adventures, they'll undoubtedly recognize the everyday routines captured by the displays. Here's a shot-for-shot synopsis of what we saw and what you can look forward to at the limited-time exhibit.
In the Kitchen
My son watches my husband and me preparing meals in the kitchen with the utmost attention to detail, so he was thrilled to be able to put all of our kitchen conventions to use in his own space! He and another little girl teamed up at a play stove to help Mr. Read get some cookies ready for the school bake sale, while I rustled around in the toy refrigerator in search of something DW might be willing to try (her list of food dislikes was clearly outlined for my perusal, along with a tip to parents about what can help when you're dealing with a picky eater at home). A few other tiny hands helped a magnetic Arthur cutout get dressed for the day, providing him with outfit options from a raincoat and shorts to a bomber jacket and snow hat. Before we left him, Arthur looked prepared to head out into a blizzard despite the feels-like-100° day!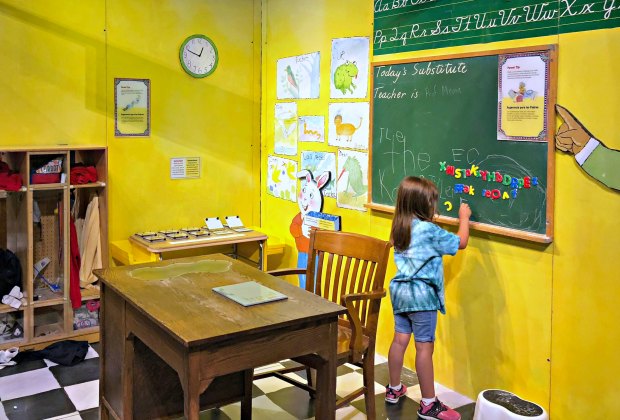 At School
While my son is still a few years away from pre-K, a school setting really seemed to excite him. In Mr. Ratburn's homeroom, kids can put away their belongings in adorable cubby holes, stow personal items and school assignments in their desks, and practice their script on the large chalkboard. Cursive still counts for something, right? The interactivity of the exhibit is probably most alive in this area, because not only can kids take on the role of student or teacher, they're encouraged to think on their feet. I overheard one mother asking her six or seven-year-old daughter why she thought there "might be a problem" as they rummaged through items inside one of the desks. Turns out one of Arthur's friends had received invitations to two birthday parties planned for the same date, and had to decide what to do. It was great to see problem-solving activities that coax children to think outside of the box and search for creative solutions.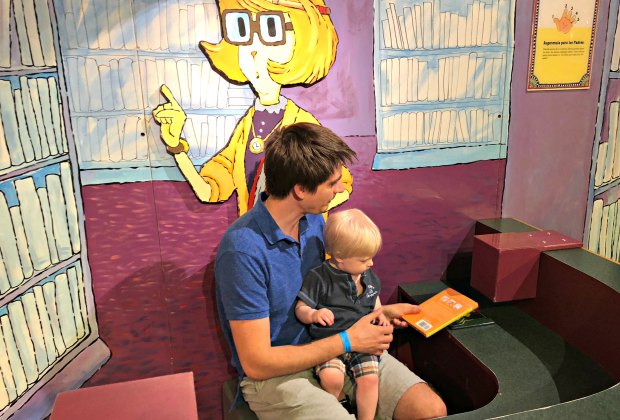 At the Library
I so vividly remember going to my own town library at Arthur's age, and visiting the Elwood City Library brought me right back. The high shelves lined with books, the approachable height of the children's stacks — with real hard covers ready to be plucked by piranha-like tiny people — and the glasses-wearing archetype of a librarian set a perfectly nostalgic scene. Again, the display walls were plastered with "parent tips" that moms and dads may find useful during their next library trip with little ones. I loved the advice to make a game plan before arriving, and to let children check out as many books as they have fingers or one story for every year of their age. And I was so happy to see the note about allowing children to choose their own books, even if they only want to borrow a book for its flashy cover, or one they already have at home, so as not to discourage thirsty readers!
Side note: my son was obsessed with the floor of this facade. He sat in the alphabet circle for a good 10 minutes, pointing to each of the letters, and running his fingers around each shape. If you have toddlers learning letters or shapes, this is a terrific place to let them test drive their new skills. And if you have several kiddos at home, it's never too early to practice having everyone sit in a circle to listen to a story (patience is a virtue!). My husband also spent a while with our babe on his lap, waving books under the pretend scanner. Our little one loved the buzzy beeping sound it made each time his daddy swiped a book to be "checked out."
In the Backyard
This was my son's favorite part of the entire exhibit by far, and it was the simplest set up of them all — just some walls illustrated with renderings of Arthur and his friends camping in the backyard, and an actual giant yellow tent, outfitted with all the camping essentials. My son loved running around this display, but if you're visiting with a new walker, you may want to go into the tent to help your tot navigate the set-up inside.
For older kids, there are word magnets in buckets at the campsite, for making up bedtime stories on magnetic boards. And for parents with munchkins who will be going on their first sleepover soon — or even to late sessions at sleepaway camp this summer — this portion of the exhibit definitely lends itself to conversations about how spending the night away from home for the first time can be worrisome. It's a perfect opportunity to assure kiddos that they'll be safe, and that you're never more than a phone call away.
In the Auditorium
Rounding out the exhibit is a trip back to the Lakewood School Auditorium, to jump into the TV with Arthur! The premise of this storyboard is to introduce kids to the wonders of Chromakey, the technology behind televised weather. Choose from four different video options, then hop in front of the green screen and groove to the music while your performance appears on a giant television. I captured videos on my phone of my son dancing to Ziggy Marley and the Melody Makers.
This attraction seemed to be the biggest draw for older children. The button panel to change the on-screen scene is a hotspot, and definitely one where everyone needs to take turns; fortunately, there are a few LSC team members stationed throughout to help make sure the Arthur mission to "learn to work and play and get along with each other" is carried out!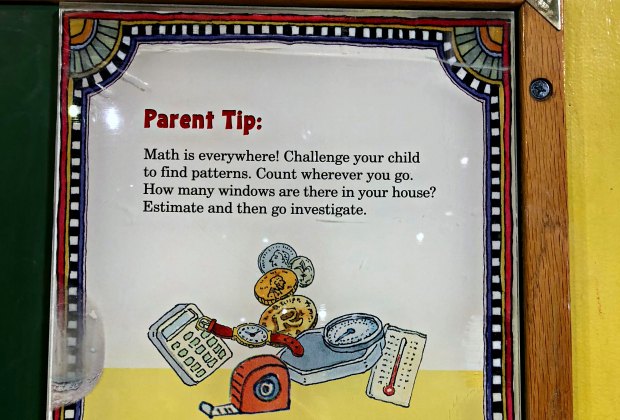 Good to Know
It takes about 30 minutes to explore Arthur's™ World, but you can stick around for much longer if you have kiddos who move at my son's pace. Personally, I liked taking the time to pop back into each vignette for repeat reads of each "parent tip." These were great little tidbits to take away! I especially liked the ones posted up around the school, suggesting that you make practicing spelling words into a fun quiz show game at home, or practice for the annual gym fitness test by doing sit-ups and push-ups together. Since Arthur's™ World is included with regular LSC tickets, visitors have access to the rest of the 300,000 sqaure-foot learning center before or after the exhibit, plus the family-friendly restrooms, a nursing room, vending machines, and a cafe with plenty of kids' options.
Arthur's™ World is open through September 16, 2018 and can be toured as part of regular Liberty Science Center admission. Tickets can be ordered in advance online; admission is $22.75 for adults, $18.75 for children ages 2-12, and free for kids under two.
All photos by Mommy Poppins except top photo courtesy of Arthur's World