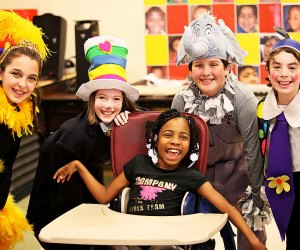 Special Needs Classes and Enrichment Programs for NJ Kids
Parents of children with special needs often face a great challenge in finding after-school and weekend recreational and enrichment programs. Luckily, we live in a very inclusive state that offers many special needs classes, social-skills groups, and enrichment programs that provide structured, supportive, and judgment-free environments where children with a range of abilities can grow and learn while having fun.
Here, we've compiled a list of special spots and activities throughout New Jersey where you can know that your child will feel welcomed and loved, just as they are!
For more kids' classes, be sure to check out our Guide to Classes and Enrichment Programs for NJ Kids.
Unless otherwise specified, classes and activities are for children ages 5 years and up.
Group Enrichment
The Arc of Essex County – Livingston
When you need to run some errands on the weekend or simply need a break, send your little one to the Saturday Respite Program, which includes transportation, lunch, and a host of activities including visits to parks, festivals, arts and crafts, and cooking. The Bridges after-school program invites teens 15 and up to gather during the week for cooking, exercise classes, arts and crafts, music, and dancing.
Bethel Ridge Learning Center – Basking Ridge
Reading, math, and computer courses are offered at Bethel Ridge for kids 14 and up, as well as cooking classes, driver's ed, and yoga. The Friday Night Social Club hosts holiday dances four times a year and organizes trips to sporting events, concerts, and museums to help foster friendships.
Camp Excel – Manasquan
The Saturday Social Skills Program is designed specifically for kids with ADHD, Asperger's and other social challenges. Each 3-hour session starts with group therapy and moves through a variety of stations, including art, laser tag, video games, sports, and music.
The Connection – Summit
Kids of all ages can enjoy The Connection's swimming, dance, yoga, and sports special needs classes, which have been slightly modified and adapted to accommodate any and all abilities.
Educational Programs of Children Handicapped – Madison
Kids ages 6 and up can head to the Madison YMCA after school on Tuesdays, Thursdays, and Fridays from September through May for crafts, swimming, bowling, and other activities that rotate on a monthly basis. EPOCH also runs a summer camp during the month of August.
RELATED: Theaters with Sensory-Friendly Performances for NJ Kids

Friendship Circle of Central NJ has inclusive classes and afterschool activities.
Friendship Circle of Central NJ – Manalapan
Sports and swimming classes are held Thursdays after school at the Y of Freehold. Or come out to Robertsville Elementary School in Morganville for Sunday Circle. During each two-hour session, kids are divided into age groups for music therapy, yoga, Zumba, martial arts, and more.
Union County Office for People with Special Needs
Barn dancing, ceramics, and karate are just a few of the affordable, and often FREE, special needs programs offered by the Recreation Department at different sites around Union County. Private movie screenings and field trips to local events are also on the schedule.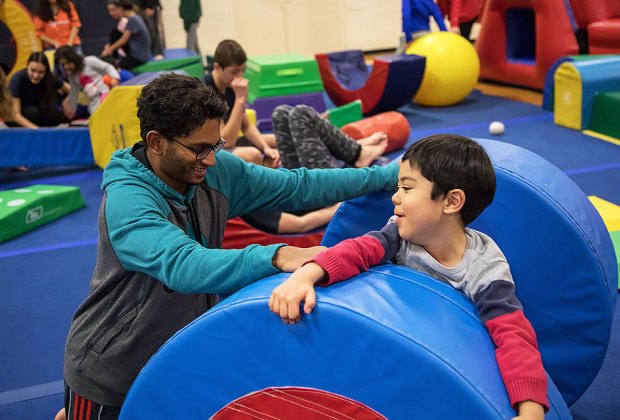 The Somerset Y offers a variety of inclusion classes for kids as young as 3. Photo courtesy of the Somerset County YMCA
And don't forget… your local YMCA or JCC often provides many programs and services for children with special needs. For example, swimming, sports, and creative movement classes at the YMCA in Somerset give kids as young as 3 an opportunity to engage in exercise and recreation while building self-confidence, social skills, and a sense of accomplishment. The JCC in Bridgewater and West Orange offer a respite drop-off program filled with arts and crafts, games, music therapy, and swim.
RELATED: 99 Sensory Activities for Any Child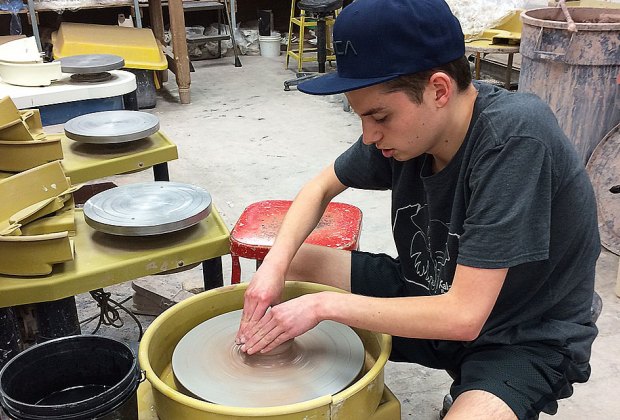 Kids are fully immersed in the arts at The Art School at Old Church. Photo courtesy of the church
Creative & Performing Arts
The Art School at Old Church – Demarest
Hands-on activities involving clay and paint inspire creativity at this nonprofit cultural arts center. The Saturday special needs art workshop runs for 10 weeks and is tailored to the needs of students with autism, delayed communication skills, physical challenges, or learning disabilities.
Bergen PAC – Englewood
The Performing Arts School at Bergen PAC recognizes that anyone can be a star. Developed in conjunction with the Center for Life and Learning (a special education school in Teaneck), classes in music, movement, and dance encourage tiny performers with special needs to explore their artistic interests in a nurturing and judgment-free zone.
FilmAcademy360 – Livingston
Learn how to act, produce, and make movie magic at this filmmaking program through Spectrum360, which has been providing special education service in New Jersey for more than 50 years. In classes after school and on weekends, students 14 and up with autism spectrum disorders and other related behavioral disabilities will complete a short film project at the end of their experience.
Paper Mill Playhouse – Millburn
Already well-known for its sensory-friendly performances, Paper Mill is committed to educating the next generation of Broadway stars. In collaboration with Theatre in Motion, an organization which provides arts programming for children with all types of disabilities, the FREE Theater For Everyone class at the New Providence Library includes theater improvisation, storytelling, music, movement, and some visual art. Parent/caregiver and sibling participation is encouraged.
Dance & Music
Broadway Bound Dance Center – Dumont
The innovative Beyond Boundaries program provides dance instruction for children with autism and other disabilities in a relaxed studio setting. Each student is assigned a shadow to help him or her succeed in class.
Kaye-Lynn Dance Studio – Edison
Owner Robin Kaye believes that everyone deserves a chance to dance. The 30-minute creative dance movement classes pair special needs students with a buddy and moves at a slower pace. Private lessons are also available.
Octopus Music School – New Brunswick
Nearly one-quarter of the 200 students at the inclusive music school has a disability. One-on-one guitar and piano lessons provide the foundations and basics of rhythm and note reading, and an added benefit of improved motor and communication skills.
Horseback Riding
About Time Stables – Morganville
Serving children and teens of all abilities, About Time offers affordable 30-minute to one-hour therapeutic lessons with certified instructions. In addition to riding, students learn how to groom, saddle, and unsaddle the horse.
Equine Tranquility Wellness Center – Andover
This facility emphasizes social skills as well as horsemanship with an array of programs for kids of all ages with emotional, psychological, and/or physical disabilities or impairments. Riders are paired with rescued horses plus a certified instructor or therapist. An indoor ring allows students to ride all year round.
RELATED: Special Needs Summer Camps in New Jersey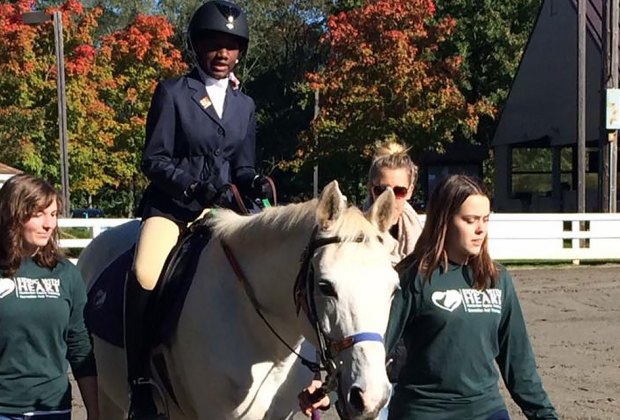 Riding with HEART has therapeutic instructors to support kids with different challenges in class and give them self-confidence. Photo courtesy of Riding with HEART
Riding with HEART – Pittstown
Flush with certified therapeutic riding instructors and therapists, this ranch features 29 acres of preserved farmland for riding lessons, hippotherapy, and social skills groups for children with physical, cognitive or emotional disabilities.
Cooking
Health Barn USA – Ridgewood
Health Barn USA offers 10-week programs for children ages 3 and older, which children with special needs are welcome to join (depending on ability). These programs introduce kids to and help build skills in cooking, gardening, and nutrition. The facility also hosts community and school field trips for children with special needs, which parents can arrange for a group.
CulinaryAcademy360 – Livingston
Beginner chefs ages 14 and up learn culinary techniques, try new foods and recipes, master hand-eye coordination, and practice social skills like sharing and following directions. Classes are limited to eight–10 students to allow for increased hands-on participation.
Sports
Inclusive Movement Center – Montclair
Twist, turn, swing, bend, and jump during an hour-long Ninja Warrior class at this super-cool gym. The Center's mission to be "for everyone, with everyone" uses these unique gym classes as a vehicle to help children and young people develop physical, cognitive, and emotional growth.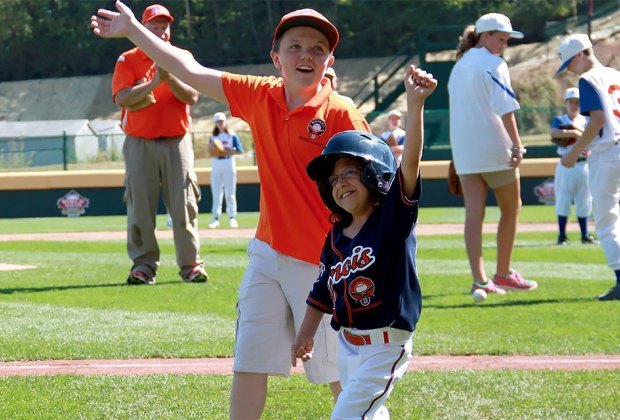 The Challenger League uses a buddy system for its special needs players. Courtesy of Little League Baseball and Softball
Little League Challenger Division
This special needs division of the popular kids' baseball league incorporates a buddy system and adjusts the game rules for its special needs players. Check out teams in Piscataway and Cherry Hill, or search for a participating program near you on its website.
Special Olympics Young Athletes
A unique sport and play program for children with intellectual disabilities, the focus of Young Athletes is on activities that support mental and physical growth. Children ages 2 to 7 enjoy games and activities such as running, kicking, and throwing to help develop the motor skills and hand-eye coordination they will need to compete in the Special Olympics one day. Visit the Special Olympics of NJ to find a program in your community.
TOPSoccer
The motto "Game for All Kids" truly means all. Sponsored by U.S. Youth Soccer, TOPSoccer teaches soccer to boys and girls with mental or physical disabilities. Youth volunteers buddy up with players to provide support, and special accommodations can be made, like shorter game times. Teams in Montclair and Mount Laurel are a great place to start, or visit NJYouthSoccer.com to find a local team.
Martial Arts
Mayer's Karate & Fitness – North Haledon​
Separate and specialized group classes on Saturdays instruct students from extremely low functioning to high functioning with experienced instructors who understand the needs and behaviors of children with special needs. In addition to exercise, kids work on focus, concentration, coordination, and balance.
Princeton Academy of Martial Arts – Princeton Junction
Princeton Academy's special needs martial arts program was developed in conjunction with a pediatric occupational therapist. Each child is personally evaluated to determine if private lessons, small group session, or a transitional program into group classes are the best course of action.
Sensory Tae-Kwon-Do – Bergenfield
Having fun, building physical and mental strength, and developing discipline are the key components here at this unique martial arts program for children on the spectrum. The whole-body approach includes music, visual cues, and tactile touch to incorporate all the senses during each session.
Yoga
Be Inspired Yoga – Pennington
Therapeutic yoga for children on the autism spectrum starts with movement that improves coordination, low muscle tone, and other physical issues. In the process, it also helps address emotional and behavioral issues. Fran Swart, the founder, has a son with PDD-NOS, so she understands intimately issues that affect families and their children on the spectrum.
Pediatric Therapy & Yoga of Morris – Morristown
All of the therapists at this therapeutic yoga center carry dual yoga certifications and professional degrees in physical therapy and occupational therapy. The result is an interdisciplinary practice that focuses on enhancing fine and gross motor skills, as well guiding each child to find his or her own inner peace and serenity.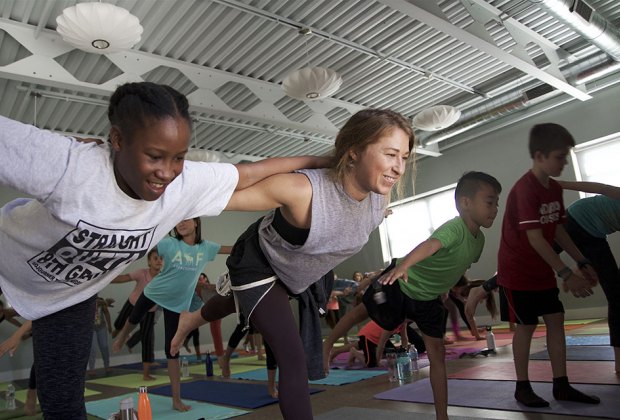 Powerflow Yoga Kids offers classes for children through young adults with special needs. Photo by Kyra Moony/Powerflow Yoga Kids
Powerflow Yoga Kids – Bloomfield
Powerflow's accessible, interactive special needs yoga class is open to all children, teens, and young adults with special needs. A combination of breathing techniques, mindfulness exercises, meditation, yoga poses, sequences and games, and a final relaxation give kids lifelong techniques to improve body and spatial awareness, concentration and focus, social and emotional skills, and a positive sense of self.
The School of Royal Yoga – Chester
The school's Center For Special Needs helps meet the physical and emotional needs of children of all abilities. The om-worthy classes not only help your little yogi bend, stretch, and breathe, but they also improve their ability to focus and concentrate in addition to fine and gross motor skills.
This post was originally published in 2018 and has been updated since.