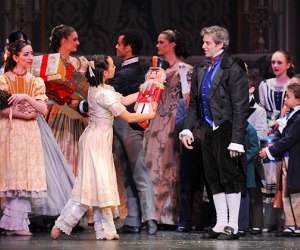 NJ Ballet's Nutcracker Is a Sweet Treat for Kids and Adults
When I was a kid, going to a performance of The Nutcracker was one of my favorite Christmas traditions. Like many little girls, I would sit in the theater and imagine that I was Clara, waking up on Christmas Eve to find a Nutcracker prince battling a mouse king in my living room, and then getting whisked away to a magical land where snowflakes, candy, and flowers danced just for me.
From the look of the crowd at Mayo Performing Arts Center, where NJ Ballet is performing The Nutcracker through Christmas Eve, kids are still really into it. And this grown-up loved it, too.
When I saw the performance last Sunday evening, the theater was filled with children—both girls and boys, many of whom looked as young as 4 or 5. I wondered how these little ones would fare through the two-hour performance (I'll admit that I left my own 4-and-a-half-year-old son at home). But I needn't have worried. The theater was virtually silent throughout the show, except for an occasional gasp of excitement: "What the heck?!" a little boy exclaimed in response to the acrobatic moves in the Arabian Dance. It was pretty cute.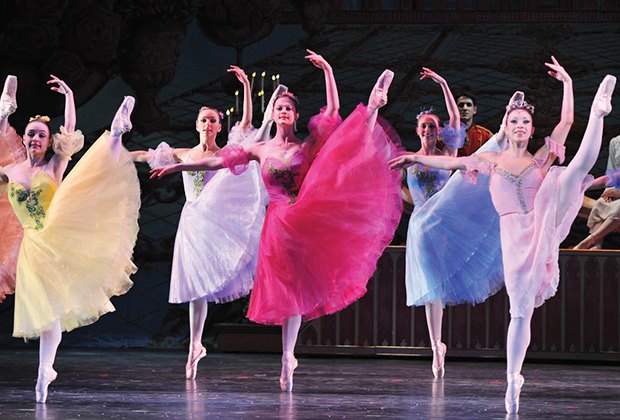 If you're looking to start a new tradition of your own, I'd recommend giving this production a try. Billed for ages 4 and up, the performance is colorful, fast-paced, and beautifully danced. AND you get to hear Tchaikovsky's beloved score played live by the New Jersey Symphony Orchestra.
If you're considering taking your child to the performance, here's what you can expect:
Go early to get good parking. The lots fill up quickly, and if you don't leave yourself a little extra time you might end up scrambling for a spot on a side street (like I did). You should also check out MPAC's handy pre-show planner, which includes lots of helpful parking info.
This is a full-length production, meaning you'll spend a total of two hours at the theater, including a 15-minute intermission. (If you're looking for an abridged version, or one with narration, consider the NJ Civic Youth Ballet and New Jersey Youth Ballet productions, both of which are happening this weekend.) That being said, the two hours goes quickly. It's a fast-moving story with a lot of action, colorful costumes and scenery, and some cool special effects. If your child can sit through a movie, he or she will probably do just fine.
Act I includes a fierce battle between soldiers and mice (featuring strobe lights and cannons), an enchanted Christmas tree that grows before your eyes, and a gorgeous forest scene danced amidst falling snow. During intermission, your child can have his or her picture taken with mice and soldiers.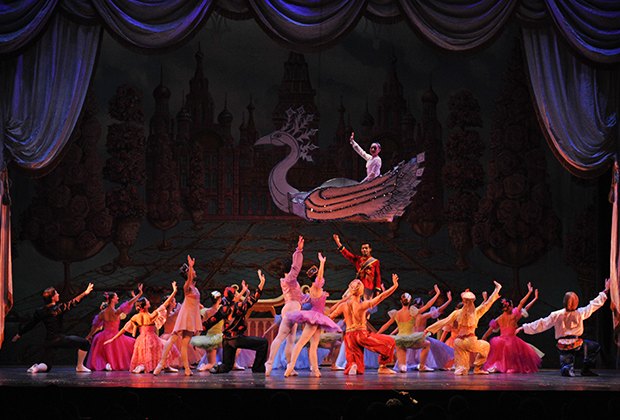 Act II takes place in the Kingdom of Sweets, where the Sugar Plum Fairy and her court put on a heck of a show for Clara and the Nutcracker Prince, who have traveled to their land via a flying swan boat. The Arabian dancers do cartwheels and splits, the Chinese dancers twirl long ribbons, and the Russian dancer jumps and spins around the stage at high speed. Mother Ginger is an impossibly tall matron whose enormous skirt hides 20 or so little clowns who come tumbling out for a dance, and the Waltz of the Flowers is a dreamy whirl of pastel-colored tulle.
The only part of the performance where I sensed a little restlessness was the Sugar Plum Fairy's section. For adults, this is often the highlight of the ballet, but it is relatively long and comes near the end, so kids are understandably tired at that point.
This is probably a good place to mention that the dancing itself is top-notch—not far from the quality you'd find in New York City, and without the trek and painful ticket prices (tickets range from $29–$69). NJ Ballet has been doing The Nutcracker for 46 years, and it also happens to have one of the country's largest collections of ballets for children, so you don't need to wait until Christmas to see them.
But for now, there is still time to bring your kids to The Nutcracker at MPAC: NJ Ballet will be doing a total of nine performances on December 16, 17, 18, 22, 23 and 24.
Like Christmas itself, one of the joys of The Nutcracker is watching kids experience it. Next time I'll be bringing my son.
Photos courtesy of Mayo Performing Arts Center.