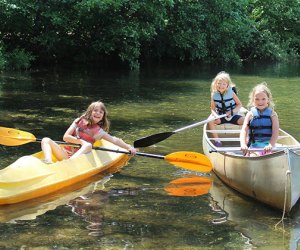 Affordable Summer Camps for New Jersey Kids
Summer camps in New Jersey vary wildly in price, so it's important to choose a camp that's right for your child AND your pocketbook. Many camps let you register by the week or even the day, so you don't have to commit to an entire summer. Other options, like three-day weeks and half-day camp, also allow you to keep costs down. The cost of certain camps can be applied against the child care tax credit for children of single parents/two working parents, and some camps offer financial assistance—especially ones that get money from donors.
Here we've rounded up 15 affordable day camp options for NJ kids. To find more New Jersey summer camps, check out our Camp Guide and Full Directory of Listings.
Note that summer camp information for the 2020 season is changing daily. Please click the links to the individual camps below to see which ones are offering programs this year.
Affordable Summer Camps in Bergen County
Meadowlands Area YMCA Summer Camp – East Rutherford, Rutherford, Cliffside Park
This local YMCA offers various camps for kids of different ages, including specialty camps like musical theater and sports. Fees are based on how many days you sign up for per week. Summer Seedlings for ages 3–5 costs $268 per week for five full days. Camp Meadowlands for ages 5–11 is $246 per week for five full days, or $212 for three full days. Financial assistance is available to those who qualify. Pay in full for four weeks of camp and save 5% when you register before April 18.
Affordable Summer Camps in Burlington County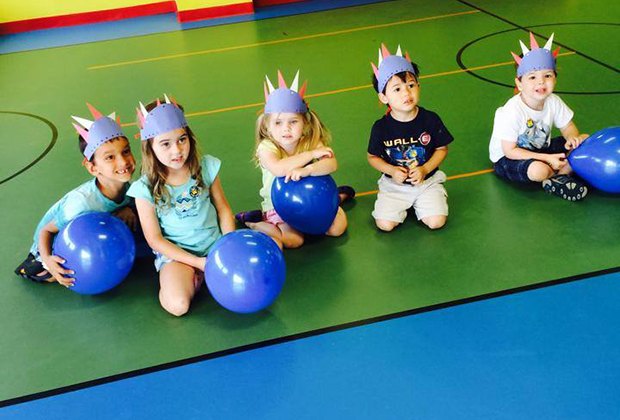 LittleSPORT allows you to register your young camper by the week or by the day.
LittleSPORT Summer Camp – Maple Shade
LittleSPORT, a creative learning and play space for kids ages 2–6, has a 12-week camp that boasts a different theme every week. Themes include All-Star Athletes, Galactic Adventures, Dinosaurs, and more. You can register by the day, so it's easy to work around vacations and other scheduling. The rate is $40/day; if you schedule 24 or more days, it drops to $34/day. The weekly fee is $175.
Affordable Summer Camps in Essex County
East Orange YMCA Summer Day Camp – East Orange
East Orange YMCA offers a variety of day camps for children ages 3–13, from Early Adventures Camp for the smallest kids to Explorers Camp for pre-teens. Programs cost $169/week and include before- and after-care and field trips, plus breakfast, lunch, and an afternoon snack. Financial assistance is available to those who qualify. Register by March 31 and skip the registration fee.
Newark YMCA Summer Day Camp – Newark and Belleville
This nine-week program is for children ages 4–15 and provides high-quality summer learning initiatives like reading, math, music, arts, and sports, with featured activities such as cooking, swimming, and weekly trips. Full day camp is $175 per week, or $110 for half-day camp. Before-care (includes free breakfast) and after-care are available for an additional $30 each per week.
Affordable Summer Camps in Mercer County
RELATED: 20 Summer Theater Camps for NJ Kids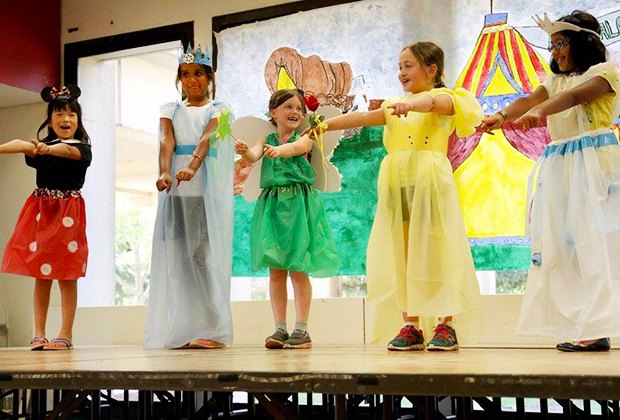 Campers take part in a finale performance at Camp College.
Camp College at Mercer County Community College – West Windsor
Send your kids to college for the summer! Campers ages 6–13 can choose from among more than 70 programs in the arts, sciences, sports, and more. A four-week session runs four or five days a week, and ranges from $1050 – $1,340.
Affordable Summer Camps in Middlesex County
YMCA Camp Yomeca Day Camp – East Brunswick
This day camp for kids ages 3–15 offers age-appropriate activities including sports, dance, drama, cooking, arts and crafts, swimming, reading, day trips, and much more. You can register by the week, and each weekly session ranges from $320 for ages 3-5 to $330 for campers in Kindergarten through grade 8. All trip and activity fees are included, plus extended hours from 6am–7pm.
Affordable Summer Camps in Monmouth County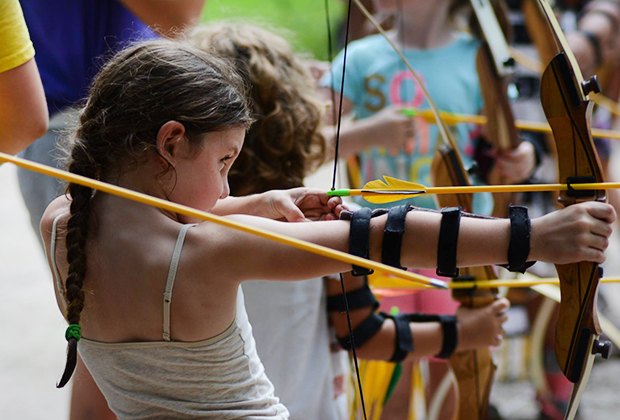 Sacajawea Day Camp offers specialty camps like Archery Adventure.
Sacajawea Day Camp – Newfield
This all-girl day camp, run by the Girl Scouts of America, offers activities including performing arts, zip lining, and more. Options include basic camp, specialty camps like Archery Adventure and Eco Warriors, cooking camp, equestrian programs, and photography and film. General camps range from $195–$300 depending on how many days a week you opt for; specialty camps generally run about $330/week (including equestrian, cooking and technology-themed camps). Financial assistance is available to qualified campers.
Affordable Summer Camps in Morris County
Morris School District Community School Summer Plus – Morristown
This program, held at Frelinghuysen Middle School, runs on a three- or six-week schedule. Full-day attendance is $1,795 for six weeks and $1,100 for three weeks. Half-day attendance for six weeks is $1,100. Rates go up slightly after April 5. Programs include: science, math, technology and design; reading, writing, and self-expression; arts and crafts; cooking, foods, and nutrition; music, theater, dance, and performance; and sports, games, and competition. Classes are age-specific for kids in grades 1–3 and 4–7; there's also a "Calling All Kids" program for kids entering Kindergarten or first grade.
Affordable Summer Camps in Ocean County
Amity Acres Day Camp – Barnegat
This day camp for girls is run by the Girl Scouts of America and offers programs in swimming, boating, archery, zip lining, sports, cooking, and much more. Three-, four-, and five-day options range from $185–$225/week. Equestrian programs are a bit pricier, at $395/week. Financial assistance is available for qualified campers.
Affordable Summer Camps in Passaic County
Boys & Girls Club Summer Day Camp – Wayne
This summer day camp offers two programs: Early Education Summer Camp for kids ages 6 weeks – 5 years, and Summer Camp for kids entering grades K–8. All campers will enjoy age-appropriate activities including computers, art, science, math, dramatic play, swimming, and sports. For Early Education Camp, the three-day rate is $190–$235, and the five-day rate is $230–$270 (depending on the age of the camper and what hours you choose). For Summer Camp, the three-day rate is $160, and the five-day rate is $220. Register early; rates go up a bit after May 18.
Affordable Summer Camps in Sussex County
Camp Auxilium – Newton
This Sussex County camp that focuses on spiritual and social development offers swimming, mini-golf, music, and more. The program is divided into a girls' day camp for grades 1–8, a boys' day camp for grades 1–6, and a learning center camp for children ages 3–K. Rates are $70/daily and $233/five-day week. The registration fee is waived if you sign up for six or more weeks of camp and pay in full by May 1.
Affordable Summer Camps in Union County
Creative Kids Summer Art Camps – Scotch Plains
Creative Kids is running some fun half-day summer art camps like Cooking Matters for Kids and Gross, Grime and Slime. Camps run from July 20 – September 3 and offers weekly and daily drop-in options. The weekly rate is $195, or $50 per day.
Affordable Summer Camps in Warren County
RELATED: Top Summer Day Camps for New Jersey Kids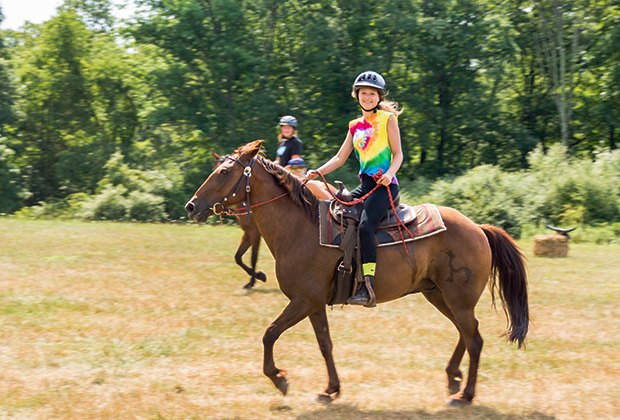 Give horseback riding a try at Camp Mason.
YMCA Camp Mason – Hardwick​
Camp Mason is a full-service resident camp that also hosts a day camp. It caters to kids ages 5–14 and offers many activities, including swimming, climbing, farming and gardening, arts and crafts, sports, and more. One week is $280, but the rate goes down if you register for multiple weeks. Scholarship assistance is available.
*Most YMCA camps require that your child be a member, and there is a fee associated with that. However, some YMCA day camps allow non-members to attend camp for an additional fee. Check with your local YMCA for details.*
More Affordable Summer Camp Options
Community Colleges – Statewide
A lot of community colleges host great summer camps. In addition to MCCC's Camp College listed above, Camp Middlesex at Middlesex County College offers an impressive variety of subjects for kids ages 6–16, including cartooning, robotics, sewing, baking, magic—virtually anything you can think of—most of which run $179–$203 per week. Check with your local community college to learn more.
Departments of Parks and Recreation – Statewide
Many towns and counties offer inexpensive summer camp programs for residents. You can go week by week or opt for the whole summer. In South Orange, for instance, the half-day Summer Playground Program, for kids age 4 – grade 8, is $770 for seven weeks. The Montclair Recreation Camp for ages 5 -12 is $630 for six weeks. The Morris County Park Commission's many offerings include art and nature camp for ages 5–14 for $175–250 per week, and the Monmouth County Park System has a ton of options for around $250/week or less, with such themes as bugs, fashion, farm life, and much more. Visit your town or county park website to learn about their offerings.
Photos courtesy of the camps
Originally published 2013 and updated since.