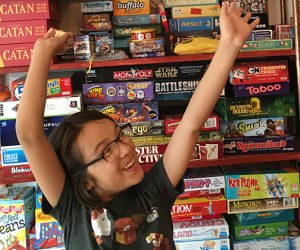 Aether Game Cafe Opens in Hoboken
I love board games, so imagine my excitement when I spied a new venue in Hoboken: a cafe devoted entirely to sitting around and playing Scrabble. And Pictionary. And Clue. And... well, you name it, and the Aether Game Cafe has it. Read on for my review of this delightful spot for gathering, eating snacks, and playing Monopoly. And Dominion. And Dungeons and Dragons. And... well, you get the idea.
The Aether Game Cafe is just a great way to spend an afternoon, face to face with a friend, significant other, child, or brand-new opponent. Bright and inviting, with numerous tables and an entire wall of game choices, it's a place in which you could happily get lost. The cafe has an extensive list of events and playing clubs, but if you just want to drop in for a one-off visit to play Yahtzee (or Risk, or Fury of Dracula, or Race for the Galaxy, or... well, you get the idea), you pay five dollars per person for unlimited play. There are also monthly memberships, for one player or the player and a friend. At the time of this writing, Aether has a good selection of snacks and drinks and the owner was waiting patiently for their full coffee service set-up, coming soon!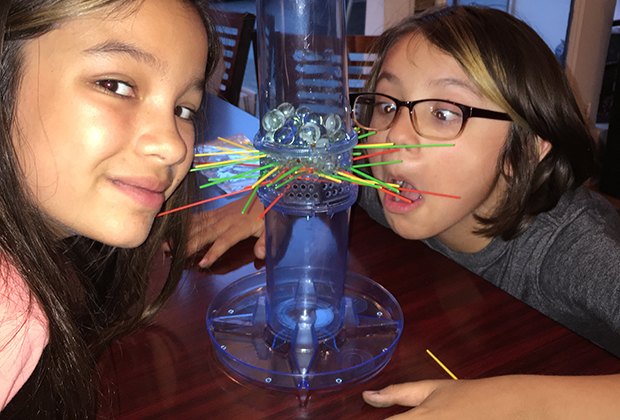 I took my video game-loving kids to Aether Game Cafe for a bit of old-school gaming and I am happy to report that after three hours and many loud rounds of Clue, Pictionary, Quarto, Ker-Plunk, and some fairy princess card game that my son rebelled against, I had to drag them out of there, protesting all the way. Best fifteen dollars I've ever spent.
The Aether Game Cafe is open Monday through Thursday from 11am to 11pm, Fridays from 11am to 2am, Saturdays from 10am to 2am, and Sundays from 10am to 11pm. For more information, contact the cafe at 201-239-0400 or email them with questions.
All photos by the author.