Labor Day Weekend Best Things To Do in Miami & South Florida: Festivals, Parades, and Outdoor Concerts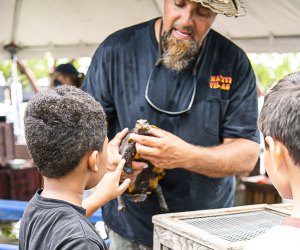 Looking for the best things to do in Miami and South Florida Labor Day weekend? Here are some family-friendly events and activities to add to your list for this weekend.
Happy Labor Day weekend, South Florida! It may feel like summer ended when the kids went back to school, but it isn't over until we're done celebrating this weekend. There are community festivals, museum exhibits, art workshops, and outdoor concerts running throughout the weekend. In Fort Lauderdale, head to the Pre-Labor Day Festival to enjoy live music, a car show, kids' zone, and delectable food specials. In Davie, enjoy a nature filled day at Flamingo Gardens' Celebrate Labor Day Weekend Event, which marks the final weekend for the Free Our Seas exhibit and features conservation related activities and booths for kids. If you like good old-fashioned fun, hit the Okeechobee Main Street Labor Day in the Park celebration with BBQ, vendors, and a holiday parade.
Check out more of our picks for this weekend below, and on our South Florida Events calendar—don't forget to bookmark the page and share with a friend! And as always, if you know of something fun that should be on our events calendar, send us an email!
More Things To Do in Miami this Week with Kids: