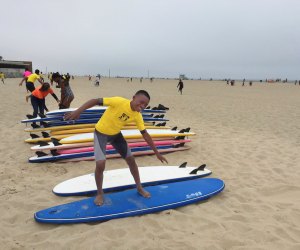 Weekend Fun for LA Kids: Lummis Day, Nick Gabaldon, and The Great Big Day of Play
If we had had confidence that there was nothing to do this weekend, we would have said so. But we did not. Because there isn't not. By which we mean to say there is. Lots to do this weekend. As full a calendar you're likely to see, to be surpassed only by next week's, and the one after that.
You may have heard tell that there was no illusion, no construction of golf greens, but the facts will show that there was and there are. We've laid it all out for you. We are not afraid to make waves. Or to surf them. If you want to know the facts of this coming weekend, check out the preponderance of events that can be found on our daily events calendar (conveniently sorted chronologically). The truth is out there if you're just willing to read.
Of course, it's not our job to tell you what to do with your kids. You are the parents. You make those choices. And if your (correct) choice is to take them to a free outdoor concert at Pasadena City Hall that celebrates music that made the leap from Broadway to Hollywood, well all we can say then is bravo, encore, well done. Are you teaching your kids to put the steam in punk? You've turned this parenting thing into an art! Can we expect to see you at The Great Big Day of Play (of which Mommy Poppins is a humble media partner)? Well, then, cross out whatever picture is in the dictionary next to awesome parent, because your fresh-faced visage is what belongs there.
Keep reading for our unredacted account of this weekend's worthiest picks...