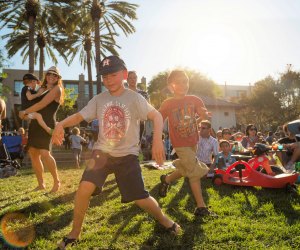 Weekend Fun for LA Kids: Elephant Day, DOGust, and Natsumatsuri
Let's talk about the elephant in the room. No, not the start of the school year: I mean the weekend festivities in Griffith Park. The LA Zoo is celebrating the pachyderm, and shedding light on the majestic beast's situation in the wild. It's the once-a-year chance to go behind the scenes and see how the "Ele" half lives.
They say an elephant never forgets. But you know who does forget? A kid who's been out of school too long. Luckily, the 2019/2020 academic year is fast approaching, with some kids returning to school as early as next week. Time to get a move on if you have any unrealized summer plans, like perhaps attending a county fair. (Both the OC and Ventura County fairs end this weekend, as do several of the summer concert series.)
You might be seeing double; it's really quite incredibles, this sorta summer, sorta schooltime, way out, out of this world. There's so much going on my brain is exploding. Or maybe that's just the fireworks.
Keep reading for our most elephantine list of picks for this pre-school weekend.