Clue Live! Solve a Classic Murder Mystery at Westfield Century City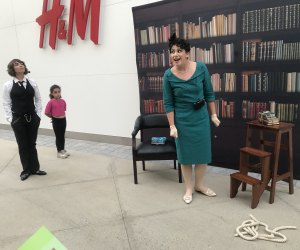 The best thing to come out of the past year has got to be the flood of creativity in event planning. As quickly as we lost some activities we loved, other new family-friendly, socially distanced experiences sprang up, from drive-through dinosaur museums to walk-through candylands (with a few of hands-off haunted houses and holiday displays in between). The latest innovative addition to the LA event scene is Clue Live!— an in-person, open-air version of the classic board game. Attendees solve a familiar murder mystery: was it Colonel Mustard in the library with a candlestick? Mrs. Peacock in the kitchen with a lead pipe? The walking adventure in Century City brings all of these characters to life this summer so you can play detective.
How Does Clue Live! Work?
Much like the old board game, the live action Clue game revolves around a murder to be solved: to win the game players figure out the murderer, the murder weapon, and the room where it happened. The board in this case, however, is Westfield Century City Mall.
After checking in near the Gelson's, guests are taken for a walk by the "butler," who weaves a tale to fill everyone in on the back story. Your group of detectives is then led on a journey, with gameboard style maps in hands, exploring each room in the imaginary mansion; key destinations like the billiard room, ballroom, and kitchen vaguely resemble the facades of H&M, Eataly, and The Gap. At each stop, guests encounter one of the board game's famous suspects—Mrs. Peacock, Professor Plum, Colonel Mustard, etc—and after listening to that character's version of the events you get to ask questions (three per character) to try to get to the bottom of it all.
Is Clue Live! Fun for Kids?
Live action Clue, like the board game, works for a wide range of ages. Adults who remember it from their childhood definitely enjoy the game, but the mystery is also fun for kids to solve. There is much more silliness than murder in the story, so it isn't likely to be scary or upsetting to sensitive little ones. There is a lot of talking, though, so kids younger than 5 or 6 would probably have a tough time sticking with it; the Clue Live folks recommend ages 8 and up.
That said, there were some younger kids on our tour having a grand time questioning the suspects, and the characters played with the kids well. You may just want to keep an eye on exuberant little detectives, since the group as a whole gets just three questions per suspect, and you wouldn't want to use them all up by mistake on someone's "Why?" phase! On the other hand, if you were to arrage this outing with a big enough group of kids (maybe for a birthday party?) you could let them ask Professor Plum whatever they please.
Tickets and Know Before You Go
Tickets to Clue Live start at $39 and are reserved in advance on the website. Groups accommodate up to 30 people, and all participants are asked to wear masks. The whole experience lasts about 90 minutes and covers a lot of ground walking around the outdoor spaces at Westfield Century City. There are three versions of the mystery, so going more than once is an option if it's a really big hit.
If you don't regularly shop at Century City, be warned that parking rates at this mall are fairly steep. We had dinner at the mall then played Clue, and the resulting parking charge was $12.
If you can get your hands on the old board game, playing it to let your kids get familiar with the characters, rooms, and murder weapons ahead of time could be a great idea. It's definitely more fun meeting Colonel Mustard in the Conservatory with a wrench with a little bit of context. But whether or not you knew Colonel Mustard before the murder took place, playing Clue in real life makes for a fun family evening out!
Clue Live! continues at Century City through August 8, 2021.