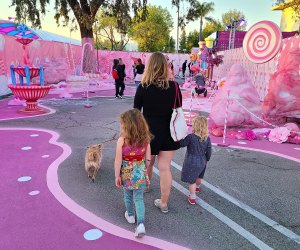 Take a Sweet Trip To a Real Life Candy Land at Sugar Rush
There's light at the end of the pandemic tunnel, and that means walk-thru is the new drive-thru. Sugar Rush is a new immersive saccharine-sweet walking experience that's a great activity for every age, from grown-ups to toddlers. My family had a chance to preview the experience last weekend, and since I knew my kids wouldn't get enough candy at Easter (ha!), we decided to check it out. Our verdict: this a fun, unique experience that gives little kids the chance to get out and run around in a whimsical, silly, and safe setting—but also has enough appeal for older kids who love taking cool selfies.
Read on to discover what larger-than-life sweets you'll encounter, how much actual candy is included, and why this is a treat for anyone with a sweet tooth.
Sugar Rush was originally envisioned as a drive-thru experience like Hauntoween and WonderLAnd, but because LA County is rapidly reopening, it was re-imagined as a socially distanced walking experience. Sugar Rush keeps capacity limited and uses timed tickets to ensure the area doesn't become too crowded. This is good for COVID safety practices, but also helpful because you'll want plenty of time to take pictures and absorb the artwork, and this prevents a pile-up of people. The entire walk-through is a little less than a half-mile and completely flat, so even small walkers will be able to complete the course.
The walk-thru is built around Westfield Topanga mall, but with the colorfully painted floors of the maze-like wonderland and wall-to-wall decorations, you'll quickly forget you're in the parking lot. The second we walked into the Candytropolis we were greeted by playfully costumed actors welcoming us as they danced along with the positively optimistic music in eccentric style. One warning, it's pretty loud in Sugar Rush, which might prove overwhelming for some children.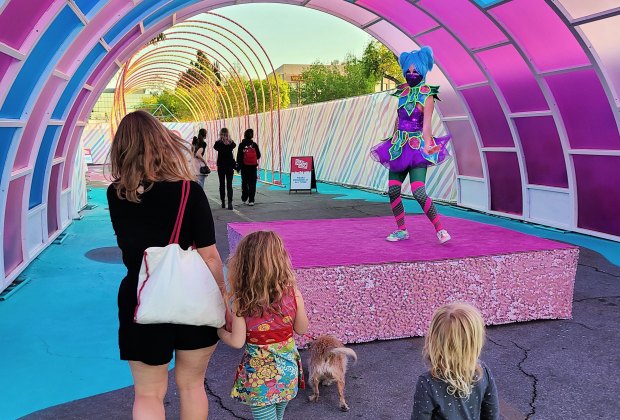 Welcome to a world filled with candy.
While Sugar Rush is the perfect experience for social-media-minded kids, even those that aren't interested in getting the perfect shot will be entertained throughout the experience. Each of the six different immersive environments is unique and with over 40,000 square feet, there's plenty of space to take your time and take it all in.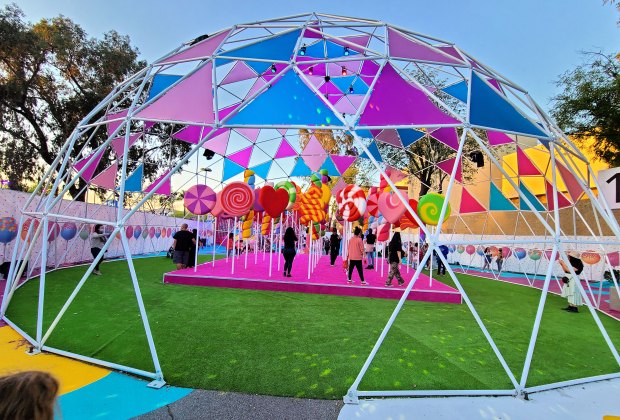 It's a forest made of lollipops—what's not to love?
My kids were mostly interested in the giant lollipop forest under a geodesic dome, where you could dance and play among tree-sized candies, like Candy Land come to life. Their second favorite area being the giant inflatable tube men, who would suddenly burst up from the ground and flail around before deflating. The life-size animal statues and visual illusions also caught their attention and made for excellent photo ops.
Another favorite was the miniature gingerbread village, with a kid-size gummy bear figure to pose next to. In one area there's a large stage framed by ice cream sundaes where the pixie-like actors put on performances throughout the experience. At the end of the walk-through is a giant sparkling wall with the Sugar Rush logo, the perfect place to recreate your own red carpet experience.
As day fades, the lights start to twinkle.
The experience is designed specifically to be viewed during the daytime or at night, so don't worry about buying tickets before sunset. Here's an inside tip, that we actually lucked into: with our tickets being at 7pm, we got the best of both worlds. The first half of our experience was sunny and warm, which was perfect for the brilliant and colorful world. At the end, we got to see the rest of Sugar Rush after dark when the lights came on.
At the end of Sugar Rush, every guest gets a fairly large bag of candy which you can eat at the picnic area near the exit—you'll get more than you can eat in one sitting. (We ended up saving some of the candy for our Easter egg hunt.) There's a big sandpit with swings, a dance floor, and blasting music (again, it's pretty loud and makes it a bit hard to chat), plus cornhole. Feel free to stay and eat candy and play.

Pose or play? Why not do both?
Know Before You Go
Sugar Rush is built on the paved parking lot of the Westfield Topanga, so it's very stroller-friendly. Our almost four-year-old didn't have a problem walking the entire course, though for smaller kids it might be smart to have a stroller just in case. The walk-thru is dog-friendly too, so we naturally brought our friendly little terrier to check it out. There were water bowls in some of the environments for the dogs.
There are bathrooms at Sugar Rush, though they're located at the exit, so be sure to plan ahead. The staff kindly let us use the bathrooms before entering even though our three-year-old realized she needed to go right after we went through the security check. The biggest downside to the bathroom situation? The bathrooms are (pretty clean) porta potties so keep that in mind—if you're like us and have kids that are terrified of porta potties you'll need to make sure they've gone before you arrive.
Those must be honey lollipops that the bees and bears are drawn to.
I'd recommend feeding your kids before you go to Sugar Rush. Because every guest needs to wear a mask at all times you won't be able to bring snacks to eat along the way. If they're hungry they'll spend the entire walk-thru rushing to get to the candy, and probably won't be up for dinner after eating a bunch of Smarties. Instead, hit up one of the many restaurants in the Warner Center area (like my kid's favorite, The Stand) or even one of the restaurants in the mall like Blaze, Panera Bread, or Veggie Grill.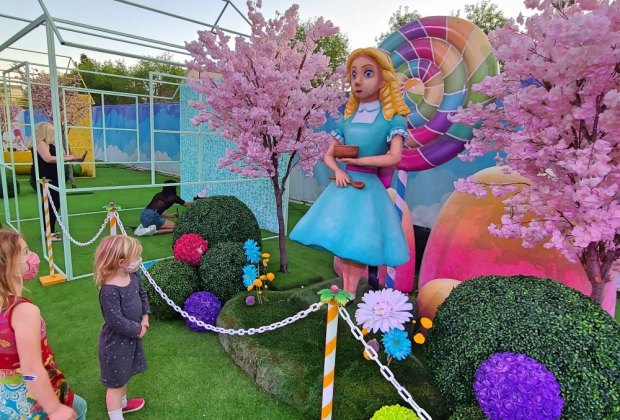 Goldilocks thinks this candy is juuuuuust right. (It's better than any porridge, that's for sure!)
Sugar Rush is right off of Topanga Canyon Blvd. and very easy to spot from the road. There's ample parking around the Westfield Topanga and we were able to park right next to the experience. The event hours are 3pm-9pm Monday through Friday and 10am-9pm on Saturday and Sunday. It runs until May 2 and you can get tickets for Sugar Rush on the website.
All photos by Matt Matasci