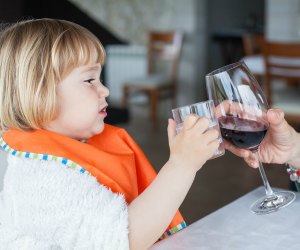 10 Kid-Friendly Happy Hours in Santa Monica, Marina del Rey, & LA's Westside
Let the parent who has never yearned for a drink and a cheap kids' menu cast the first stone. While Happy Hour was indeed invented as a way to sell alcoholic beverages during a restaurant's slow period, and mostly conjures images of a not-so-kid-friendly array of inebriated partiers, it can also mean great deals on meals. Many restaurants have Happy Hours that cater to (or at least accommodate) family dining. Here on the Westside, we are spoiled for choice when it comes to late-afternoon or early-evening discounted dinners. As a rule, Happy Hour is mostly a Monday through Friday 4 to 7pm proposition, but the terms are constantly changing, so it is best to call or check a restaurant's website before settling into a booth. And while you're checking, it's wise to be sure that you're heading somewhere kid-friendly. Some restaurants are more about the booze than the burgers, and that's not going to work with kids. The places we've found (and selflessly tested) below are all spots that a family can enjoy together.
Chain restaurants are an obvious place to start when it comes to Happy Hour. Most cater to families and many offer kids meals, so the grown-ups can have a glass of wine and an interesting appetizer while the picky eaters can usually find the same old chicken fingers, pasta, and PBJ. On the up side, the appetizers are usually reasonably priced, and this is a good way to get the kids to try something new, like seafood, without breaking the bank. Offerings are not necessarily uniform from location to location, so do check website and double check with your local franchise to confirm hours, pricing, and offerings.
1. El Cholo
1025 Wilshire Boulevard
Santa Monica CA, 90401
310.899.1106
Mon-Fri 3pm-7pm
Tacos aren't just for Tuesdays! Happy hour on the patio is super kid-friendly at this Santa Monica institution, with half-price menu staples, including tacos, guacamole, quesadillas, and margaritas.
2. M Street Kitchen
2000 Main Street
Santa Monica, CA 90405
(310) 396-9145
Mon-Fri 4pm-6:30pm
The food here is fantastic. Fresh, seasonal offerings starting with French fries for $1. Drinks range from $3-$5; kids eat free, and a stroll on the beach is just around the corner!
3. Finn McCool's Irish Pub
2702 Main Street
Santa Monica, CA 90405
(310) 452-1734
Happy hours here do not fall within traditional kid hours. That said, kids' meals are free on Tuesdays and Sundays, and on Sunday there is traditional Irish Music. So they eat free; you pay full fare, and everybody does a jig!
4. Enterprise Fish Company
174 Kinney Street
Santa Monica, CA 90405
(310) 392-8366
Daily 4pm-7pm
How about upscale seafood at happy hour prices? Appetizers (including fresh seafood) run from $5-$10, and cocktails from $6-$7.
5. Lula Cocina
2722 Main Street
Santa Monica, CA 90405
(310) 392-5711
Mon-Fri 1pm-7pm
Here's a Mexican restaurant that is NOT a chain! Lula's offers colorful ambience and yummy food, conveniently located a few blocks from Puzzle Zoo for some pre or post dinner toy shopping.
6. The Yard House
13455 W. Maxella Ave Ste 150-170
Marina Del Rey, CA 90292
(310) 822-7690
Mon-Fri 3pm-6pm
The Yard House prides itself on flat screen televisions for sports fan but also offers a wide variety of options made with Gardein, for vegetarians. Happy hour pricing ranges from $5-$8 for drinks and appetizers. This is a chain, with a Westside location in the Marina.
7. Islands
404 Washington Boulevard
Marina del Rey, CA 90292
(310) 822-3939​
3pm-7pm
Sliders, fries, and discounted beverages. Works for everybody. And Islands are all over the place.
8. BJ's
Various locations
Mon-Fri 3pm-7pm
With multiple locations, including the Century City mall, BJ's is as basic as it gets and offers something for everybody. Happy Hour beverages and appetizers range in price from $4-$6. On Tuesdays wine by the glass or bottle half price all day long.
9. P.F. Chang's
Various locations
3pm-6pm
Drinks and finger food range from $3-$7. If the kids aren't up for dim sum, kid meals are available from $2.95-$4.95.
10. El Torito
Various locations
Daily 3pm-8pm
This Mexican standby has a dizzying array of specials on a daily and weekly basis. My family's favorite is "Taco Tuesday" with cantina style, assemble your own tacos for $1.50 each in some locations and all you can eat for $9.99 in others.
Looking for more ideas? Check out these restaurants where kids eat free.
Note that times listed are correct as of the publish date of this post but could change at any time; please call the restaurant to confirm.
Photo via Bigstock