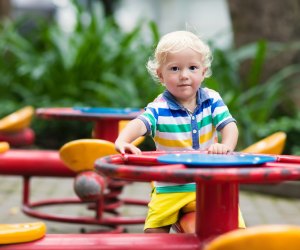 10+ Preschools with Last Minute Options for Westside Kids—No Waiting Lists!
Before we became parents, we may have thought this business of LA parents asking expectant mothers what preschools they'd applied to was a joke. Then we found out it's only kind of a joke; there really are parents who focus on preschool applications as soon as the contractions stop. Then there are the parents who are reading this post. There really are preschools that feed the frenzy with a waiting list that starts before a child can talk; and then there are the preschools that are in this post. Whether you've procrastinated, just moved to town, didn't get the acceptance letter you wanted, or just woke up one day and realized that your baby isn't a baby anymore, it's possible to figure out preschool at the last minute—even on the Westside of LA. You could try your luck for an opening at one of LA's newest preschools, but more likely you need to know about the great preschool options below that don't have extended waiting lists, and just might rescue your family at the very last minute.
One great resource for preschool options outside the box is your local parks and recreation system. Several city recreation centers on the Westside offer preschool programs that are comparable in quality and hours to their more expensive counterparts. Drawbacks are no after-care, and often families need to re-enroll every 10 weeks. Also, sometimes the breaks between sessions are longer than at private schools. That said, tuition is considerably lower, and several of these programs have small class sizes and excellent teachers. And most only take applications a few weeks before session begins.
1. Learning Through Play is a popular preschool program in Santa Monica, held at the Clubhouse at Douglas Park. The program consists of half days (9am-1pm) for up to five days per week; families can choose to sign up for as many and whichever days per week they wish. Parents are asked to occasionally help in class. Children should be between three to six years old and potty trained to enroll. Registration is generally about six weeks before the first class of a session, with three sessions per year; priority is given to Santa Monica residents.
2. Rustic Canyon is a hidden gem among hidden gems. The park itself is a buried treasure in a canyon between Santa Monica and the Palisades - a shady oasis of sycamore trees that feels as far from the city as a city park can. The recreation center has an interesting history and a lost-in-time look about it. A highly competitive cooperative preschool occupies a little schoolhouse adjacent to the center, but so many of the families rejected from this expensive, exclusive neighbor don't realize that there is an option just as wonderful right in the rec center that has no interview or waiting list, and a teacher just as experienced and inspiring as the one beloved by the coop. The park program (called Preschool Fun) is offered four days (Mon-Thu) from 9am-1pm, eight to twelve weeks at a time. Children must be 3-5 years old and potty trained.
3. Palisades Park Recreation Center offers its Preschool Clubhouse classes four days (Mon-Thu) from 9:30am-12:30pm, and children can register by the week or by the month - a handy option for anyone new to town midway through a season. The program follows the LAUSD academic calendar and focuses on kindergarten readiness; students must be 3-5 years old.
4. Mar Vista Recreation Center's preschool operates four days per week (Mon-Thu) from 10am-1pm in 10-week sessions. Parents are expected to volunteer up to three times per session. Children must be between the ages 3-5 and fully potty trained.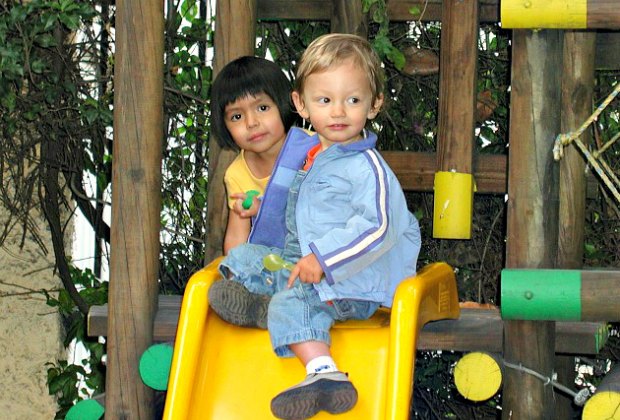 The advantage of a park program can be great outdoor space! Photo by the author
5. Palms Park Children's Center has the longest advance registration of any of the Westside park programs, with a lottery held in March for the academic year beginning in September; applications are accepted from January until March. The good news is once accepted, that's it for the year, unlike other park preschools; and breaks follow the LAUSD calendar. Classes are open to potty-trained children ages 3-5 and run four mornings per week (Mon-Thu) from 9am-12pm. The program maintains a teacher/student ratio of 8:1 or better.
6. Stoner Park Little Learners is for preschoolers ages 3-5 and runs four days per week (Mon-Thu) from 10am-1pm. Families sign up for a month at a time, and the group is limited to 20 kids. Stoner Park has a universal access playground, which is an asset for many families. Children need to be potty trained.
7. Culver City Recreation Classes offers preschool and pre-K in English and Spanish, in 10-week sessions at parks and schools around Culver City. Tot classes start as early as 2.5 years old (three days per week), while preschool proper and pre-K are for potty-trained children age 3-5 and meet five half days per week. Culver City residents pay a discounted rate.
8. Spanish Steps for Kids is an immersion program facilitated by LA Spanish School and held at Santa Monica's Euclid Park. Potty-trained children ages 3-5 can attend for up to five days per week, from 9am-1pm. Through a variety of games and daily activities, the program encourages imagination, self-confidence, development of motor skills, socialization, separation-adjustment, and the natural acquisition of the Spanish language. Caregivers are asked to occasionally volunteer in the classroom.
In addition to the park programs, some private facilities offer options that can be joined last minute:
9. Chalk Preschool in Venice is a traditional preschool with private school prices and application process - but the school maintains rolling admission year-round, meaning that openings could become available at any time. This rolling admission plan can be handy for new families in town, or for those who find themselves unhappy midyear with the preschool (or lack of preschool) they've chosen.
10. Kidville in Brentwood offers a preschool alternative program that it calls Kidville University. This is a class designed for two- and three-year-olds and is intended as a transition, helping the littlest preschoolers to separate from Mama for school. A parent or caregiver is supposed to stay somewhere on the premises, so obviously this won't fill the gap for everyone.
11. Pamper & Play doesn't have a full preschool program, but its Preschool Transition class meets weekdays from 10am-12pm, as a toes-in-the-water first preschool experience. The child-free parent lounge has free coffee and wifi, allowing parents to make the most out of that two hours without even leaving the building; there's also childcare available for baby siblings for a nominal extra fee, so Mama really can get some stuff done while little ones get taught the wonders of circle time.
Originally published March 21, 2014
Top photo via Bigstock